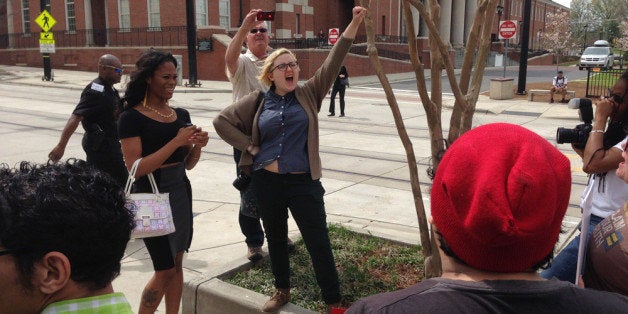 On Tuesday, March 18, Williams was approached by a campus security officer who questioned her gender as she left an on campus women's restroom. Williams has stated that the campus security detained her for no apparent reason and harassed her. Even after she presented her ID, Williams was escorted off campus.
At the protest on Friday, Williams added, "In being discriminated against by the very people who are staffed for my safety, intimidated by own school staff, laughed at and bullied by my own school staff -- these things are prime examples of why I still need a public apology and why we still need a policy change."
According to her attorney Sarah Demarest with the LGBTQ Law Center of the Freedom Center for Social Justice, Williams tried to report the incident to CPCC campus officials and was denied the ability to even file a complaint. When she inquired as to the reason why she could not file, Williams was told that as a transgender person she has "no legal rights" and that she could only return to campus if she agreed to use the gender-neutral restrooms.
"Despite the horrendous treatment, despite the public embarrassment, despite the unfair denial of her right to even complain, despite everything she's been through, Andraya is not a victim. Andraya is a survivor. Andraya has navigated the incident at CPCC with strength and grace; she has returned to school and is doing her best to earn the education to which she is entitled," read a statement by Demarest. "The treatment Williams received from security officers, school employees and administrators was unlawful and constitutes a violation of both Title VII and Title IX," read a statement from the LGBTQ Law Center."
Less than two weeks prior to this incident, Campus Pride was invited by CPCC faculty, staff and administrators to conduct a morning in-service and professional development workshop on "The State of Higher Education for LGBT People." The two hour workshop was attended by nearly forty CPCC campus officials to learn more about implementing LGBT-inclusive policies, programs and practices. A coalition had reportedly been formed to move forward with suggested recommendations including developing an action plan by completing the Campus Pride Index. Campus Pride, which is also based in Charlotte, NC where the incident occurred on the CPCC Central Campus, has worked with the students, faculty and staff on campus for years advocating for LGBT-inclusive training and policy changes.
Now CPCC has the opportunity to move forward by apologizing to Williams for the incident and how she says campus security treated her. The Campus Pride #IStandwithAndraya online petition demonstrates support for Williams and outlines the steps necessary for CPCC to ensure this never happens again.
The online petition reads:
Central Piedmont Community College must do the right thing and take necessary actions to support Andraya and other LGBT students on campus. Now is the time to apologize and begin enacting transgender inclusive policies, programs and practices to ensure this does not happen again. All students have the right to a safe learning environment including LGB and T students. Every day that CPCC chooses not to take action negatively impacts the campus climate. The complacency and excuses must stop before this escalates any further.
Campus Pride is committed to continue work with Central Piedmont administration, faculty, staff and students in devising an action plan to address LGBT student concerns, particularly transgender student safety.
We call on CPCC take the following steps to resolve the issue at hand and prevent such issues from happening in the future:
1. Issue a formal written apology for Andraya's suspension and wrongful treatment;
2. Permit Andraya to use the restroom consistent with her gender identity, which is female;
3. Provide training to all faculty, staff, and contracted personnel regarding the rights of students under Title IX and Title VII, including the rights of transgender students; and
4. Revise CPCC's policies to provide a safe and welcoming environment for all students, including transgender students.
Popular in the Community