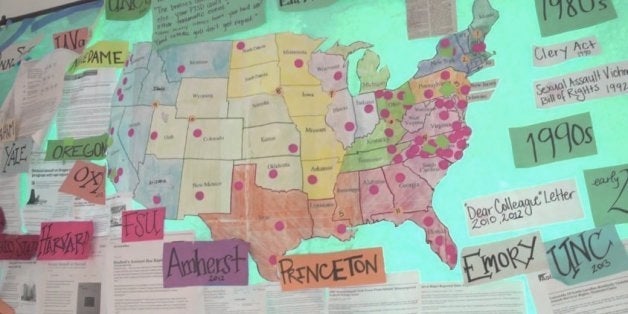 On Wednesday, Pivot, the TV network for Participant Media, will release "It Happened Here," a documentary by Emmy Award winner Lisa F. Jackson. The film follows women from Amherst College, Vanderbilt University and the University of Connecticut who went public about how their schools mishandled their sexual assault cases.
Starting in February, "It Happened Here" will screen on a number of college campuses as part of the White House's It's On Us campaign, launched last year to combat college sexual assault.
"It's an incredible documentary with a powerful message," Jennie Morris, a senior vice president at Participant Media, said in a statement. "And by teaming up with the It's On Us campaign, we can bring their stories to campuses across the nation."
Another documentary on the subject, "The Hunting Ground," will premiere later this week at the Sundance Film Festival. "The Hunting Ground" is directed by Kirby Dick, who is also the director behind "The Invisible War," the Academy Award-nominated documentary about military sexual assault. Lawmakers credit Dick's earlier film with helping to motivate them to reform the way sexual assault cases are handled by the U.S. armed forces.
Although a majority of the women featured in Dick's film have already gone public over the past two years, the documentary will be one of the first to follow University of North Carolina graduates Andrea Pino and Annie Clark as they network with campus activists around the country to spur the federal government to investigate colleges' failings when it comes to rape cases.
Similarly, "It Happened Here" features women like Angie Epifano of Amherst, Sarah O'Brien of Vanderbilt and Kylie Angell and Erika Daniels of UConn, whose cases are already publicized. But both films promise to provide a more intimate look at what those women went through after going public, and the consequences they dealt with in the aftermath of their assaults.
"Sexual assault on American college campuses was an invisible epidemic three years ago," Jackson told The Huffington Post, "but now, because of voices like Angie's, Kylie's and Sarah's, schools are being called out and held accountable and -- most importantly -- their example is helping other survivors to feel less shamed and silenced, encouraging them to speak out and demand justice."
"The more voices we can add to that chorus, the closer we can bring that goal for all of them," she added.
Dick did not immediately respond to HuffPost's request for comment.
Both documentaries began filming in the spring of 2013, just as the activism on campus sexual assault was starting to spread. In addition to speaking with the activists and survivors, the films also include interviews with college administrators, mental health experts and legal scholars.
"It Happened Here" will air for the first time on Wednesday night at 9 p.m. EST on Pivot.
This story has been updated to include comment from Lisa F. Jackson as well as the name of Sarah O'Brien, one of the activists featured in "It Happened Here."
Popular in the Community