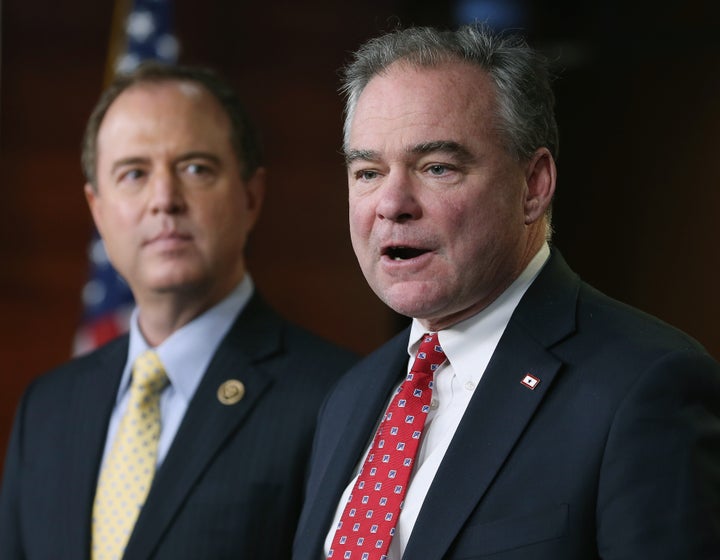 A provision in the Senate's proposed rewrite of the nation's main education law governing K-12 schools would push for more sex education that focuses on dating violence, sexual assault and stalking.
The Teach Safe Relationships Act of 2015 would award four-year grants to schools to teach "safe relationship behavior." It was originally introduced in February by Sens. Tim Kaine (D-Va.) and Claire McCaskill (D-Mo.). McCaskill has been pushing for a bipartisan measure to crack down on colleges that mishandle sexual assault cases. While the Teach Safe Relationships Act would not actually appropriate any new funding for anti-sexual assault measures, it further clarifies that schools could get money for such programs.
Earlier this month, the Teach Safe Relationships Act was rolled into the Senate's larger overhaul of a No Child Left Behind Act rewrite called the Every Child Achieves Act. That legislation, a bipartisan effort to update the major education law that expired in 2007, passed the Senate overwhelmingly.
The House of Representatives has also passed a version of an NCLB rewrite called the Student Success Act. Now, the two versions have to be reconciled with each other before anything can be signed into law. The House version currently does not have the Teach Safe Relationships provision, but Reps. Suzanne Bonamici (D-Ore.), Alma Adams (D-N.C.) and Carolyn Maloney (D-N.Y.) are pushing to incorporate it.
It's not clear when that might happen. Rep. John Kline (R-Minn.), who chairs the House Education and Workforce Committee, did not respond to a request for comment.
"Responsible sex education has long played an important role in the health and well-being of students, and we expect this will continue to be a part of the conversation as Congress works to replace No Child Left Behind," Lauren Aronson, a spokeswoman for the committee, told The Huffington Post.
As of July 22, the U.S. Department of Education's Office for Civil Rights was investigating 124 colleges and universities for how they handle sexual violence, according to information provided to HuffPost. Meanwhile, 40 local K-12 school districts are under similar Title IX investigations by the office.
As colleges and universities have come under heightened scrutiny in recent years, higher education administrators have grumbled privately that rape prevention efforts need to begin at a younger age ― that it is unrealistic to expect to stamp out sexual assault during freshman orientation. And indeed, that argument is validated by a swath of research.
Experts too say there's not enough emphasis on the role of K-12 schools when it comes to stopping sexual violence.
"There is absolutely no national conversation about sexual offending during the adolescent years in high school," said Jacquelyn W. White, professor emerita of psychology at the University of North Carolina at Greensboro and a co-author of the JAMA Pediatrics study. "We're focusing on campus sexual assault, but we haven't looked at the younger group."
White described her study as a "call to pay attention to the high school years."
Currently, 20 states and the District of Columbia require that sex ed include information about "skills for avoiding coerced sex," according to the Guttmacher Institute, but only 22 states require that sexual education take place at all. Thirty-five states and the District of Columbia allow parents to opt their children out of sex ed classes if they want.
"Girls cannot prevent rape through purity pledges alone," said Mary Koss, a University of Arizona professor and longtime sexual violence researcher. "Boys must stop imposing sexual acts on unwilling partners. Rape reduction requires a comprehensive approach of which accurate knowledge, communication skills and understanding healthy relationships [are] clearly a part."
California's bill is unusual in that it would require schools to teach students about what constitutes consent. Most state laws are more vague and refer to programming around "healthy relationships" or "coerced sex."
Sex ed material that focuses on sexual violence would have to be "age-appropriate" and "must also be culturally and linguistically appropriate," the Teach Safe Relationships Act stipulates.
Addressing sexual violence is a "public health concern," said Dr. Heidi Zinzow, a psychology professor at Clemson University who has researched rape perpetrators.
"We need to get that education out there early on," Zinzow said. "I think a lot of these men would think, 'Oh what do I do instead, do I need to ask?' They just dont even have the basic skills or know what the scripts could be. They need the social skills to know how to get consent."
Support HuffPost
The Stakes Have Never Been Higher
Related
Popular in the Community