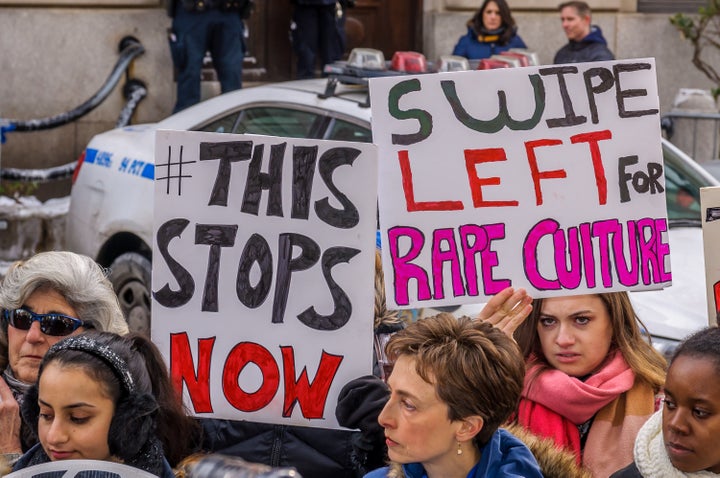 A new study released Monday challenges experts' long-held notion that a majority of campus rapes are committed by serial predators.
Yet the research shows more men in college have committed rape than previously believed ― and efforts to prevent sexual assault need to begin long before students arrive on campus.
"We're not saying there aren't serial rapists, we know there are serial rapists, but serial rapists are not responsible for the [campus rape] problem ― it's more complicated than that," said lead researcher Kevin Swartout, a Georgia State University psychology professor.
"It really is important to understand that men who commit campus rape are a heterogeneous group," he added. "It's not just one group of guy, not one type of guy perpetrating campus rape. So therefore, it means multiple strategies are going to be needed to produce the type of results we're looking for."
Four out of five men who committed rape before graduating college were not repeat offenders, the researchers found. Those findings "do not support the campus serial rapist assumption ― most men who committed rape did not do so consistently across time," the study concluded. However, the study also found more than one in 10 men on the campuses examined had raped someone ― twice as many as the number experts previously believed.
"We have to avoid one-size-fits-all kinds of programs. We know some of these young men are likely to offend during adolescence, in high school and they stop when they get to college," said Jacquelyn White, a psychology professor at the University of North Carolina at Greensboro and a co-author of the study. "We really need to understand what contributes to that cessation."
Sexual violence experts' belief that a small number of men committed a majority of rape on campus was largely based on a 2002 study by David Lisak, then at the University of Massachusetts-Boston, which found that 6.4 percent of college men had committed rape or attempted rape and two in three committed repeat rapes.
Monday's study found 10.8 percent of men in both samples committed assaults that meet the FBI definition of rape either before or during college. Fifty-nine percent of the men who committed rape in high school did not do so in college, while 72 percent who raped in college did not do so before getting on campus.
There is a growing debate about whether students found guilty of sexual assault by their college or university should have their offense marked on their transcript ― a majority of schools do not include any note. Two states, Virginia and New York, recently enacted mandates that colleges include transcription notices for guilty students, and Mary Koss, one of the researchers in Monday's study, doesn't necessarily think the new findings should halt those efforts.
"Those who offend repeatedly or with escalated violence even in the first known incident should be excluded from campus," Koss told The Huffington Post. "Institutions need a process that avoids blocking the responsible person's ability to complete education elsewhere, yet still informs the receiving conduct administrators of a risk situation that merits monitoring."
Monday's study on rapists follows research released in May finding that 28 percent of women surveyed at an upstate New York university had experienced either a rape or an attempted rape by the time they started college. Close to one-in-five were victims during their freshman year of college, with most being assaulted during their first three months on campus, a time often called the "Red Zone" for its statistically higher probability of sexual assault occurring in college.
The new study did not look to see if men were more likely to assault during the "Red Zone," though Swartout did notice there was a bump during the first half of their college career.
"Because so many acts of rape occurred prior to entering college, it is clear that sexual health, healthy relationship education, and rape prevention must be in the middle and high school curriculum using methodologies with demonstrated effectiveness," Koss said.
The men studied had different trajectories on whether they became more or less likely to rape. Men who had committed rape before college were less likely to do so once on campus, while most of the men who committed these offenses at their university had not done so when in high school. The researchers suggest the likelihood of sexual assault could be heavily influenced by social learning or social control processes ― in other words, that something happens when young men switch from high school to college that changes their behavior.
White sees a potential problem from their study results now that colleges have a "whack-a-mole" phenomenon with the men who do commit sexual assault on their campus, since they are more likely to not be a serial predator.
"These are the young men who are going to offend during one time period ― maybe freshmen year, maybe sophomore year ― we don't know when they are going to pop up and offend," White explained. "We need a very comprehensive set of intervention strategies."
But American higher education, and society at large, could make progress if high school prevention efforts became a greater part of the picture.
"If we did more prevention program during the early years, then you have an entire cadre of young men educated," White said. They would be those bystanders, she elaborated, who could be more ready to intervene if they see their peers engage in sexual violence.
Related
Popular in the Community