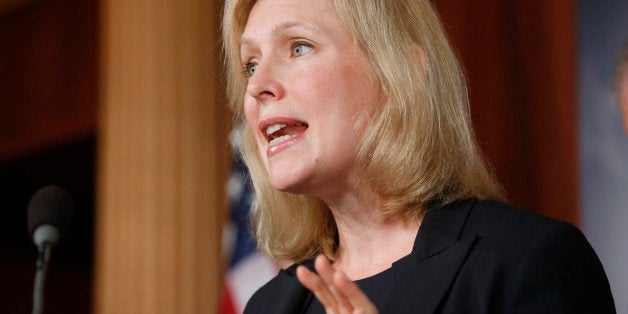 A bipartisan group of senators proposed Thursday to ramp up the federal government's ability to penalize colleges that mishandle sexual assault cases, while imposing significant new transparency requirements.
Legislation reintroduced in the Senate, titled the Campus Accountability and Safety Act (CASA), would mandate surveys to obtain a more accurate picture of sexual assault on campus and institute requirements to help guide victims and the accused through potential adjudication. Schools that don't follow federal laws relating to sexual assault could be hit with much larger fines.
"The reason why schools are failing is because they do not take this crime seriously," said Sen. Kirsten Gillibrand (D-N.Y.), co-sponsor of the bill, during a press conference Thursday.
The senators first unveiled CASA in July 2014 and are now reintroducing it for the new session of Congress. The effort is spearheaded by Gillibrand and Sen. Claire McCaskill (D-Mo.), with Sen. Dean Heller (R-Nev.) as the lead GOP co-sponsor. Chairman Lamar Alexander (R-Tenn.) plans to move the bill through the Senate education committee, Heller said.
The federal government has recently been paying greater attention to college sexual assault, with a White House task force on the issue and a record number of investigations into alleged violations under the gender equity law Title IX in colleges' response to sexual assault accusations.
CASA would increase the potential fines per violation under the Clery Act from $35,000 to $150,000. That law requires schools to disclose the number of crimes reported on campus annually and stipulates certain rights of sexual assault survivors who come forward.
Under CASA, violations of Title IX would also become punishable by a fine of up to 1 percent of an institution's annual operating budget. Currently, the Education Department's only option under Title IX is to cut off all federal funding, something it has never done but often threatens to do.
McCaskill, Gillibrand and Heller have again been joined by Sens. Richard Blumenthal (D-Conn.), Chuck Grassley (R-Iowa), Kelly Ayotte (R-N.H.), Mark Warner (D-Va.) and Marco Rubio (R-Fla.) as co-sponsors of the bill. They have picked up two new co-sponsors in freshman Sens. Gary Peters (D-Mich.) and Shelly Moore Capito (R-W.Va.).
Under the proposed legislation, colleges for the first time would have to disclose the number of assaults reported to the school's Title IX coordinator, the number of disciplinary proceedings, how many students were found responsible for sexual assault and what sanctions were imposed -- data that colleges typically keep private.
At Thursday's press conference, Gillibrand cited a Huffington Post analysis that found less than one third of students judged responsible for sexual assault by colleges were actually expelled from their institution. "What does it say about these school priorities if some colleges have a tougher justice system for a student cheating on an exam than for somebody who has raped another student?" she said.
Peters pointed to a 2014 Senate survey finding that 40 percent of colleges had not conducted a single sexual assault investigation in five years. "How can that be? How can we have institutions that have not had one investigation on their campus?" he asked.
Capito said that current law has the "perverse effect of encouraging colleges to under-report."
The new bill mainly tracks last year's proposal with some modifications based on feedback from various stakeholders over the past six months, the senators said.
"At first glance, it appears that the new version of the legislation contains adjustments that respond to a number of practical concerns universities raised with respect to the original bill," said Barry Toiv, spokesman for the Association of American Universities.
For instance, the mandatory anonymous survey about student experiences with sexual assault -- results to be published online -- would be conducted every two years, rather than every year.
Those surveys are key "to better inform us of problems and to make better policy choices," Annie Clark, co-founder of the activist group End Rape On Campus, told The Huffington Post. The Clery Act data "leaves a lot of gaps," she said, since it includes only officially reported assaults while research shows most assaults are never disclosed to authority figures.
The senators also added a provision to ensure fairness in the adjudication of sexual assault cases. Colleges would have to disclose details of any sexual assault complaint to the accused student, including a full summary of the disciplinary proceeding and the rights and due process protections available to both parties.
Joe Cohn, policy director for the Foundation for Individual Rights in Education, which often defends accused students, said his organization saw the bill as still largely one-sided in favor of the alleged victims. "We are gratified that this version of CASA at least mentions due process, but we note that it provides no comprehensive protections that are not already required under federal law," Cohn said.
Reps. Carolyn Maloney (D-N.Y.) and Patrick Meehan (R-Pa.) plan to unveil a companion bill in the House.
As of Thursday, the legislation already had the support of several advocacy groups and sexual health nonprofits, including End Rape On Campus, Students Active for Ending Rape, Girls Inc., V-Day, Sexual Health Innovations, and the Rape, Abuse and Incest National Network. The American Federation of Teachers and the State University of New York system also gave their blessing.
Support HuffPost
The Stakes Have Never Been Higher
Related
Popular in the Community