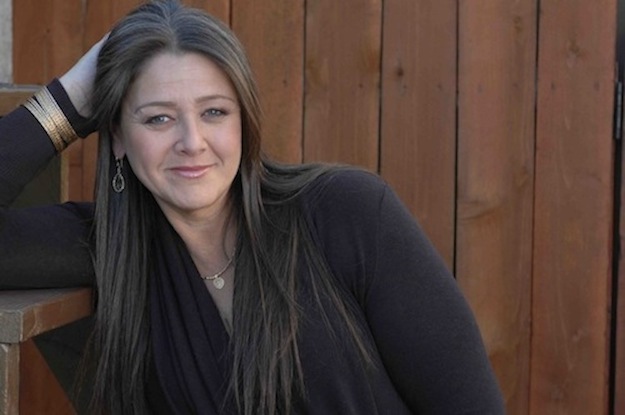 Photo: Courtesy of Anonymous Content
If you tossed Bridesmaids and Steel Magnolias onto a basketball court and blew a whistle, it would look something like The Hot Flashes.
The new comedy, written by San Francisco screenwriter Brad Hennig, opens in select cities July 12. But the film -- directed by Susan Seidelman (Desperately Seeking Susan) and which stars Brooke Shields, Camryn Manheim, Daryl Hannah, Virginia Madsen and Wanda Sykes -- may surprise audiences with its heartwarming undercurrents. In this case, five menopausal women in Burning Bush, Texas, who form a basketball team and take on the high school champs--all in an effort to raise money to save a mobile testing center for breast cancer prevention.
Hennig, who is 49, grew up in a small town near Abilene, Texas. He played high school basketball and moved to the Bay Area 20 years ago. After his mother died of breast cancer, he made annual treks back home to visit her grave. In fact, the idea for The Hot Flashes came during one of those visits several years ago.
"I ran across some girls who won the state basketball championship and they never had gotten out of the town," he recalls. "Their lives had kind of gotten away from them and they were a little bit out of shape. The only time they had won anything was that state championship. All those things were on my mind when I got back on the plane. I am a comedy writer, so I somehow combined women's basketball with glory days, and menopause and breast cancer into one story. It just came to me."
The film is a curious beast in that it's lighthearted enough to capture your interest, but there's something more profound at work here--the five actresses who headline the film. In an era where the majority of Hollywood films tend to be drenched in testosterone and arrive with one mission and one mission only--to make money--it's refreshing to see something that feels as if it came from a place of deeper integrity. Some critics may scoff that The Hot Flashes wanders off the creative court, but check it out for yourself before making that leap.
Interesting to note: Most of the film's investors were women of a certain age from Silicon Valley. "They either had an interest in women's empowerment or women's basketball," Hennig notes.
Any way you spin it, The Hot Flashes is a heartfelt romp that scores big time for its leading ladies.
I caught up with Emmy-winner Camryn Manheim who plays Roxie (think hippie rebel) in the film to learn more about what attracted her to the project.
Greg Archer: So, tell me: Why did you say yes to this?
Camryn Manheim: It read so well. And Brad is a wonderful writer. And it's really bizarre that he can speak for women so well. It was the perfect storm. I loved that it was five leading women characters. I loved that it was about women embracing their power and taking control back and also, letting their freak flag fly and enjoying their lives--trying to do something good with their lives. And I loved that it was a really good message--taking care of ourselves and being healthy; women caring for themselves and their entire family.
Greg Archer: And the five of you all went into a kind of basketball boot camp to learn more about how to play the game?
Camryn Manheim:Three of us are extremely tall and we had played basketball in high school, but that doesn't mean we were any good at it, really. [Laughs] One of the great things about being in this business is that they provide that for you. Oh, I'd love to be in a western--I'll learn how to ride a horse. I want to play a detective--I'll learn how to shoot a gun. I want to be in a basketball movie--I'll go and play basketball. We did get some great training. I'm not sure that that's apparent when you see us play [laughs], but we did get training.
Greg Archer: You all look pretty darn good on the court, actually. Tell me about Roxie, your character.
Camryn Manheim: The characters all find themselves in different kinds of ruts. Somebody is working a local grocery store. Another person is selling cars. My character basically is a stoner because she makes really good Mary Jane desserts. So, these one-time basketball champions really learn how to do something good for the world and for themselves at the same time. It's the classic film--fighting for the underdog; fighting against the shiny top dogs. And we're like--fuck that. We're going to try.
Greg Archer: It's nice to see all of you up there on the screen together. I'm curious to hear what you think about the roles available these days--for women. I imagine it may have been a factor in saying yes?
Camryn Manheim: Sure. For as long as I have been in this business, there had been a lack of great female roles. That's not to say that there aren't some, because there are, but they are very far and few between. No matter how many times we keep proving, over and over again, that women can headline movies and be box office hits, they still mostly develop movies for men. And I feel that over the last couple of years, there have been some great blockbusters starring women. I am just hoping that sticks and people go, 'Yeah, you know--women can headline these type of movies and make a lot of money for people.' But wouldn't you say that recently, like Bridesmaids and The Heat -- things like that--that there have been more female blockbuster leads?
Greg Archer: Yes. Especially with The Heat having just opened and doing so well.
Camryn Manheim: I am just hoping that with the rise of women starring in these movies that people go, 'Why not? We should be writing more movies for women.' So I took this movie for so many reasons. I loved the script, I was excited about working with Susan Seidelman and the cast--these great women. And, obviously, the subject matter, which is near and dear to my heart. I don't think you can ask anybody who is alive today if cancer hasn't touched their lives in some way. All of it made sense to do this film.
Greg Archer: The chemistry between all of you works. There's something there.
Camryn Manheim: Nice of you to say that. Obviously, after getting over my initial excitement over working with those four women, then this dread set in about how horribly difficult this could be if there were a bunch of divas. Because, you know, five powerful women can be a little tricky. But I have to tell you, I think in my entire career, I would probably rank this as No. 1 in bonding, having fun, partying, and making life-long friends. Incredible.

Greg Archer: That's a good thing.
Camryn Manheim: It's like we were attached at the hip. Everybody wanted to be with each other the entire time. And you know, Wanda, needs a wrangler. I was kind of designated Wanda's wrangler. She was like, 'Let's go out.' I was like, 'But we have to work in morning.' And she was like, 'So what? Let's go!' And we're in New Orleans at Mardi Gras ... try walking through the streets of New Orleans with Wanda Sykes. You cannot travel an entire block without a million people trying to talk to her, to touch her and to take photographs. It was very joyful. I learned so much about these girls. And you know, everybody knows Daryl [Hannah] to be this very proactive girl who cares about the Earth and animals, and we're on a farm shooting, and these horse were agitated for some reason, and Daryl was like, 'Just give me a second with the horse.' She comes back tells one of the people who had been coralling the horse that the horses needed to be separated from another horse. And they did it and the horse was just quiet. She's just so salt of the earth and incredible.
Greg Archer: And the others?
Camryn Manheim: Virginia is a hero to all of us. She stepped in having no basketball training whatsoever and was just delightful. Brooke had her daughter and husband there. And Brooke is directing "Chicago" at The Hollywood Bowl, so Daryl is like, 'We're all in. We'll be there!' It was one of those things--we have maintained this fiefdom for an entire year and it's not going to change. I have so much admiration from them. But I have to say, about this film ... that yes, it's all really fun and it's a great night in the theater, but we partnered with the American Cancer Society--and that was really important to me ... that we continue to spread the word that many many cancer diagnoses could have been prevented with early detection.
Greg Archer: Take me back. When you were growing up, and getting into this work, who were some of your influences?
Camryn Manheim: Good question. My parents were professors, so most of my influences were academic people--poets and what have you. But as I started to get more involved in acting, people started comparing me to people. Like, Kathy Bates and Tyne Daly. And I thought, 'OK, I'll take it.' I watched them and studied them. I had a couple of acting teachers who were very important to me, one being Wilma Marcus. She was possibly the most important to me. I had done acting in high school but I wasn't very serious. And then I moved up to Santa Cruz, California, and I was trying to get into UC Santa Cruz, but I didn't have enough credits, so I did a little stop over at Cabrillo College. And that's where I found Wilma, who really changed my whole head about acting. And she asked things from me that no one ever has. And she really turned me into a focused professional-seeking actor. And I always told her that she would be the very first person I would thank if I ever won an award. And when I won my Emmy [for The Practice] in 1998, she was, in fact, the very first person I thanked.
Greg Archer: I remember that moment.
Camryn Manheim: I was happy to thank her. She was the one who changed my whole view of how the profession went. She demanded a lot from me. Her expectations of students--it wasn't just a lesson you took for fun. She was really serious about it. And I just respected her so much. I learned so much. Eventually, she even had me teach a few classes for her. I still have that first check that Wilma paid me--$20 for teaching a class. I still have it in my scrapbook.
Camryn Manheim: You know, people don't know, in classrooms all across America, there are teachers, like Wilma, who are changing peoples' lives. She certainly changed mine.
Greg Archer: The film chronicles the plights of women of a 'certain age,' so tell me: What's one of the best things about being in your age group?
Camryn Manheim: Well, I've achieved many of my dreams. I do things on my own terms. I don't feel insecure. I have enough money to do what I want to do in my life. And I am smart enough to budget it so I don't have to freak out. I think I am a better parent, a better citizen, a better daughter, and a better friend at this time in my life. I don't sweat the little things. I continue to work for change on a global level. But I am comfortable in my life. I know who my friends are. I know how to pick good friends and good influences. I revel in doing some crazy things now and then, like spending a few weeks at Mardi Gras in New Orleans and hanging out a little late. But I always know that I can come back to my very complete and serene life and have a great attitude--today. I'll tell you: I think confidence is the sexiest body part. I have that in spades. And I think I focus on more important things in life, instead of the little things that are going to bring me down and annoy me. It just doesn't matter much. I celebrate my life. I am grateful for every fortunate thing that has come my way. I live in gratitude and because I live in gratitude, I am happier now than I ever have been.
Greg Archer: What's some of the best advice you have been given about life?
Camryn Manheim: Well, a couple of things. My father is a mathematician. I once asked my father if he believed in karma. He said, 'I don't know. How do you define karma?' I said, 'Well, when you do good things in the world, good things will come back to you.' And he said, 'Oh yes, I believe in that. I just don't call it karma.' I said, 'Well, what do you call it, then?' And he said, 'I call it statistics.' So, that's some of the greatest advice I've gotten from my father--that karma doesn't exist, only statistics. So, the more goodness you put into the world, obviously, it exponential increases the probability that good things will come back to you.
Greg Archer: Yes. And that is good.
PHOTO GALLERY
The Hot Flashes
REAL LIFE. REAL NEWS. REAL VOICES.
Help us tell more of the stories that matter from voices that too often remain unheard.