For four weeks in the fall of 2015, a team of three business school students struggled to find a feasible business idea in answer to a challenge: double the income of 10 million people residing in crowded urban spaces by 2022. At stake was $1 million dollars in seed capital put up by Hult Prize, the largest student social entrepreneur competition in the world.
Founded by Hult MBA alumni Ahmad Ashkar, Hult Prize has challenged students worldwide since 2010 with an annual call-to-action to help solve some of the world's most pressing challenges, using business as a tool for social change.
This competition is an especially good fit for the trio behind Musana Carts, Natalie Bitature, Manon Lavaud and Keisuke Kubota, because they are all students of the Master of Social Entrepreneurship program at Hult International Business School (which has never won the top spot at Hult Prize).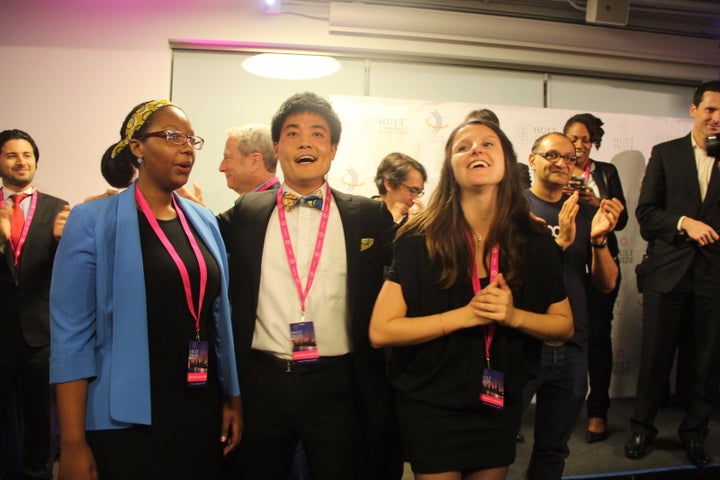 Social entrepreneurship itself is a burgeoning mindset trending in the business world. While definitions are varied, and noble efforts are being made to refine the term itself, in general a social entrepreneurial endeavor exists to generate social or environmental value, and in the case of social businesses and the Hult Prize criteria, generate a profit while doing so.
How has Musana Carts answered this call as a social enterprise? The team has taken one social value proposition, raising the income of the urban poor, and driven themselves to create a business solution that is a change-making tool across multiple impact areas.
In general, Musana Carts aims to provide urban street vendors with cleaner, safer and more efficient solutions to their cooking, storage, and financing needs. To do this the team has designed an innovative solar cart (in partnership with Design Without Borders) and selected Kampala, Uganda as the initial target market for the enterprise.
Economically, because the carts are equipped with solar energy, vendors can expand their revenue-generating abilities considerably. For example, they can install lamps for night shifts, simply charge a fee for the use of their electrical outlets or becoming mobile money agent. The carts are also modular, built to the specific needs of each vendor (e.g. if cold storage is needed for beverages a mini fridge can be installed), which increases efficiency of their operations.
Environmentally, the traditional use of charcoal for cooking presents both a health hazard to vendors and their community (due to the prolific smoke generated in the crowded urban areas). The eco-friendly stove solution offered by Musana Carts reduces this air pollution and the dangerous inhalation of smoke.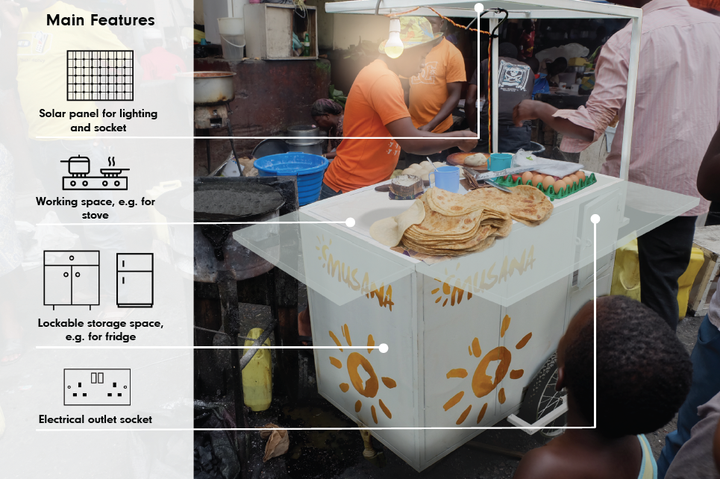 In a broader social context, the team is committed to empowering their primary customers beyond the doubling of income. Uganda is the most entrepreneurial-minded country in the world, but what that fact also signals is that high unemployment and a shaky economy have driven so many people to create small and micro enterprises as their only means to get by. While Musana is poised to capture a market of entrepreneurs, they know they must address underlying attributes of this ecosystem to ensure that long-term change (and revenue) can be sustained.
One of these attributes is the educational need of the street vendor entrepreneurs themselves. For this reason, Musana will offer financial literacy and business training to these individuals because doubling their income represents just the proverbial tip of the iceberg. Because what use is doubling income if you are not able to reinvest the money in a way that creates enduring change for you?
Furthermore, Musana Carts recognizes that street vendors are not operating in an ideal business climate. For example, in Kampala vendors operate within the informal sector (not legally recognized), and because they number in the thousands, this puts the City Council in a difficult position. To date, no regulatory solution has been reached, so Musana is currently working in partnership with the Kampala City Council Authority (KCCA) to formalize the industry in a mutually beneficial way.
What started as a challenge to double the income of people in crowded urban spaces led the Musana team down this ever-broadening path to ensure the sustainability of the business and the breadth of their impact.
On the surface Musana Carts is bringing a product to market. But beneath that surface they see that product and their business itself as a tool to leverage scalable change in the fundamental nature of the market and its broader ecosystems.
Bill Drayton, a pioneer of the social entrepreneurship field once said, "Social entrepreneurs are not content just to give a fish, or teach how to fish. They will not rest until they have revolutionized the fishing industry." This is the ambition needed to tackle the 2016 Hult Prize challenge. This is also the promise and power of social entrepreneurship, and the passion that propels Musana Carts to create a brighter future for Africa's crowded urban spaces.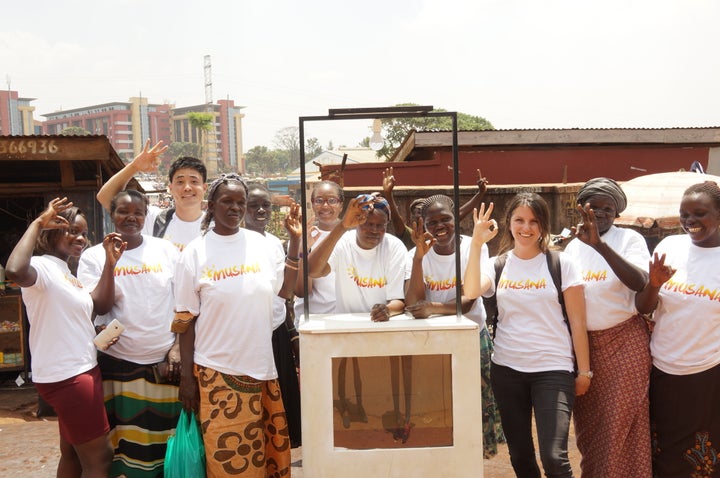 Popular in the Community