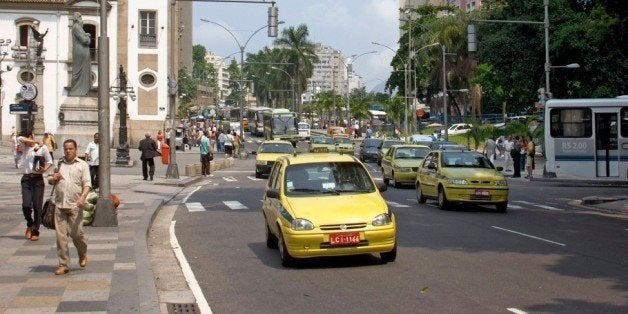 Can 640 million people be wrong? As we know from history, yes. But today we have 640 million citizens of more than 80 megacities leading the way in creating local climate solutions -- all of them members of the C40 Cities Climate Leadership Group, with economies collectively equivalent to that of the U.S. and India combined. Today's citizens want thriving, liveable cities; and they're demanding and supporting action from their mayors.
As the United Nations has launched a landmark new framework for sustainable development, including an urban goal for which I have long been a champion, elected mayors worldwide are leading the way in taking climate action, showing unity and ambition in the lead up to the Paris Climate Conference. And in Paris we will be part of a massive gathering of city leaders, hosted by the Mayor of Paris, my good friend Anne Hidalgo.
Recently, U.S. and Chinese mayors stood shoulder to shoulder at a climate summit in Los Angeles, where C40 announced two new Chinese city members, Guangzhou and Nanjing. Who would have thought 10 years ago when C40 was founded that, tired of waiting, big cities in the U.S. and China are now driving national cooperation on this issue? The fact is, cities are making a major contribution toward a global climate solution, and are leading the way for, hopefully, equally ambitious national commitments.
As megacities continue to grow, we face the very present issues of congestion, poor air quality and pollution. We also face the impacts of climate change -- such as heat waves, drought and flooding. I am proud that Rio demonstrated a strong and transparent climate plan -- becoming the first city to have met all the requirements for the Compact of Mayors. We know that when cities set targets, they are three times more likely to take climate action, and I am delighted that more than 160 other cities have already made similar commitments to comply with the Compact of Mayors.
When C40 was created by then Mayor of London, Ken Livingstone, most city climate actions constituted small, pilot projects. Today, thanks to sharing and learning among cities, 50 percent of all actions are city-wide. We have seen the number of mayors investing in Bus Rapid Transit (BRT) -- dedicated corridors for low-carbon buses -- jump from 21 to 35 C40 cities in just two years. This year, in Buenos Aires, 35 big cities signed a Clean Bus Declaration calling on bus manufacturers to deliver electric and other low-carbon vehicles using technology that is now transforming bus fleets in China. Twenty-four C40 cities alone operate over 160,000 buses and if just a third of these can be converted to low-carbon vehicles by 2020, it will save almost 900,000 tons CO2e per year.
The world's leading economists at the Global Commission on the Economy and Climate, led by the former President of Mexico, Felipe Calderón, have shown that investment in urban public transport, building efficiency, and better waste management could save US$17 trillion globally by 2050. Low carbon and resilient paths to development will achieve faster improvement of living standards, contributing towards poverty alleviation, improving air quality and mobility, creating jobs, and ultimately delivering a more equitable future for all.
This year, for the first time, half of the cities in the C40 are from the Global South, an area that is rapidly urbanizing with opportunities to shape the urban form towards a low-carbon future. The priority now is to create funding for city climate actions and a City Climate Fund will deliver that by helping cities with a lack of capacity and access to finance. This is a key recommendation in the New Climate Economy Report, which argues that an integrated package from varied institutions of US$1 billion over five years could support at least the world's largest 500 cities. By 2020 it could leverage $5-10bn of private sector funding. C40 will be bringing forward proposals for how to achieve such funding for cities in the run up to COP21 in Paris.
640 million people are not wrong in looking to C40 mayors to drive action. We take on the challenge. The good news going into COP21 in Paris is that mayors around the world are uniting to demonstrate that the low carbon revolution starts in cities. And it starts now.
This post is part of a series produced by The Huffington Post, "What's Working: Sustainable Development Goals," in conjunction with the United Nations' Sustainable Development Goals (SDGs). The proposed set of milestones will be the subject of discussion at the UN General Assembly meeting on Sept. 25-27, 2015 in New York. The goals, which will replace the UN's Millennium Development Goals (2000-2015), cover 17 key areas of development -- including poverty, hunger, health, education, and gender equality, among many others. As part of The Huffington Post's commitment to solutions-oriented journalism, this What's Working SDG blog series has focused on one goal every weekday in September. This post, published on the day the conference is scheduled to start, addresses all the Goals.
Calling all HuffPost superfans!
Sign up for membership to become a founding member and help shape HuffPost's next chapter