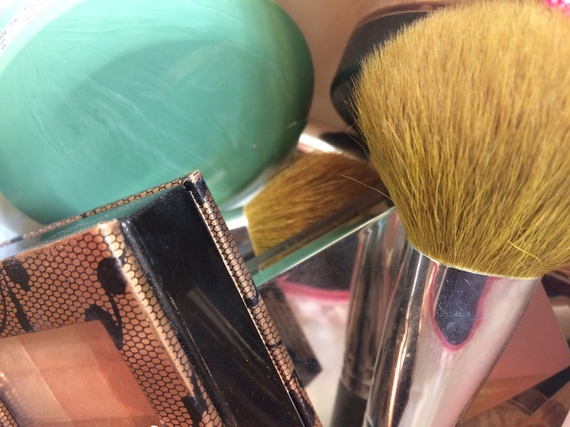 "This new mascara routine will change your life," the salesgirl assures me as she slips a couple of shiny tubes into pink tissue paper and into a tiny glossy shopping bag.
I had just spent the past 45 minutes with her, applying, removing, and then reapplying lipstick until we found the shade and texture that made it look and feel like I had no lipstick on at all. After all that she also sells me a tube of mascara and this magic mascara foundation that will not only separate and lengthen my lashes, but apparently also change my life.
I am a latecomer to makeup. My mother never wore makeup -- not even face lotion. I don't think she ever used any product on her skin, yet even now, in her 60s, her face is plump and smooth and rosy like a peach. When I was a young girl she once received a round case of eyeliners from France. She had no use for them so she gave them to me, but of course I had no idea what to do with them. But I remember the black, transparent case and the silver pencils bunched together with tiny dots at their ends showing blues and greens and grays. They smelled like crayons dipped in perfume.
I suffered from severe eczema my entire childhood and into my high school and early college years and my skin only tolerated prescription moisturizers. Any attempt at applying mascara or foundation ended with watery eyes and itchy, scaly skin. So the first time I had real, professional makeup on my face was at my wedding. Even though my eczema abated by then, having my makeup done for my big day never occurred to me until my hair stylist asked about it. Maybe it was the resentment I built up towards makeup and other skincare products during my eczema years that made me question the necessity of makeup. I mean, who wears makeup? Only people who have something to hide, or who are so horribly insecure that they must turn to blush and eye shadow to gain confidence behind their mask. Right?
But on the morning of my wedding the beautician expertly plucked my eyebrows -- ouch -- and applied just the right amount of foundation, blush, eye shadow, mascara, and lip gloss. She turned me around to face the mirror and I was hooked. I looked so... beautiful. I still looked like me -- only with brighter eyes, glowing cheeks, flushed lips. I looked like I imagine myself looking without makeup, but now I saw that without makeup I was mousy and gray and not bright-eyed and rosy-cheeked like I felt.
Of course, there is nothing wrong with being mousy and gray. Life goes on and whether there is light behind your eyes does not depend on the amount of makeup you apply. I know that, and even after the wedding makeup revelation I didn't wear makeup every day. Somehow without the occasion and the pretty white dress I felt silly with my face painted. Where was I going that required makeup? Work? The grocery store? Daycare pickup? I also didn't know what and how to apply where, what looked good on me, and the sheer number of choices when it came to colors and tools was just too overwhelming to someone who for 26 years thought of Chapstick as makeup.
On a whim, I tried makeup again last year, right around my birthday. I can't really explain why, but after all those years of trial and error, this time I immediately craved the orderliness of tiny bottles and compacts and brushes; the ritual, the time -- those five minutes when I have to look in the mirror and pay special attention to the wrinkles and freckles and spots, gently addressing each one, applying color and shimmer and powder. I finally don't feel like I am covering up anything; instead it feels like I am acknowledging and appreciating my skin, the shape of my eyes, the slant of my cheekbones, the soft lines of my lips, the curve of my eyebrows.
Maybe it was all those years without makeup that make me feel like wearing it now is no betrayal of any kind of principle about beauty or authenticity. I know the person under the powder and blush -- all of her imperfections, her strengths, her secret lives, and her hopes. I know what I look like without concealer and foundation and I am OK with all of it. I know that I am wearing makeup not to hide or improve or change who I am or what I look like. I don't want to label it, qualify it, or attach more meaning to it, nor do I think that it will get me a promotion or more friends. I do it to enjoy and appreciate a small ritual that marks the beginning of each day, to celebrate being a woman, to express my mood in color, to add a touch of shimmer to what might be an ordinary day.
I do know that as much as the salesgirl and all the glossy advertisements want me to believe it, a new mascara is not going to change my life. But it is hard to refuse even the possibility of change that comes in a sleek black tube and costs under $20. As the salesgirl hands me my bag and I leave the store with the scent of powders and perfumes lingering on my clothes, I am tempted to believe that if I wanted to change my life this would be a good way of doing it: a small adjustment of my daily routine, with a longer look in the mirror each morning and seeing who is truly there, who has been there all along.
Calling all HuffPost superfans!
Sign up for membership to become a founding member and help shape HuffPost's next chapter