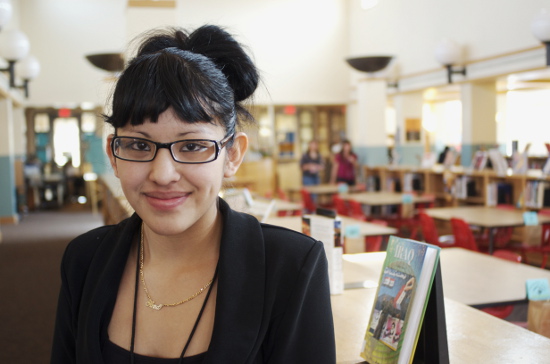 17 year-old Ana Diaz got her first ever job after taking the WorkKeys Assessment. Photo:Brett Myers/Youth Radio
According the US Department of Education, New Mexico ranks last in the country in high school completion rates. Major employers in that state complain of difficulty finding qualified job applicants. But a new statewide effort piloted by Santa Fe based Innovate+Educate is de-emphasizing the high school diploma in favor of a standardized test that many believe will make it easier to hire the right people. 
The City of Albuquerque is an early adopter. Mike Smith, director of Albuquerque's Public Service University, a city office designed to change the way hirning and promotions happen within the city, calls it a win-win for employers and job seekers. "There are people out there that want to enter into the workforce, but because they don't have their GED or they don't have their high school diploma, they're not working."
The City of Albuquerque employs nearly seven thousand people, making it one of the largest employers in the state. Smith says there are 275 bus drivers, 200 garbage collectors, and 78 early head start teaching assistants, all positions that used to require a high school diploma and soon will be available to applicants who achieve benchmark scores on a test-- the WorkKeys Assessment. It's made by the ACT company, the same people who make the college readiness exam, except WorkKeys doesn't test algebra or even a person's knowledge base. Instead it uses real world scenarios to measure job readiness.
Mike Smith, director of the City Of Albuquerque's Public Service University, is revamping the way the city manages hiring and promotions. Photo: Brett Myers/Youth Radio
Showing off three computer labs and a pile of laptops ready for WorkKeys testing, Smith said, "WorkKeys would allow me to hire the most qualified person for the job. This tells us 'I've proven that I can do these things,' so I actually think it's raising the bar." 
Though some question whether the bar is being raised unevenly. James Outtz is an industrial and organizational psychologist. He regularly evaluates pre-employment tests for major companies, examining the potential for discrimination. Outtz said, "Typically minorities may not have as good an educational background as a general rule as non-minorities. They can be screened out of jobs that they could in fact perform."
But requiring high school diplomas also screens out capable job seekers. And with 21 percent of young people in New Mexico not completing high school, the state is a prime candidate for testing out a skills-based hiring solution. Plus, if the test helps Albuquerque make better hires, Mike Smith says it'll save tons in turnover costs. "Two or three months in you've got $40,000 invested in this person and then you have to let them go," said Smith. "That's a huge investment on the city's part."
And that's for just one position. Multiply that by a couple hundred turnovers yearly and we're talking major lost revenue. And WorkKeys doesn't just appeal to employers. In a tough market, job seekers, especially young people, are giving the test a try.
Career Counselor Missy Gurule encourages Santa Fe High School student to consider the WorkKeys Assessment. Photo: Brett Myers/Youth Radio
Seventeen year-old Ana Diaz is a junior at Capital High School in Santa Fe, New Mexico. Sitting in the school's Youth Workforce Connection Center, which connects students to college and career opportunities, Diaz credits the WorkKeys test with helping her to land a job last summer at an All State Insurance brokerage. "My first task," said Diaz, "was to answer phone calls. I was so nervous, oh my gosh!" The shy junior said she started out sounding like a mouse. But over time Diaz got more comfortable. Soon, she was confident answering every call that came into the office. 
It was her first ever job. Without any previous work experience, Diaz believes the WorkKeys Assessment gave her a leg up. And now that she's had a job, she hopes landing her next one will be much easier.
Youth Radio/Youth Media International (YMI) is youth-driven converged media production company that delivers the best youth news, culture and undiscovered talent to a cross section of audiences. To read more youth news from around the globe and explore high quality audio and video features, visit Youthradio.org
Calling all HuffPost superfans!
Sign up for membership to become a founding member and help shape HuffPost's next chapter