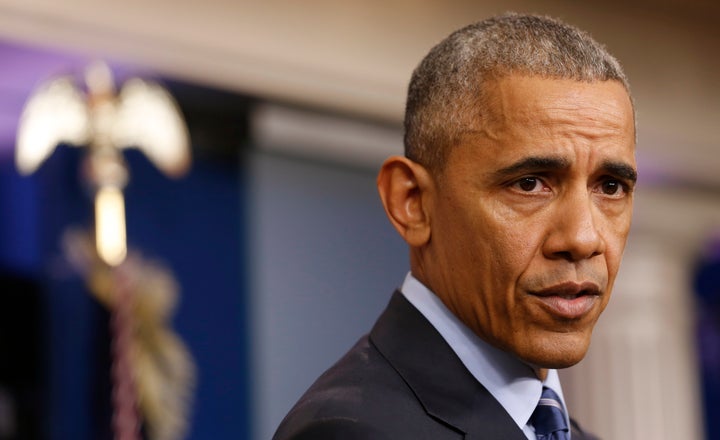 "The implications are bizarre."
But what are we talking about? Perhaps the fact that the president of the United States doesn't know basic facts about American history? Or that millions of Americans still believe climate change is a nefarious liberal plot? Or that Eric Thames is leading the league in home runs?
No, we're talking about a recent study that concluded racism motivated Trump voters more than just about any other factor.
This study has jolted those Americans — whether liberal or conservative — who insist that racism is dead, and that Trump won simply because of his brash tough talk or pro-business views or patriotic fervor or blah blah blah.
The immediate rebuttal to the study's damning assertion is that Trump's predecessor was a certain African American gentleman, whom you may remember fondly. So how could a nation of racists have elected Obama in the first place?
Well, here are some theories that explain that apparent contradiction:
First, the report implied that "a lot of racially bigoted people were willing to vote for Obama [but] flocked to Trump when he made 'political incorrectness' central to his pitch." Basically, many former Obama voters aren't overt racists, and may not even be aware that they harbor negative feelings about ethnic minorities. But once someone gave them psychological cover for their negative perceptions, they could justify pulling the lever for a guy who was endorsed by the KKK, without thinking that they were bad people. Yes, this is a spinoff of the old (and increasingly pathetic) defense of "I'm not racist. I'm just not PC."
These voters who got mindfucked had their deeply buried prejudice activated when a candidate — say, an egomaniacal sociopath — reinforced their racism. There are various ways of doing this, mostly of the dog-whistle variety. But the gist is that "if you want a racist's vote, you have to make an appeal directly to their racism. Without it, he or she just might vote for a racial minority."
A second factor is moral licensing. This is a fancy term for a psychological self-defense mechanism where "any act and any thought that you consider to be 'good' can license a subsequent 'bad' behavior because we feel that we deserve a reward for being so righteous." For example, if we voted for Obama, we may feel that this is proof that we are not prejudiced. It therefore gives us a moral license — a sort of free pass — to be bigoted in the near future.
Moral licensing is our psyche's way of saying, "Look, you voted for the black guy. That gets you off the hook. Go ahead and put that Trump sign on your lawn."
A third reason why some Obama voters switched to Trump is the discomfort many white Americans feel over the nation's cultural changes. A decade ago, white people were just starting to feel their decline. But by 2016 — with the opioid crisis in full swing and a black guy calling the shots and more Latinos popping up on television — it was undeniable that the good old days were over for white people.
During the Obama era, push very quickly came to shove for white people, who saw their numbers dwindle and their power slip (albeit slightly). This was enough for many white Americans to declare that enough was enough. After all, it was one thing for ethnic minorities to make some progress, but it was another to see so many dark-hued people doing better than they were. Indeed, "the achievements of black Americans, those who have become CEOs, scholars, scientists, artists, doctors, lawyers and politicians—and now even president—have fueled the resurgence of intolerance and anti-immigrant sentiment."
In other words, many white Americans sincerely didn't believe that blacks and Latinos, by gaining just a modicum of cultural and political power, would actually do that much better. It was alarming, and it provoked them to call for taking their country back and making America great again and otherwise returning to a glorious past where ethnic minorities knew their place.
Finally, there is the fact that Obama's election in the first place was — and this is disturbing to admit — a bit of a fluke. After all, in our nation's history, no other ethnic minority has even gotten close to being a major-party nominee. And it must be acknowledged that Obama's first campaign in 2008 came amidst an economic meltdown and the waning days of a Republican president widely regarded to be an incompetent frat boy. In other words, one reason that Obama won in the first place was because shit was so horrible that the country was willing to take a chance on a black man. Eight years later, with the worse over but vague dissatisfaction lingering over Obama's "socialism," it was much more acceptable to embrace white nationalism.
So there you have four pretty good reasons why many bigots voted for Obama but then switched to Trump. And these handful of closeted racists were enough to decide the election.
And how will they vote in 2020, when their savior, the Orange One, fails to improve their lives and make all the minorities go away?
That's an excellent question.
Calling all HuffPost superfans!
Sign up for membership to become a founding member and help shape HuffPost's next chapter
BEFORE YOU GO