Clad in a worn, tan work jacket a man in his late-forties stands hatless along the off-ramp of a state highway outside Bloomington, Indiana. He squints as bitter February winds chafe and redden his hands and ears. Motorists speed past and pay little attention to the man who holds a roughly hewn cardboard sign that reads the cliché, "Homeless, hungry, please help."
I call the man to my car from the roadside and yell over the din of traffic, "What happened?"
Approaching the car with humble solemnity, he confides, "More than I could say right now."
Pressing him further, he explains that he has been laid off from the saw mill in Odon, Indiana, a town about 50 miles southwest of where he stands now. His family, recently evicted, is at a shelter waiting for him to return with money, food, or the possibility of work.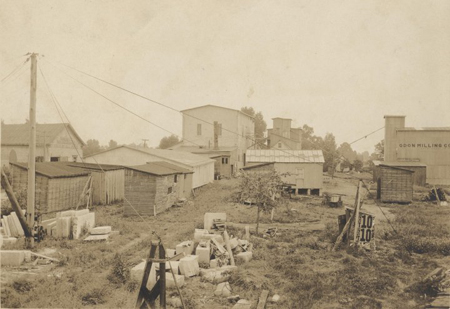 As he spoke, he wrung his thick, callused hands, which testified to decades of hard labor. Without the opportunity to provide for his family, he had made a pilgrimage to Bloomington, Indiana -- home to Indiana University and a town of 69,000 residents when school is in session -- to find opportunities unavailable in his tiny hometown of Odon.
Before I could learn his name, the light changed from red to green, and I was swept away with the traffic stream into Bloomington's west side retail corridor. Determined to remember this man, I returned to my office at Ivy Tech, a nearby community college, and quickly scrawled the words "Odon Indiana" on a blue Post-It that I affixed to the bottom edge of my computer monitor.
At the end of April, I took a faculty release day and traveled to the town of Odon in hopes of finding this man or learning more about the town and the saw mill for which he had worked. Although I expected to find a town devastated by unemployment, I instead found signs that an economic recovery was slowly taking root in south central Indiana.
Odon, is located in Daviess County. A town of approximately 1400 residents, it is situated only about ten miles from the Naval Surface Warfare Center Crane Division, the third largest naval installation in the world. Odon, originally named Clarksburg, was founded in 1835 and is home to one of the largest Amish and conservative Mennonite populations in the Midwest.
The town is visible from a distance, marked by an old water tower with the word "Odon" painted on it in the plainest of sans-serif fonts. It is gray and rust-free.
Unlike other small Indiana towns, Odon lacks a discernible town square. Instead, its northern edge features an optometrist and a Casey's General Store, a convenience store and gas station common throughout rural Indiana. Downtown has Main Street on which you will find the only grocery store, the public library, and one of only a few banks in town.
But like so many rural Indiana towns, Odon does exhibit one common trait: income inequality.
Pristinely manicured and landscaped houses sit adjacent to decaying frame houses from the 1920s. Moss clings in clumps to the roof of one house. Its walls tilt inward from decay and the force of vegetation slowly devouring it. Bare boards peek from behind the cracked paint that has long ago peeled and fallen away. But this house is not abandoned: the absence of broken windows and its makeshift drapery--a bed sheet slung across the bay window--let passersby know that this is someone's home. A few houses away, new cars gleam in the sunlight in front of all-brick, ranch-style homes.
This is an American town. Signs of patriotism are evident throughout. A wooden pallet leans against an ancient oak tree with its slats painted to mimic an American flag. Another house has an old out building painted with the American flag on all sides.
On the streets, people work. Two muscular young men shovel a pile of crusher run onto a driveway. The Jay-C grocery store bustles with customers and a horse drawn carriage is tethered to a length of pipe near the outskirts of the parking lot.
Outside the auto repair shop, a man in overalls leans against a wooden partition while two friends, eyes trained on cars, converse from folding chairs. One removes his hat and wipes his forehead dry with his shirtsleeve.
On the east side of the town sit ramshackle barns with cars from the early 50s in various states of rust. They sit parked half-tarped under ad hoc shelters made from loose timber and corrugated aluminum.
The south edge of the town is lined by immaculately kept Amish farms. Men in black pants and suspenders with white shirts guide plows through the earth by the power of four dark grey Percheron horses. Women in blue dresses and bonnets struggle against the wind to pin shirts, pants, and long-underwear to seemingly endless clotheslines. Passing in front of this scene, a tiny twelve year old boy steers a small carriage propelled by four massive horses which all but obscure him from sight.
Down the lumpy and uneven Gum Street, I find the Odon Saw Mill situated alongside railroad tracks dating from the nineteenth century. My car bounces clunkily over the tracks and along the western edge of the mill. Trucks piled high with cut logs from standing timber have pulled in and wait to be unloaded.
At the heart of the mill stands a large beige, sheet metal pole barn with a milling conveyor jutting out one side. Saw dust spews into the air and scrap lumber falls to the side as the most valuable cleanly milled wood is caught at the top by a worker. The gaunt worker wears a denim shirt and is smoking a cigarette that protrudes from a thick, dirty beard. His long hair is covered by a sweaty, blue baseball cap.
The saw mill, though largely devoid of people is bustling with activity. A small wooden shack with a carved wooden placard labeled "office" is surrounded by neatly stacked and bound pallets of sapwood. A robust man is his early twenties situates another pallet of this wood carefully into place with a forklift. His name is Gabe Swartzentruber, and he pauses briefly to speak with me.
Gabe has worked at the saw mill since he "was big enough to walk." The mill has been in his family for decades, or as he tells me, "I hate to say how many years."
I ask him about the man who I saw in Bloomington a few months before, but he explains that so many people were let go that it would be difficult to figure out who this person was.
"'Bout all I can tell you is at that time the Odon Saw Mill was pretty well shut down. I mean, yea, it was slow. The recession put the hurtin' on the lumber industry as far as that goes. That's why we laid some guys off."
Before the recession, the mill employed between 15 and 20 full-time employees. But Gabe explains that he was forced to eliminate all of these positions over the winter. But recently, things are starting to look up.
"Now, as far as now, it's picked up a little bit, but it still ain't near where it should be."
He explains that, "a lot of our lumber goes North, to Northern Indiana. A lot of it does. We sell cross ties for the railroads, and pallet boards--for like pallets, [people] use pallets to stack everything on."
The increasing demand for pallet boards suggests that businesses are moving more freight, one sign that the economy is on the mend.
Increasing orders have enabled him to bring five full-time workers back on. However, some of these workers are members of his immediate family, a brother and cousin.
"Basically all that's here right now is family."
Surprised to find the saw mill reopened and recovering from the recession, I headed downtown where I saw more signs of a recovery. The local newspaper, the Odon Journal, featured an advertisement for a job fair at Berry Plastics Corporation, a company with a manufacturing facility near Odon. Berry Plastics is an Indiana company that was founded in Evansville in 1967. They manufacture a variety of plastic products such as the plastic wrap used to wrap crackers, as well as, other products like painter's plastic and trash bags.
Arriving just before 1:00pm, the scheduled start time of the job fair, parking is difficult. Driving down an access road, I pull into the grass and walk with 30 other people who stream from pickup trucks and late-90s American made cars into the plant. The applicants I interview are largely underemployed rather than unemployed.
The personnel manager from Berry Plastics, Wayne Smith, speaks with me briefly. He evades questions about exactly how many workers he is planning to add in the near future, but is willing to tell me that he is "building his bench" in anticipation of increasing business.
I return to Bloomington with an anemic optimism about the future of the American economy. Back in the college classroom, many of my students are displaced workers from the surrounding communities.
A few days later, GM announces plans to invest $111 million dollars in the GM Powertrain manufacturing facility in Bedford, Indiana, another small Indiana town that has been hit hard by the recession. This new investment is expected to almost double the workforce at the facility. GM expects to create 245 additional jobs at the Bedford plant which currently employs around 350 workers.
This announcement is greeted with jubilation in the local press, but leaves me somewhat uneasy. After all, this GM facility in Bedford, at its peak, employed almost 10,000 workers. Today, it employs only three percent of that amount, and even after its announced investment, this number will only increase to five percent by 2013. Furthermore, given GM's track record, this announcement could have just as easily been a plant closing rather than an expansion. Whether GM, GE, or Wal-Mart, communities across America know that the fealty they offer transnational corporations is often not reciprocated.
A full recovery may come, but Odon teaches us that a sustainable recovery is more likely to occur when corporations re-learn the value of taking root in the communities in which they operate.
At the saw mill, Gabe explained that local farm and carpentry work has kept many afloat during the recession. The saw mill his family operates is a foundational institution enmeshed in Odon's past and present. When times are hard, they shut down temporarily, but they have never left Odon. Likewise, Berry Plastics is an Indiana company that continues to invest locally and support the Indiana economy.
Can America return to an indigenous economy?
Calling all HuffPost superfans!
Sign up for membership to become a founding member and help shape HuffPost's next chapter