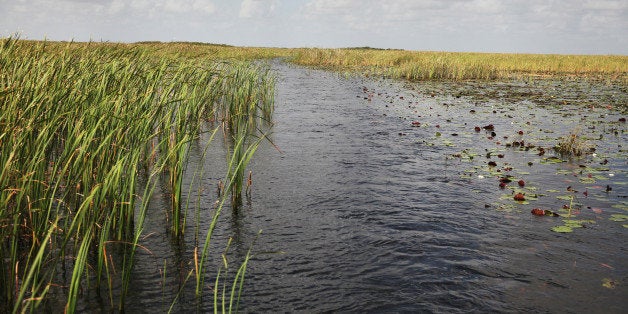 A State of Florida website laconically refers to the project known as "Mod Waters" this way: "The Modified Water Deliveries Project project is a federal ecological restoration project in south Florida designed to improve water delivery to Everglades National Park. The completion of Mod Waters is required before the implementation of portions of the Comprehensive Everglades Restoration Plan. Mod Waters is being implemented by the U.S. Department of the Interior and the U.S. Army Corps of Engineers."
Let's make this clear: everything you know about the plan to fix the dying Everglades --signed into law by Congress and the President in 2000 -- depends on protecting water quality and fixing water flows into the eastern side of Everglades National Park, close to Miami-Dade county farming and development. That plan was a 1989 deal, put together after years of controversy, and it is just coming online now.
For decades environmentalists clamored for additional fresh water deliveries to the eastern side of Everglades National Park with an important caveat: the water has to be clean enough to meet the requirements of the Everglades ecosystem including Florida Bay waters. In the meantime, the Everglades is still gorgeous to the eye, there are opportunities to see remarkable wildlife in America's only subtropical water wilderness, but for its advocates -- grown old and weary from one of the nation's most enduring environmental battles, pitting panthers, wood storks, and snail kites against billionaire sugar farmers, sprawl developers and their phalanxes of lawyers and lobbyists -- today the Everglades might be viewed as an iconic ecosystem on life support, with all the bells and whistles of a multi-billion dollar scramble to prove that, yes we can revive both the Everglades and promises worn down by politicians to their nubs.
The flow of Everglades waters have been blocked by Tamiami Trail and large scale farming at the edge of the Everglades, creating flood protection conflicts with land owners, spurred by idiotic developments like the 8.5 Square Mile Area in western Miami-Dade County sticking like a sore thumb into the middle of Everglades wetlands. To move water south, water managers have built a multi-hundred million work-around. Great if you are a property owner in a place where government should never have allowed development in the first place, lousy if you are a nesting roseate spoonbill.
Mod Waters has three major components: 1) The elevation of Tamiami Trail, to increase flow into Everglades National Park; 2) Isolating 8.5 Square Mile Area from surface water flows, to provide flood protection for developments in the area; and 3) Conveyance and Seepage Control, to reconnect freshwater flows and to control the loss of water from seepage eastward into the urban areas. Each of these components, including the construction and alteration of water management structures, turned out to be much more expensive that originally forecast. The pace of Mod Waters resembles a snail's crawl.
Miami-Dade County government, over the years, played a major role in delaying, obstructing and thwarting expedited efforts to restore water flow to Everglades National Park and also to Biscayne National Park too. Some Miami-Dade county commissioners either owned in name or through proxies in the 8.5 Square Mile Area, creating a unique subclass of special interests demanding 100 percent certainty that their property and illegal structures would not be flooded if the Everglades water supply was improved, or, very high buyout prices from the government.

The original cost of Mod Waters was $81.3 million in 1990. By 2007, the cost had soared to $398 million, including $200 million for acquisition of private properties. It most certainly is approaching $500 million today.

As if that weren't enough of a drag, after twenty five years, now news arrives of a massive, toxic algae bloom forming in Florida Bay; exactly the catastrophic ecological damage that Mod Waters was intended to prevent.
The legion of nay-sayers, stirred up by Big Sugar's interests in keeping upstream water management priorities for its own benefits, have been steadily laying the groundwork to fight whatever results emerge from Mod Waters. Through Sunshine State News, a local faux news surrogate, Big Sugar is already claiming that more water into Florida Bay will only cause more damage to the ecosystem, pointing away from the dismal results of its own role as Florida's shadow government in the mismanagement of water resources.
Environmentalists have always said that restoration of the Everglades depends on the the right volumes of fresh waters back into the park at the right times of year and with the right water quality. Meanwhile polluters and special interests have spent three decades trying to undermine the science and benefits of fresh water restoration, disrupting the missions and work of state and federal agencies in the process.
A former director of Friends of the Everglades once said, "Restoring the Everglades is a test. If we pass, we may get to keep the planet." So much time has been lost. So much energy. Fundamentally, the words of Joe Podgor -- then Friends' executive director -- turned into one of the century's great cautionary warnings.
We are not reacting fast enough to the changes we observe and confirmed by science. The speed with which natural processes overwhelm our political ones should give voters pause and reason to reflect on the true costs of unresponsive democracy.
From: "Miller, Jennifer S SAJ"
Subject: *** Water operations field test begins in Everglades ***
Date: October 15, 2015 at 12:02:25 PM EDT

*** Water operations field test begins in Everglades ***

As progress continues to be made in restoring America's Everglades, an incremental water operations field test has been initiated to take a deeper look at what operational refinements are possible to provide additional ecological benefits to the Everglades ecosystem.

The first increment of the G-3273 and S-356 Pump Station Field Test (Increment 1) started today. The test aims to increase flows to Everglades National Park and is the result of a collaborative effort between the U.S. Army Corps of Engineers, U.S. Department of the Interior and the State of Florida.

"This field test is an important step towards our comprehensive restoration effort as it delivers much-needed water to Everglades National Park," said Col. Jason Kirk, U.S. Army Corps of Engineers Jacksonville District Commander. "It is the beginning of an extensive data collection effort that will help us better determine what opportunities exist to modify operations in the southern portion of the Everglades ecosystem."

The data collected during the field test will assess how newly-operational project infrastructure integrates with the current water management system, and how to maximize ecological restoration objectives.

"Collecting data is essential to successfully achieving restoration goals for the Everglades," said Tom Teets, South Florida Water Management District Director of Everglades Policy and Coordination. "Cooperation between state and federal agencies is critical, and this pump test will help us better deliver water to Everglades National Park."

Increment 1 will evaluate the raising or removing of the maximum stage constraint (currently 6.8 feet) at the downstream G-3273 gage in Everglades National Park, operating the S-356 pump station for control of seepage into the L-31N Canal, and maintaining the maximum operating limit for the L-29 Canal water level at 7.5 feet. These operations will produce a small but important increase in the net flow of water into Northeast Shark River Slough in Everglades National Park. Increment 1 is planned for approximately two years, with a minimum duration of one year.

The field test will be conducted in three increments. During the duration of the first two increments, data will be collected and analyzed; natural, agricultural and urban system responses to project operations will be assessed; and ecological monitoring will be maintained.

"We are excited to begin the first incremental field test for improved water operations under the Modified Water Deliveries and C-111 South Dade projects," said Everglades National Park Superintendent Pedro Ramos. "This is the next step in implementing a new water control plan focused on beneficial water management operations in Water Conservation Area 3A, Everglades National Park, and south Dade."

The information obtained from the first two increments will be used in the development of the Combined Operating Plan, a comprehensive integrated water management plan for the southern portion of the Everglades ecosystem: Water Conservations Areas 3A and 3B, Everglades National Park, and the South Dade Conveyance System, which includes the Modified Water Deliveries to Everglades National Park (Mod Waters) and C-111 South Dade projects.

Restoring historic water flows to Everglades National Park is a complex endeavor that requires many projects to work in concert. Two of these projects are the Mod Waters and C-111 South Dade projects. They are part of the Foundation Projects, which the Comprehensive Everglades Restoration Plan (CERP) builds upon to deliver essential ecosystem restoration benefits.

The Mod Waters and C-111 South Dade projects provide critical infrastructure that will enable larger quantities of water to flow into Everglades National Park. The majority of construction has been completed on these projects and the remaining features are scheduled to be completed within the next few years.

Currently operational constraints exist to mitigate for potential flooding risks to adjacent residential, commercial and agricultural lands, and effects to endangered species. Since the majority of project features have been constructed for the Mod Waters and C-111 South Dade projects, opportunities exist to begin relaxing these constraints and increasing water deliveries to Northeast Shark River Slough in Everglades National Park.

Real-time data from this field test are available on the project Web page and will be maintained throughout the duration of the field test. This data, along with additional information on the G-3273 and S-356 Pump Station Field Test, are available at: http://bit.ly/MWD_FieldTest.