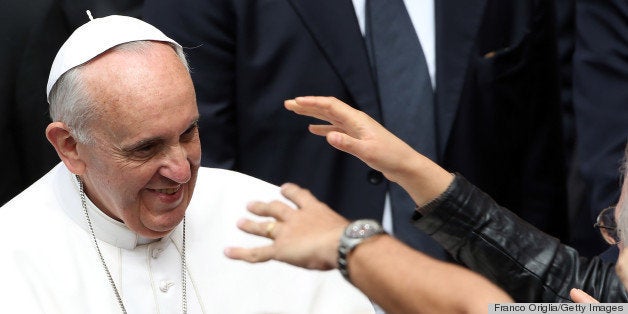 "Just do good, and we'll find a meeting point."
I like that. I like the feeling of unity, the reassurance of things working out in the end, even if we aren't all on the same page now. I like the idea that even if we aren't on the same path, we'll meet up eventually -- and how will we find each other? Just do good in the world.
Pope Francis said the above words in response to a Catholic man asking about atheists and whether Jesus loves them too. "Just do good" seems liberal, open and genuine. Just bring goodness into the world, no matter who you are, and we're in this thing together.
Pope Francis has had some interesting discussions on homosexuality. While still a cardinal, he spoke out against same-sex marriage and same-sex adoption in Argentina, saying that they come from the devil. Now, I'm not a theologian, nor am I an expert on the government in Argentina, but I'm a married lesbian, so this obviously doesn't sit well with me. There have been rumors that Pope Francis is actually an advocate for same-sex civil unions. To me, that's surprisingly progressive in comparison to the views of his predecessor, Pope Benedict.
If I do good, will we still find a meeting point? Am I on an eventual path to Jesus, practicing Catholics or Pope Francis himself? Is volunteering with small children doing "good"? What about teaching college students the importance of sexual education? Is all mission work inherently doing "good"? What about being in a same-sex marriage? How about being a homosexual?
I was raised Catholic, but I've struggled with my own perspectives within my faith. In recent years I've grown more distant and ceased practice, perhaps (and probably) fitting the definition of an "atheist" that the man who posed the question had in mind. Nevertheless, Pope Francis reassures me, an atheist, that the "good" that I do will lead me to meet someone along the way -- but what about the fact that I'm a lesbian? Is doing "good" enough for only one divergence from the faith?
I want to do good in the world. I want to be good in the world. I want to believe in goodness in the world. But is there an end to my means, and does it matter what it is? How much good do I need to do, and where do I turn it in? Who marks the check box next to my progress? Is it enough if only I think I do good, or is goodness measured not only by intentions but by actions?
Some 54 percent of Catholic Americans support marriage equality, according to a poll by Quinnipiac University. The same poll reports that 52 percent of Catholic Americans believe that Catholic leaders are out of touch with their community. Having grown up in a predominately Irish and Italian community, I have many Catholic friends who are also steadfast advocates for marriage equality. But I also grew up with many Catholics who are not, including my own family.
Is Pope Francis more progressive on marriage equality than his predecessors? Is he in tune with the views of the majority of Catholics in the U.S.? What are his true feelings on homosexuality? I don't know.
I want to do good in the world. I want to make people smile, feel a little better, think a little harder, feel a little more. I want to bring just a little goodness into the world. And if I meet someone, religious or otherwise, along the way, I find comfort in knowing that it's because we've both done at least a little bit of good.
REAL LIFE. REAL NEWS. REAL VOICES.
Help us tell more of the stories that matter from voices that too often remain unheard.