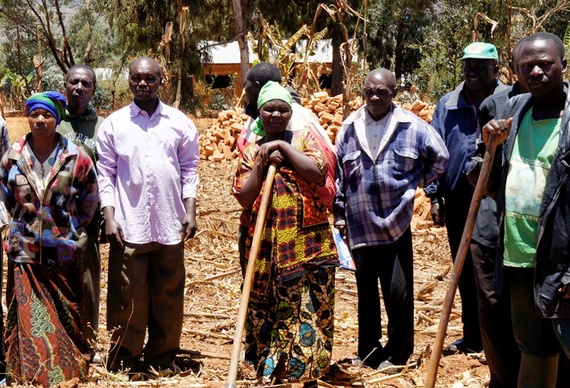 I am not sure how I stumbled upon the Practical Initiatives Network (PIN) website, but when I did I was thrilled to see it. As someone who spends a lot of time in the field visiting many NGOs both large and small, it's hard not to see duplication across organizations. I often think how better it would be if smaller organizations that serve the same communities through like programming would pool their resources to make a larger impact. Or, that when programs and services overlap even across countries that they would collaborate more often to at least avoid replication in the field.
Alice Jowett, the founder of Practical Initiative Network believes the same. After working with NGOs she saw a need for a place where NGOs could collaborate and share ideas and program outcomes.
I interviewed Jowett about her motivations behind starting PIN and what she sees for its future.

Jennifer James: When I saw PIN the first thing I thought was, "it's about time." What prompted you to create PIN?
Jowett: I came to see a real need for this type of free, open platform through my own work with NGOs, and later as a development student. Before my studies I had worked to help establish Conversations with Foreigners (CWF), a small NGO that operates as a social enterprise to provide a sustainable funding stream for a local NGO in rural Cambodia. The concept was so successful I decided to use it in my MA dissertation on the scaling-up process. I was curious how successful models like CWF might be scaled-up through replication in other countries and locations, and perhaps more importantly how the core concept could be more easily shared with others.
Jennifer James: What is your background and how has it helped you through the process of creating a global online network for NGOs?
Jowett: I've worked with NGOs in Cambodia and India, so I have a practical background in how organizations work, run, and learn. But for the last few years I have been a student of development (I'm currently finishing my PhD). Both practical and theoretical perspectives have informed the process of creating PIN. Certainly I was persuaded by the research on scaling-up, but I also knew from my own experience how useful such a database would be. I worked, for example, with an NGO in India that was working to establish rural fishponds. The project was incredibly similar that of an NGO I worked with in Cambodia that had piloted various successful techniques. I just kept thinking if there had been a way for the Indian NGO to be able to use the Cambodian NGO's research and to have discussed their experiences, they would have saved precious time, money and resources. It also would have built an evidence base for the original technique. The idea stayed with me while I continued to imagine a website that would allow individuals and organizations to freely post their profiles and initiatives.
Jennifer James: What was your main goal for PIN when you started it? Have your goals shifted or remained the same now that PIN is live?
Jowett: My main goal when I started PIN was to provide a space for development organizations to contact each other directly and share information. This continues to be the primary goal, but how we achieve this has since changed over time. After starting the website, I began to use social media as a way to reach organizations and invite them to join PIN, particularly through Twitter and Facebook. This really broadened PIN's approach and made us much more focused on the "social" aspect of the network than I originally imagined. Additionally, as new team members have come on board with their own areas of interest, specialties, expertise and ideas, PIN has continued to expand. The most recent area of focus is developing a blog for individuals, as well as organizations, to share their learning and experiences with others.
Through the PIN Blog we hope to share some of our own successes and failures working on PIN as a way of paving the path for other organizations to do the same. We want the blog to be a space for individual information sharing and to act in a similar crowd-sourced fashion to the website, where organizations are invited to submit their own blog posts. We also want to do more with the organizations in our network, carrying out in-depth interviews both through our blog and YouTube pages, and providing more in-depth coverage of the information provided on the website.
Jennifer James: How has creating PIN on an open source platform accelerated or slowed its growth?
Jowett: This question is key for PIN moving forward. We're currently working on plans to develop a new website -- and in fact we always welcome web developers who would be happy to help us out (we very much practice the collaborative process we preach!). Early on, I was lucky enough to work with someone who got us started with Ushahidi and am incredibly grateful it is open source and brings such needed equitable access to web design.
My plan has always been to in a sense trial PIN as a concept, and in the event that it proved to be successful, and not already in existence in another form, to develop the website further. I think we are at the stage now where, yes, the concept works, but the website must be better developed to not only meet the original goals, but also to incorporate new needs identified along the way.
Calling all HuffPost superfans!
Sign up for membership to become a founding member and help shape HuffPost's next chapter