On a rainy Saturday in April, black clad city dwellers descended onto the quiet streets of Levittown, NY. Completely out of their element, and disoriented after an hour and a half bus ride following a symposium in Tribeca -- some began to wonder what they were actually doing there.
Dutch product design firm Droog, in collaboration with Diller Scofidio + Renfro, organized a series of eight installations by emerging architects, titled Open House. As stated in the brochure, "Open House encourages self-inventiveness, offers ideas, and proposes new models for suburban housing." The project grew out of Droog founder, Renny Ramakers' fascination with the creative service economies of New York City, i.e. dog walking, or personal trainers and psychics that run businesses from their homes. Her basic premise was: why can't a similar economic resourcefulness occur in the suburbs?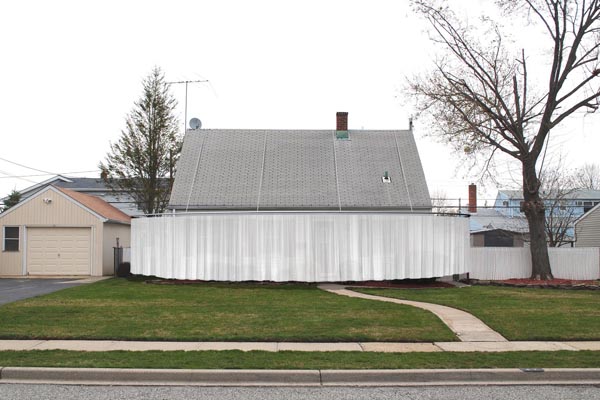 House # 1 - House Dress (image courtesy NYTimes)Originally imagined by L.E.FT as a casino for gambling -- the "house dress" both conceals activity within, and simultaneously advertises an ulterior function. The lofty concept was however adjusted to the residents who were ultimately more interested board games and soliciting donations for a local charity than running a lucrative side business.
Levittown What better place to explore new ideas about the suburbs, than where it all started? In 1948, Levittown was front page news. Tract housing wasn't invented there -- but it was never done at such a scale -- nor with so much publicity. It occurred in tandem with a national shift in advertising that celebrated the white picket fence lifestyle, facilitating a mass exodus from cities. In 2011 -- Wal-mart, Applebees, 711, and driving everywhere has become so ingrained, it's easy to forget this way of life was merely an idea at one point. Even before seeing the installations I was intrigued; the event by simply posing the question and dropping architects into the historically loaded context reminded of the significance design has, and could again play in the suburbs.
Installations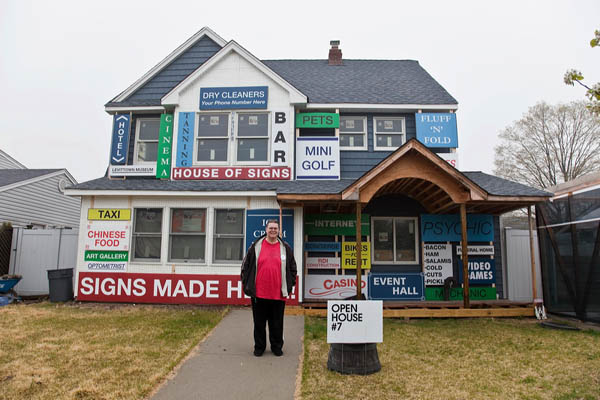 House #5 - House of Signs (Benjamin and Soo-in Yang with Livia Corona) Image by Naho KabutaHouse of Signs was the most thought provoking visual statement. It literally combined the local commercial iconography with the local residential aesthetic, and seemed the most viable as a real business. However, for the most part the installations didn't present models as substantive as this. They tended to dance around the interests of the residents (House #1-House Dress), or present playful scenarios such as practice vacations (House #8) or an attention clinic (House #6).
A primary critique in Allison Arieff's review in the New York times: was that the event seemed too much like an art project, and not enough of an exploration into real pragmatic solutions. She asserted: "while life may imitate art, it's not necessarily meant to be displayed as such." (Wandering from site to site in small herds admittedly did feel somewhat like gallery hopping at times).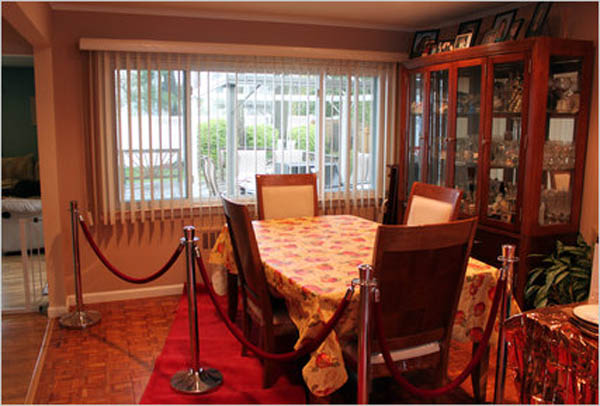 House #3 - Domesticity Museum(Urtzi Grau and Cristina Goberna) photo by Naho KabutaA velvet rope was strung around the dining room table and china cabinet, while a rack of clever mock postcards immortalized a way of life supposedly soon to be a thing of the past (due to changing values, the foreclosure crisis, migration back to cities, etc.).
The "museum" was well executed and raised provocative questions; but it was hospitality that kept visitors lingering, and a vague curiosity in the residents cordoned off in their natural habitat (intentionally or not intentionally, also on display) -- quietly going about their daily business -- watching TV, or preparing food on the grill to sell to guests.
Fulfilling the mantra emblazoned on organizer's buttons: "discover your inner service provider," many of the participants were able to show off something they're good at, such as entertaining. But this often had little to do with the actual installations. As Arieff suggested, "Lisa and Leo's Domestic Museum" could have easily been "Lisa and Leo's Café;" a more serious response to the challenge, with the staying power to become a local hub of activity and generate income.
One day of course isn't enough to measure concrete social and economic effects upon a community. I didn't see neighbors wander in out of curiosity (the supposed test audience), nor any sign of life on the sidewalks that didn't arrive by tour bus. Perhaps the locals were secretly peering through the blinds or maybe just had better things to do? The event was ultimately to the benefit of out-of-towners, only there for a few hours -- so perhaps making an artistic statement was the appropriate approach?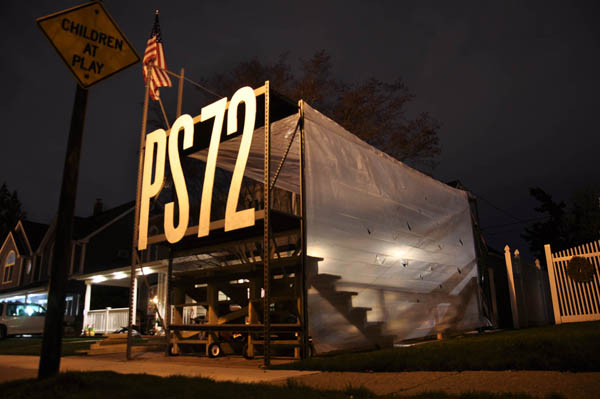 House #5 - PS 72: Porch-Side Lessons (Austin plus Mergold) photo by Spencer Lapp Austin plus Mergold proposed a school on a former school teacher's front lawn. Bleachers and bold signage were situated between a private residence and public sidewalk, in a socially inclusive gesture that challenged conventional private/public boundaries.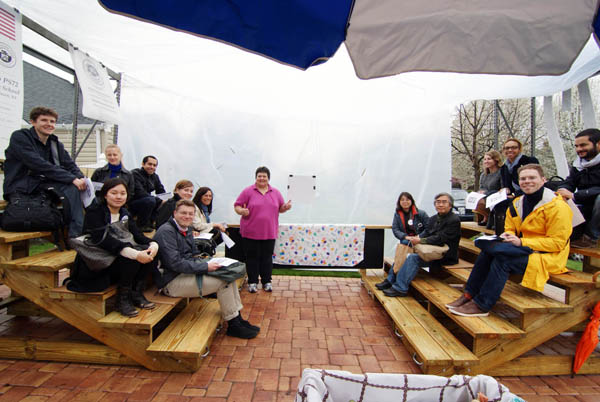 Photo by Austin + Mergold
Ironically, this thoughtful experiment in fostering social connections, might have brought strangers a little too close. Regardless of the sincere effort on behalf of the host, it was an unexpected change of format to sit and listen to a lecture. Going "back to school" to learn about Hummels (German collectible figurines), or to look through family photo albums, was likely not a reason most designers made the trek out.
Suburban Sociology 101 After a few houses it became quickly evident: the residents' real lives were already interesting without the installations. The art voyeur expectations (of judging the constructions or scenarios), gave way to more of a social study -- where the object of fascination became the residents themselves. A somewhat uncomfortable realization -- but nonetheless a valuable take away. For guests, going into homes and interacting with the owners provided a peek into a distant way of life (even though it's just everyday for most of the country) -- and for organizers: the lessons learned will no doubt better inform the next iteration.
Comparing Levittown then and now: it's clear to see the resourcefulness, and entrepreneurial spirit Droog was so curious to tease out -- has long been quietly at work. The nearly identical ranch style homes have been modified over the years to look surprisingly different from each other. People make them their own. With new paint colors, dormers, porches, or strange decisions by the residents of house number #3, to clad the dining room in floor to ceiling mirrors. Polly, "advice giver" for a day (house # 6), subdivided her home into a "granny flat" to generate extra income. Ironically, the woman ushering people in for advice at the "Attention Clinic," also offered similar expertise in her real job, as a "dating coach." This seemed to pique more interest than $6.80 advice, a $1.70 warm hug, or sharing a secret. A physical space wasn't even necessary to launch her creative business, only digital media (for setting up practice dates). Likewise, the reach of meetup.com or eBay extends much further than a Levittown block -- capable of organizing a vast range of individuals around niche interests, like Hummel collecting.
How is architecture to compete with the internet? Should designers even try to meddle at such a subtle social scale?
Adjusted Intentions Returning to Levittown brings the debate full circle -- an apt choice as Charles Renfro explained, for its "iconicity." However, with this loaded site comes the burden of high expectations -- opening up critics like Allison Arieff to voice frustration over missed opportunities:
"Addressing suburban ills requires massive change to systems, to finance, to transportation and infrastructure, and perhaps most challenging, to a culture deeply wedded to suburbia as emblematic of the American Dream."
To which Renny Ramakers posted a rebuttal:
"Is design solely a form of crisis management and problem solving? Or can design also offer a different perspective on a problem, without having the aim of solving the problem entirely?"
And restated the original intention:
"We did not intend to resolve the issues it faces, but rather to explore what value personal service exchanges might offer to suburbia... We see the event as a model for a future suburbia, which is not the model to solve all possible problems facing the suburbs. It is just a model to revive--to get more life--into suburbia. The one day event was the first phase of the project. We are currently working on a publication which will deepen our insights including those raised from these discussions."
The Elephant In the RoomGlobal warming and the housing foreclosure crisis have raised the stakes -- bringing the problems of suburbia to the forefront. The undertaking is dauntingly complex, requiring massive coordinated shifts in ideas and policy -- with not one, but many solutions. This tent is certainly big enough for some investigations that aren't bent on fixing "everything." These discussions often circle around social issues generically and are awash in CO2 emissions and commute time data, in contrast: it's refreshing to see an attempt at engaging a more specific, human scale.
Future Open Houses by EFGH The strongest ideas of the event ended up being the unrealized, speculative projects of EFGH (presumably to be elaborated on in the next phase). They chose one block to re-imagine a more extensive vision for "future suburbia," and actually attempted to tackle a few issues Arieff brought up, such as zoning regulations. They proposed shared lot variances, rear yard performance spaces, and driveway drive-thrus; and not all pie in the sky ideas: a home entertainment theater, an enlarged dining room for entertaining, or even a small public library -- appear modest enough to be feasible.
Spatial Catalog of Service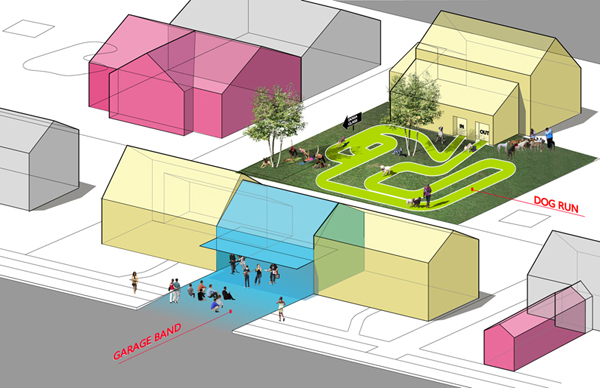 a garage band venue and dog run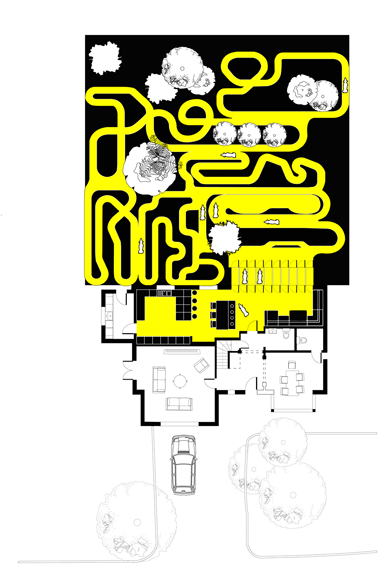 dog sitting and backyard walking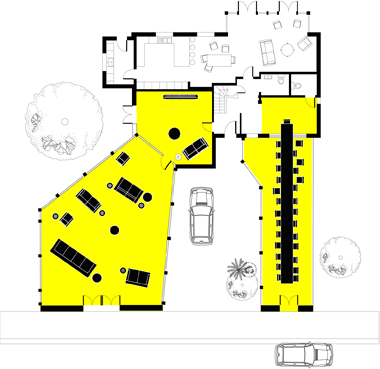 extended living and dining rooms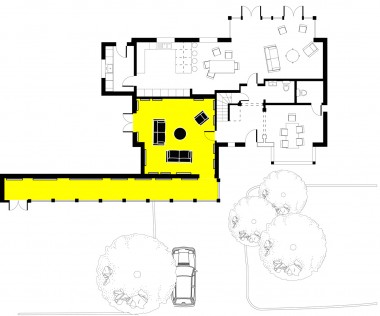 art gallery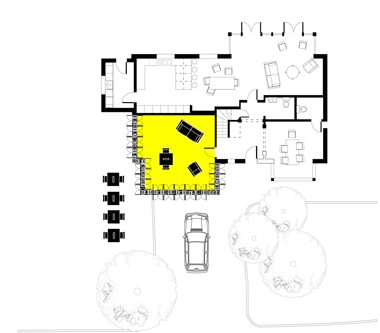 public library
Images courtesy EFGH and Droog Blog
Role of DesignersLooking to Monty Python skits to invent scenarios (the Attention Clinic) is a fun approach for a weekend installation -- but for more lasting changes, there's plenty of "material" to pull from the residents themselves. Rather than a heavy-handed approach, the Open House explorations suggest a role design can play, at a more localized level. In this first attempt many came up short, and revealed a degree of naivete to larger issues -- but the instinct to draw out latent social and economic potentials, was spot on. What's exciting about this approach: is the potential to align with the "bottom up" Home Depot-style retrofit culture already prevalent, and enhance it via the new ideas and expertise that designers can offer.
Related
Popular in the Community