Few inmates at Rikers Island jail could identify a Picasso or Matisse painting if it was hung in their cell. But the dozen or so young men who are lucky enough to attend Elizabeth Josephson's art class at the jail can not only identify the masters, many of them do inspired interpretations of their favorite painters' art, whether it be the work of Marsden Hartley, David Hockney, Jean-Michel Basquiat or Takashi Murakami.
"I teach them art history," says Josephson, who curated "Turnstile I," an exhibition of Rikers inmate art that opens this Thursday, August 6th at the FiveMyles gallery in Crown Heights, Brooklyn. "It's important that they know who these people are. It teaches them about the real art world and it gives them alternative role models to look up to."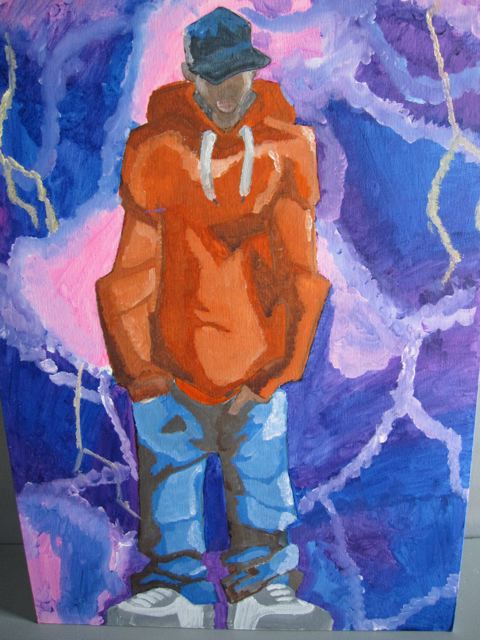 The show is the first of three exhibits, by or about Rikers inmates, to be shown at FiveMyles in the next year to raise awareness and support for an after-prison arts program that Josephson is planning to open in Crown Heights. "These are talented young men who need someplace to go to develop their skills, discipline and self esteem when they get out of jail," she told me.
Josephson has been teaching art as part of a GED program at Rikers for eight years. She encourages her students, who call her "Miss J," to take risks and explore with paint. It shows in the work, which is exuberantly colored, trenchant and imaginative. The paintings have diverse subjects from hip-hop women with orange Afros to kissing ancient Egyptian royalty and American cartoon heroes. There are scenes from prison, the street and the African Serengetti. Some of the work is illustrative, other paintings folkloric, naïve, or mythological.
A few of Josephsons' students, like 18 year-old Parish Clark and 19 year-old Shabazz Martin, have the talent and inclination to pursue professional careers as fine or commercial artists. An after-prison art program, Josephson says, would provide opportunities for them to meet other artists, gallery owners like Hanne Tierney who runs the non-profit FiveMyles and other art professionals. For many ex-offenders, though, having a place to practice art is primarily a supportive component of transitioning back to the community, finding full time work and forging a new direction in life.
For these young men the experience of Rikers jail (where, this year, there have been a number of publicized violent incidents) is not remedial. The recidivism rate is about 65%.
Some experts point to New York's strict law enforcement and tough sentencing as key to the region's impressive decline in crime and the slight reduction in its inmate population (New York is one of the few states in the U.S. to experience a decline in prison population between 1995 and 2007), most studies, however, suggest that a combination of long sentences and rehabilitation/educational programs for ex-offenders (especially among inmates under 21) is the most effective way to keep former criminals from returning to jail.
Certainly, with U.S. corrections budgets topping 60 billion a year and hundreds of thousands of prison inmates hitting the streets annually, the search for cost-effective solutions is more crucial than ever.

To artists and community builders like Josephson and Tierney, it's not a question of statistics. They see the more intangible results of human outreach and artistic endeavor in their daily lives. "Ultimately, an art program for former inmates is about learning another way of life. It's about making a choice to empower yourself in a positive way, not in a way that is self-destructive," Josephson says.
I've known Josephson as an artist, teacher and friend. I've sometimes teased her about her boundless optimism, but viewing the paintings on the gallery walls in Crown Heights, there was no denying that these young men have a lot to contribute to the world other than woe.
Support HuffPost
The Stakes Have Never Been Higher
Related
Popular in the Community