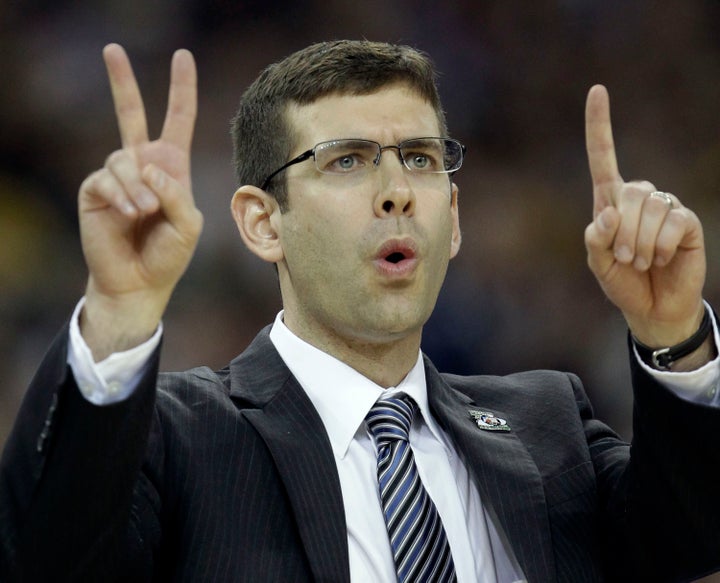 For the second consecutive season, the Butler Bulldogs gave America one of the most captivating and exhilarating joyrides in college basketball history. Even with a bundle of no-name recruits, the program has become as relevant a force as any other. Call it what you want: Cinderella, underdog, fabled overachiever –- the story of Butler equals Hoosier Heaven in the heartland of hoops.
The real question now isn't how this team did it -- "The Butler Way," of course -- but what happens next.
A hot coaching candidate springs up every year. Bill Self ascended from Oral Roberts to Tulsa to Illinois and now to Kansas; Billy Donovan from Marshall to Florida; Steve Donahue from Cornell to Boston College. It's just the nature of the college basketball beast.
But what Brad Stevens -- the 34-year-old, baby-faced Butler coach has done -- may even trump his most impressive colleagues. Taking a school like Butler all the way to the national championship just doesn't happen. Doing it two seasons in a row? Virtually unheard of.
There were only 17 straight repeat championship appearances in the history of the NCAA Tournament before Butler, and not one of them hailed from a mid-major. The only previous non-"power six" team to make the finals was UNLV, which steamrolled its way to a title in 1990 before succumbing to Duke in the 1991 semifinal. But that team was hardly a typical mid-major. Controversial coach Jerry Tarkanian led a brash, arrogant and scandal-ridden program that featured future NBA All-Star Larry Johnson, along with Stacey Augmon and Greg Anthony. In essence, the polar opposite of the squeaky-clean, largely anonymous Butler program.
After Butler's first championship appearance last spring, Stevens was pursued by big gun programs like a Star Wars ship in warp speed. But he chose to stay home, signing a contract extension with Butler through 2022 -- now that's loyalty.
The conundrum for Stevens following this year's loss to Duke soon became very real and potentially life-changing. On one hand, he could have left Indiana for the power of a premier program, rife with money, boosters, top-notch facilities and multi-million dollar television contracts. He could have become the ultimate rags-to-riches story, from a small school to the gusto and machismo of the elite.
What we've learned about Stevens over the past two seasons is quite simple and refreshing: Fame, glory and grandeur on scale of big money college hoops is just not his style. For that, Stevens will forever etch his mark as darling of coaching, a prodigious talent one might actually root for –- an anti-Bob Knight.
Stevens is everything a team might want in a coach. He's the perfect candidate to go into a recruit's home to pitch his program. But whether Butler has the resources and the national draw to pack Stevens's bench remains at question.
For an established program like UConn, recruiting is second nature. Coach Calhoun can promise recruits state-of-the-art facilities and airtime on national television every week. In contrast, Butler's Hinkle Fieldhouse is great, but it's just that, a fieldhouse. There are more local business ads in that place than in a coupon circular.
And the budget differences between a mid-major and a power six school are dramatic. During the 2009-'10 season, Butler's annual budget was a mere $1.7 million (or less than half of Coach K's salary). Duke's budget was over $16 million.
One of the glaring elements of this year's Butler-Connecticut game was the discrepancy in talent. Butler has one sure-fire pro in Shelvin Mack, while Connecticut has several pros, many of whom were high school All-Americans.
Make no mistake, Butler has clearly been the benchmark of success for other mid-major teams. Stevens gets hard-working, under-the-radar kids (Khyle Marshall), late bloomers (Gordon Hayward), finds gems before the big fish (Shelvin Mack), and every once in a while poaches a sizeable recruit from bigger schools (Matt Howard). His teams win by virtue of "The Butler Way," a gritty, team and defense-oriented system stressing the sum of its parts above all else.
The catalyst to all of this is, of course, Brad Stevens. If Butler never reaches another Final Four, it doesn't matter. Stevens has set the bar for all coaches, demonstrating that building something from the ground up is far more rewarding than inheriting an already established program.
And Stevens may have inspired his peers to follow suit. Shaka Smart --- who led little-known VCU to this year's Final Four as an 11th seed -- spurned big offers to stay put and continue building "his program." Blaine Taylor of Old Dominion and Gregg Marshall of newly crowned NIT champs Wichita State have also elected to stay with their schools.
But the question of coaching talent versus recruiting dollars rises again. Whether Stevens can take Bulter's program higher comes down to whether he can secure talented players.
Let's not forget that in 2007, Stevens's first year at the helm, Butler made the Sweet 16. Despite that and 2010's tournament success, Stevens still hasn't signed a consensus five- or even four-star recruit, which takes us back to budget, amenities, and overall basketball pedigree.
In 1986, the year Jim Calhoun took over as head coach at UConn, the Huskies were a dormant program and finished the season a dismal 9-19. Back then Calhoun was 43 years old with his first major coaching job. Then, in 1990, he led the team to an Elite Eight and began to establish the Huskies as a Big East powerhouse. Slowly, over the course of the early- to mid-90s, Connecticut transformed into "UConn," and Storrs, long thought of as a basketball deathbed, became a hotbed.
Stevens is in a comparable place to where Calhoun was 20 years ago. While he doesn't have the lure of the Big East as an incentive for recruits, in many aspects he is even further along. Stevens clearly has all of the tools to elevate Butler into the zenith of college basketball; his maturity, charisma and basketball acumen are all there.
So the million-dollar question becomes, Can Stevens do for Butler what Calhoun did for UConn? And if Butler becomes an "it" destination for elite talents, can he maintain "The Butler Way"?
REAL LIFE. REAL NEWS. REAL VOICES.
Help us tell more of the stories that matter from voices that too often remain unheard.