The past year has seen a great deal of advocacy and argument in Hawaii, as in many other states, and at the Federal level, over raising the minimum wage. But we learn from the nonpartisan think tank, the Economic Policy Institute that "Over the entire period from 1978 to 2013, CEO compensation increased about 937 percent, a rise more than double stock market growth and substantially greater than the painfully slow 10.2 percent growth in a typical worker's compensation over the same period." Their research shows that CEO pay has grown from being 20 times that of the average worker in the 1960s to more than 300 times what typical workers earned by the beginning of the 21st century. This, apparently, is what progress looks like. This is just one feature of our contemporary reality that should make us wonder what is yet to come.
A group gathered in the Pacific Club in Honolulu recently for a conversation with Kai Hockerts of the Copenhagen Business School to examine what progress we have made as a society in the area of corporate social responsibility. There have been successes--and failures-- as the gap between the super-rich and those who can barely meet essential needs grows ever wider.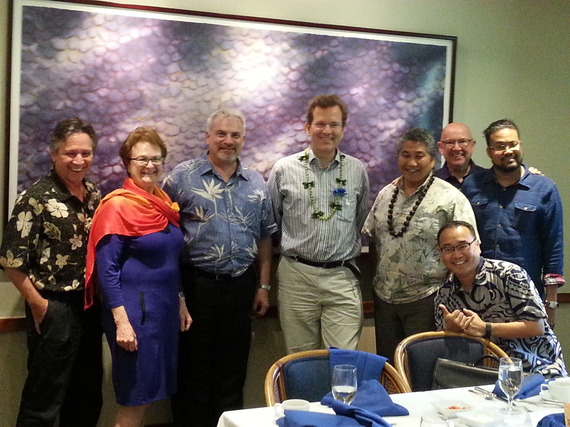 Dr. Scott Schroeder (third from left) mentioned an island-focused MBA currently under development with the help of kumu Ramsay Taum, a recognized Hawaiian cultural resource, (third from right). Also seen here (from left): Rob Kinslow, Dr. Helen Whippy, Dr. Kai Hockerts, Dr. John Webster, Rechung Fujihara (Box Jelly) and in front, Ian Kitajima (Oceanit), some of the participants in the luncheon discussion.
Chaminade's Dr. John Webster reported studying the subject when it first began getting academic attention in the 1970's. Yet the landscape of business today is littered even more with executives trained in some of the nation's best business schools pitting their corporate weight against financial and environmental protections and healthcare for their employees, and lobbying against the public good on issues like internet access and climate change.
Exxon Protects Profits by Funding Climate -Change Deniers
As the Guardian has pointed out, companies like Exxon feel threatened by a scientific consensus on climate change that is "as strong as that which maintains that smoking causes lung cancer or that HIV causes AIDS." So, it has safeguarded its profits by funding a large number of organizations that help "create the impression that doubt about climate change is widespread" to hamper efforts such as divestment from fossil fuels and the drive to renewable energy.
That hits island and coastal communities particularly hard because they are the ones already feeling the impact of climate change. Chaminade Provost, Dr. Helen Whippy knows what it is like first hand, having spent more than 40 years in higher education as a mathematician, cancer researcher and an academic administrator at the University of the South Pacific in Fiji, the University of Guam and the Papua New Guinea University of Technology. She joined Chaminade in 2013, convinced that its Marianist philosophy of educating for life and service will give students the opportunity to learn how to contribute through their careers, to a better community for all. She recalled how in Chuuk, one of the poorest of the Micronesian islands, they were able to increase access to education through a community partnership with the diocese, headed by Bishop Amando Samo, himself a graduate of Chaminade University.
Do Business Schools Make People Less Ethical?
Listening to the many examples of social entrepreneurship shared by the group, Dr. Kai Hockerts who teaches social entrepreneurship at Copenhagen Business School, asked the question more administrators and academics should be asking: "Do business schools make people less ethical both because of what we teach and how we teach it?" He described social entrepreneurship as the "creation of disequilibrium," when innovators blaze new paths, and instead of hoarding their knowledge, share it so that the benefits of their innovations will be imitated, resulting in a better life for far more people. That, he said, was the genius of Muhammad Yunus. It was the fact that the microcredit system he started, based on trust, not collateral, was imitated by so many that made his social entrepreneurship far-reaching and life-changing for so many.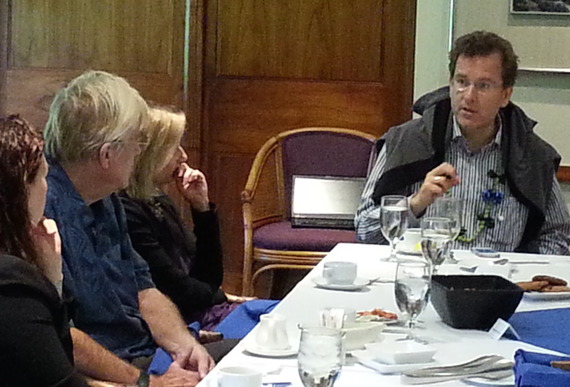 Hockerts offered several examples of social entrepreneurs who have made a discernible difference to the world by going public with their innovations, by letting others getting in on the act and help solve the problems they were working on. The example of Greenpeace's initiative to eliminate F-gases, a key contributor to man-made climate change, from the refrigeration and cooling industries and replace it with GreenFreeze was probably the most remarkable of the stories he told. His account of its widespread adoption in Asia and Europe and slower acceptance in the United States suggests that the question of what is being taught in American business schools is one worth exploring further. Lifestraw, another innovation that gives poor communities access to clean, safe drinking water through a simple, reusable personal filter is another example of an entrepreneurial innovation that is literally a lifeline.
"We need to be a place that leads, not bleeds." Ramsay Taum
Chaminade Business School Dean, Scott Schroeder pointed to the connection between what Kai Hockerts is researching and teaching his students at Copenhagen Business School and Chaminade's commitment to doing business things that make social sense. Wayne Tanna, who teaches ethics, tax law and business at Chaminade and who is active on many fronts--working with his students to provide free tax advice to those who need it, helping immigrants to navigate access to benefits, advising community-based entrepreneurial efforts like Ma`o Organic Farms--expressed his dismay at the burnished business school credentials of the big corporate offenders who have made the news in recent times.
This luncheon discussion offered some comfort that at Chaminade University and at Copenhagen Business School, students and teachers are asking for--and finding--more satisfying answers to what it means when we say "business is good." As Ramsay Taum observed, "Living on an island, we cannot reduce our choices to simply whether we act like a shark or a minnow. We need to be a place that leads, rather than bleeds."
REAL LIFE. REAL NEWS. REAL VOICES.
Help us tell more of the stories that matter from voices that too often remain unheard.