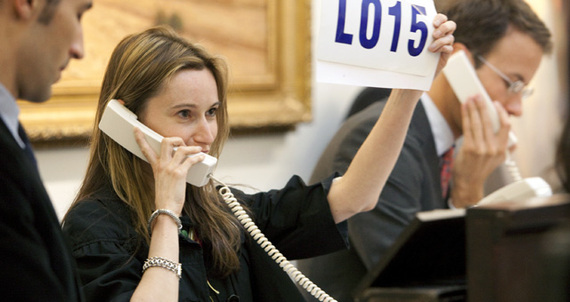 Co-authored with Ruxanda Renita
Until recently, Central and Eastern European (CEE) art was fairly underrepresented in the market as well as in the museum world. Although the Soviet Union dissolved 25 years ago, terms such as 'peripheral' or 'communist' still persisted and was attributed to art from this region. However, the honorable Dr. Groys would argue that "Communism is the only factor that sets CEE art apart within the global art world...the only one element of the history that wasn't part of the Western European history was communism. Everything else was the same." For instance, in 2015 Sotheby's sold the Romanian artist, Adrian Ghenie's The Sunflowers in 1937, for £4,000,000, which is an unimaginable price for any living Eastern European artist.
However, Jo Vickery, the Senior Director and International Director of the Russian Art Department at Sotheby's London and co-author of Frozen Dreams: Contemporary Art in Russia (2012) doesn't see this as the only motivating factor behind the sale, but rather a growing interest in the region:
For instance, in 2004 Jo brought Russian art onto the international auction market stage for the very first time; which led Art+Auction to include her in the 2004 Powerlist. And on June 7, 2016, Sotheby's is conducting the first-ever comprehensive Central and Eastern European art auction--Contemporary East-- under her leadership.
"The quality was so strong. It drew me in. I became fascinated by it. There are so many female artists as well that worked in the 60's and 70's, " Vickery added.
The Contemporary East series started in 2013, with Russian and Caucasian art, but the 2016 Contemporary East is the first-ever CEE art auction in the world coordinated by an auction house of global recognition like Sotheby's, which is no surprise.
"Nothing is riskier than not taking risks. Even though Sotheby's is a traditional and conservative organization, we have a very strong tradition of innovation and also taking some risks which I think is unique to do well in business, in order to remain and to be successful, " added Vickery.
The auction also includes a couple of first timer works from the entire region. For example, a work of a Moldovan artist is being present in a global auction with Pavel Braila's neon sculpture Want (2008), included in previous publications such as Dr. Groys' Contemporary Art in Eastern Europe catalogue (2010). Among Russian art, there have been selected works of Komar and Melamid, the collection of Anne and Stephane Tatischeff (two influential supporters of the Russian dissident movement), as well as photography diptych of the female artist - Rachel Monosov. Among Hungarian art, works of Judit Reigl, one of the most important Hungarian-French painters of her generation, vintage photographs and collages of Dóra Maurer, and oil on canvas by Endre Tót are being auctioned. Romanian art is also represented by works of Geta Bratescu, among others. Slovakian art is presented through works of Stanislav Filko, Milan Dobeš and Jana Želibská. Moreover, art from other CEE countries such as Serbia, the Ukraine, Georgia, Croatia, Azerbaijan, Czech Republic, Latvia and Poland can also be found. Apart from the geographical uniqueness, the sale excels by the considerate amount of female artists and is expected to realise £1.2 - 1.8m in total.
Even though CEE art is hard to ignore in the art market as well as in the museum world, never before has Central and Eastern European art been displayed next to Russian art in such a straightforward way. Jo expresses believes in making the CEE art auction for Europe what the Latin American art auction is for the US. "It was just about time," said Barbara and Aaron Levine. If Latin American countries could get together under the same roof for an auction in NYC, why can't Central and Eastern European countries do it for the London auction?
Calling all HuffPost superfans!
Sign up for membership to become a founding member and help shape HuffPost's next chapter