America's colleges and universities are in the early stages of dramatic change. For many, the concentration has been on the development of new academic programs, designed to differentiate academic offerings among institutions and create new revenue streams. For others, efforts to find efficiencies internally or through participation in consortia have improved the bottom line on the expense side of the ledger. These efforts to work within the framework of the existing financial model have been fruitful, especially since it is unlikely that substantial increases in revenue from tuition are likely to occur.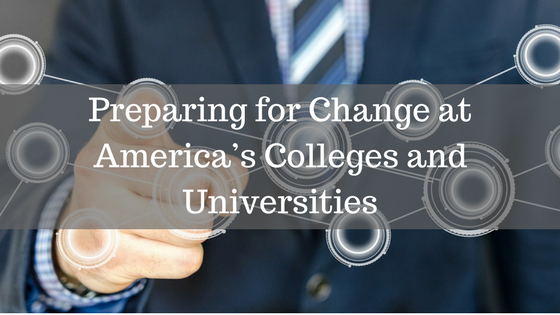 One thing is clear. It's not enough to say that we should throw away the old financial model. In fact, it can be dangerous. Colleges and universities prefer to move prudently and methodically, with sometimes painfully slow attention to process. In shared governance, there are three groups that must be recognized – trustees, faculty, and administrators.
Coordination and buy-in take time. Otherwise, it's the equivalent of throwing the baby out with the bath water. Colleges must have a solid foundation to thrive and upon which to implement change.
College Fiefdoms Can Hinder Change
The biggest problem is likely to be on the administrative side. Higher education institutions are like small cities with all of the complexity and potential for confrontation that exists in these political environments. Each administrative division often operates as an individual fiefdom. This is particularly problematic when trustees do not understand that their role is to put their noses in and fingers out of the tent as Cornell's president, Frank H. T. Rhodes, once said.
The role of faculty can also be complicated, especially if faculty governance is weak or dominated by a few individual voices. Friendships among all parties can muddy the necessary distance between them when the difficult and sometimes unpopular administrative decisions must be made.
The first step, arguably more important than issues like strategic partnerships, any decisions on outsourcing, or participation in cost-saving consortia, must be to determine how best to integrate the various fiefdoms into a common institutional sense of self.
College Leadership Needs Authority to Make and Manage Change
It mandates that the senior leadership have both an ability to manage change and the authority to make it. And it starts with the value proposition. Based on the mission and history of the institution, colleges must ask themselves who are we and what image do we present to the world beyond the college gates?
These questions presume that a common platform exists through and by which all campus groups can communicate effectively. Writing in University Business a year ago, American University's provost Scott A. Bass noted that the University "utilizes more than 36 databases for different student-related administrative and learning management functions . . . Yet, there is little or no integration among these discrete data elements." American University is right to call the question and smart to do so strategically since most institutions finds the same circumstances on their campus.
Dr. Bass asks the question: "Do these systems facilitate effective support for a student who has complex issues and who experiences multiple touch points throughout a given academic year?" The answer is clearly "no." The effect can be to reduce student retention and graduation rates as frustrated students leave or transfer elsewhere.
In short, the haphazard approach to fiefdoms claiming multiple uses of technology across the campus does not support the student. It also fails to serve the institution well.
Coming Together Around a Common Institutional Database

For change to occur, there must be renewed concentration on how to build a common platform. At the institutional level, diverse databases encourage institutional bureaucracy. They are expensive to install, upgrade, and maintain. They often do not adapt well to solution upgrades. Further, the efforts to connect them are always difficult at best and can impair critical strategic decisions based on multiple inputs of research that must inform these decisions.
The overall point is that while change must occur on college campuses, it is not necessarily a bad or troubling moment. It requires that fiefdoms in critical areas like enrollment, financial aid, advancement, student affairs, career services, and athletics give up a little to support an institution now often at cross purposes with itself.
Change further assumes that a college or university understand its value proposition and be prepared to take the steps internally to support it. And it mandates that the board of trustees and faculty see integration as a way to connect the dots to develop a coherent strategy.
In the end, the integration of a college's databases is an opportunity for the college community to come together. It is the right kind of efficiency designed to help a college create a more unified, service-friendly, and better-orchestrated database that serves its stakeholders. It is a strategic decision that must be led by the president.
On campuses suffering from cultural inertia, it must break with the older traditions of "we've never done it this way before." And in the end it can be a seminal moment in the tenure of a president who has the courage to lead.
Calling all HuffPost superfans!
Sign up for membership to become a founding member and help shape HuffPost's next chapter
This post was published on the now-closed HuffPost Contributor platform. Contributors control their own work and posted freely to our site. If you need to flag this entry as abusive,
send us an email
.