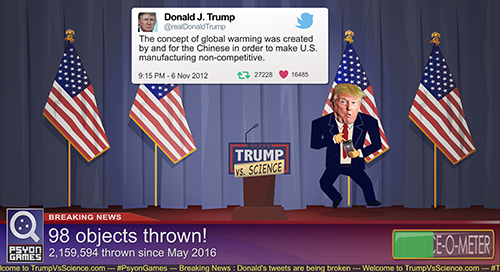 "The Trump game demonstrates that scientific ignorance is our biggest problem in regards to the future the world." - Olli Rundgren
According to a MIT report, at least 216 million Americans are scientifically illiterate. A company based in Finland (known for one of the leading education systems in the world) believes that the figure may also include the presidential candidate, Mr. Donald J. Trump. Psyon Games, recently voted one of the hottest start-ups in Finland, has tapped into the Twitter feed of the Republican nominee Donald Trump in the hopes of teaching the younger generation (as well as Mr. Trump) a thing or two about science.

Their game, Trump Vs. Science, was published in May and allows players to throw various objects at Mr. Trump (ranging from globes to brick-like tomes) in response to his near-sighted claims about the real purpose of science and, naturally, in the name of scientific progress. Gamers' reaction so far? Over 2,000,000 objects have been thrown at the presidential candidate.
"The game is designed to be fun and to raise global awareness for why good science matters," Olli Rundgren, the 33-year-old CEO of Psyon Games explains. "Trump was chosen as the titular character of the game because of his global notoriety. If he achieves presidency, he will be arguably the most powerful person in the world."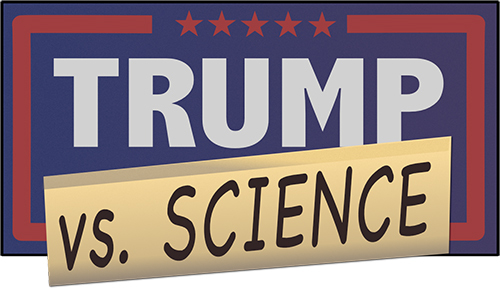 Come on gamers, plenty of global figures with "notoriety" have problems with getting their science facts right - and hasn't history proven that science occasionally does get things wrong?
"Science isn't always right," agrees Rundgren, "but trusting in the nature of scientific knowledge is the best way to make decisions on the world's most important matters. We're not saying either way whether there should be a wall between the U.S. and Mexico, but we can at least show people which facts aren't facts at all."

Psyon says the content for the game is taken directly from Trump's twitter account. For example, Trump has tweeted: "The concept of global warming was created by and for the Chinese...." In addition, he thinks that mass vaccination campaigns should be banned, since - according to Trump - small children "are not horses."

"Ninety-seven percent of scientists in the world believe that global warming is caused by humans," Rundgren comments. "Vaccine programs are, likewise, based on scientific research and abolishing them could be catastrophic to the health of humanity as a whole. The anti-vaccination movement isn't just unsupported by science, it's a downright dangerous idea!"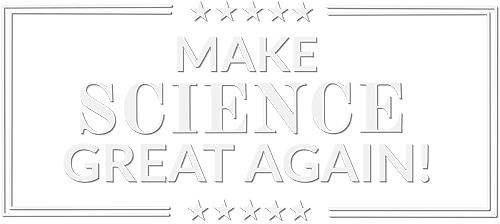 Naturally, Psyon Games had to consider copyright issues when crafting the game. Trump has turned himself into a trademark and this makes using his name an issue. However, the game is free to play and when it comes to presidential candidacy, freedom of speech is a particularly lax category. "Trump vs. Science is fundamentally intended to criticize Trump's anti-scientific rhetoric, rather than the man himself," explains Rundgren.

Olli Rundgren hasn't always been this ideological. When he was younger, he spent most of his time playing online poker. The chance at quick money was all too tempting and Rundgren proved to be a whiz at the game. "I've always loved gaming, risk, action, logic." But when he was 24 years old, Rundgren was hit by an identity crisis. He realized that no matter how much money he made through gambling as a professional poker player, he couldn't leave his mark on the world playing that game. "I had no education. It felt almost impossible to find something that I could start doing."
Rundgren attended the University of Jyväskylä where he majored in the natural sciences. In 2013, he launched his game company which focuses on science based entertainment products. Their first project involved designing "a more scientific" version of Rovio's Angry Birds, known as Nature of Science. The game spent nine months on the table and was never published, but it provided the seed for the company's debut game, the upcoming Antidote: Battle of the Stem Cell, which will be released in the fall. "The Trump game demonstrates that scientific ignorance is our biggest problem in regards to the future the world," Rundgren states. "With our games, we want to inspire young people towards a scientific education."
As of publication time, we've been unable to reach Trump's communication director for comments.
(Photos are courtesy of Pyson Games)
Join me and globally renowned thought leaders including Sir Michael Barber (UK), Dr. Michael Block (U.S.), Dr. Leon Botstein (U.S.), Professor Clay Christensen (U.S.), Dr. Linda Darling-Hammond (U.S.), Dr. MadhavChavan (India), Professor Michael Fullan (Canada), Professor Howard Gardner (U.S.), Professor Andy Hargreaves (U.S.), Professor Yvonne Hellman (The Netherlands), Professor Kristin Helstad (Norway), Jean Hendrickson (U.S.), Professor Rose Hipkins (New Zealand), Professor Cornelia Hoogland (Canada), Honourable Jeff Johnson (Canada), Mme. Chantal Kaufmann (Belgium), Dr. EijaKauppinen (Finland), State Secretary TapioKosunen (Finland), Professor Dominique Lafontaine (Belgium), Professor Hugh Lauder (UK), Lord Ken Macdonald (UK), Professor Geoff Masters (Australia), Professor Barry McGaw (Australia), Shiv Nadar (India), Professor R. Natarajan (India), Dr. Pak Tee Ng (Singapore), Dr. Denise Pope (US), Sridhar Rajagopalan (India), Dr. Diane Ravitch (U.S.), Richard Wilson Riley (U.S.), Sir Ken Robinson (UK), Professor Pasi Sahlberg (Finland), Professor Manabu Sato (Japan), Andreas Schleicher (PISA, OECD), Dr. Anthony Seldon (UK), Dr. David Shaffer (U.S.), Dr. Kirsten Sivesind (Norway), Chancellor Stephen Spahn (U.S.), Yves Theze (LyceeFrancais U.S.), Professor Charles Ungerleider (Canada), Professor Tony Wagner (U.S.), Sir David Watson (UK), Professor Dylan Wiliam (UK), Dr. Mark Wormald (UK), Professor Theo Wubbels (The Netherlands), Professor Michael Young (UK), and Professor Minxuan Zhang (China) as they explore the big picture education questions that all nations face today.
The Global Search for Education Community Page
C. M. Rubin is the author of two widely read online series for which she received a 2011 Upton Sinclair award, "The Global Search for Education" and "How Will We Read?" She is also the author of three bestselling books, including The Real Alice in Wonderland, is the publisher of CMRubinWorld, and is a Disruptor Foundation Fellow.
Related
Popular in the Community