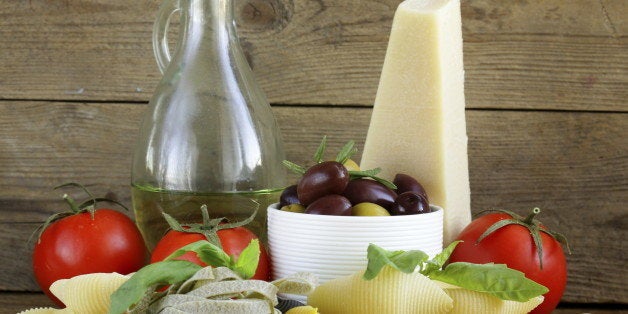 Two and one-half millennia ago, the ancient Greek physician, Hippocrates, taught his students that diet and lifestyle directly impact health and the risk of disease. Through modern medical research, today we know more about obesity and diabetes and have more diet and treatment options than ever before in the history of man. Paradoxically, however, despite all of our knowledge and means, Americans are much heavier than ever. Adults are not the only ones affected- many chronic diseases of middle-age (type 2 diabetes mellitus, hypertension, high cholesterol and sleep apnea) are now also the concerns of pediatricians and parents with obese children. Weight management has become a key focus of doctors, nurses and dieticians, and the effects of excess weight are a key challenge to our schools, employers and insurers. Consequently, weight loss is a major industry that constantly pitches its products and programs on television and elsewhere.
Could one of the solutions be going "back to the future" to eat more like Mediterranean villagers of 50-60 years ago? In the 1950's, a pioneering American scientist, Ancel Keys, discovered a remarkable paradox. The poor inhabitants of small Southern Italian villages were healthier than wealthy residents of New York City, as well as their own Italian relatives who had emigrated to the United States decades ago. Hypotheses led to a focus on the predominant dietary and lifestyle habits of Greece and Southern Italy.
The "Mediterranean diet" is a collection of similar eating habits historically followed to varying degrees in countries bordering the Mediterranean Sea: hence the diet's name. Specifically, the Mediterranean diet is most closely associated with the traditional diet and essential foods of Greece during the 1960s. The diet is defined by a high intake of extra virgin olive oil, fruits, vegetables, other plant proteins and fibers (nuts and legumes), unrefined whole grains, and fish; a moderate intake of dairy, eggs and lean meats; moderate alcohol intake with meals (usually wine); and low red meat and sweet consumption. Modern medicine and public health have consistently demonstrated that following a "Mediterranean Diet" is associated with better health status.
In particular, increasing scientific evidence of the benefits of Mediterranean style diets comes from a large number of rigorous investigations, including: epidemiological studies (subjects are followed over time and outcomes are assessed based on varying dietary patterns), and more recently, several important interventional studies (subjects are assigned to diets or food supplements and outcomes are observed across different treatment groups similar to pharmaceutical trials). Well established health benefits associated with greater adherence to a Mediterranean Diet pattern include: lower risks of "metabolic syndrome" (an important risk factor/precursor of diabetes and heart disease), reduced risks for type 2 diabetes, heart disease, certain cancers, and dementia; as well as greater longevity and well-being.
It is not surprising, therefore, to witness a rapid explosion of "Greek" and "Mediterranean-style" food products in supermarkets, restaurants and health clubs to capitalize on this popular trend ("Greek" yogurts, olive oils, humus dips, etc). Nonetheless, most consumers lack true understanding of the traditional Mediterranean diet and how to implement it in their lives. Moreover, many commercial "Mediterranean" products bear little resemblance to authentic and healthy traditional Greek foods. Thus, while the Mediterranean diet has become synonymous with healthy eating in the United States, most Americans do not follow it and have only limited understanding of its key principles.
Unlike other "diets," the Mediterranean diet is very attractive due to its diverse and colorful flavors; incorporation of healthy fats and proteins such as olive oil, nuts, and fish; and its inclusion of regular, temperate wine consumption with meals. These features make the Mediterranean diet an attractive, enjoyable and even indulgent option- accessible and acceptable for adoption and long-term adherence.
Unfortunately, food services in our workplaces, schools and government offices have been slow to implement authentic Mediterranean food options, but they may be coming around. Collaborations between chefs and health experts can transform institutional cafeterias into healthier more vibrant operations. At Sebastian's Café at the Harvard School of Public Health, you can still get a burger and fries, but nutritional guidelines, celebrity chef recipes, and other resources have been applied to create healthy and delicious foods. For example, the "Heart of the Plate" program features daily choices of lean proteins, interesting vegetables/legumes and whole grain dishes for a balanced healthy meal; and the salad bar has an incredible diversity and availability of extra virgin olive oil and other healthy condiments.
When eating at work or school, we are often faced with choices of lesser evils. Introductions to healthier eating -- both delicious and fun -- can translate to healthier schools and workplaces. While it may not be for everyone, we should at least have the option to "eat like a Greek" when we have lunch at school or work.
This post is part of a series produced by The Huffington Post and the Harvard School of Public Health, in conjunction with the "Mediterranean Diet and Workplace Health" conference (September 27-28 in Boston at HSPH). This event will feature lectures, panels, select chef-supervised meals and a Greek food and wine exhibition to increase awareness, appeal, and understanding of Mediterranean dietary habits as a vehicle for improved workplace and school health. For more information about Mediterranean Diet and Workplace Health, visit here.
Related