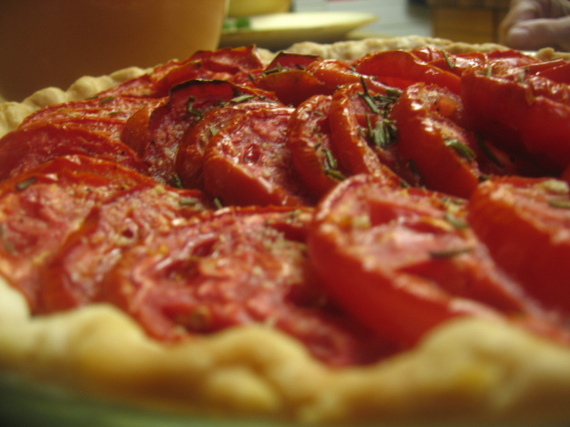 There's no real proof that this is true, but here's how I see it. If you're eating tomatoes, you're not eating something else that could be bad for you. And tomatoes are certainly good for you. Food experts call them "a nutrient-dense, super-food."
Medical News Today says, "Tomatoes are a rich source of vitamins A and C and folic acid. Tomatoes contain a wide array of beneficial nutrients and antioxidants, including alpha-lipoic acid, lycopene, choline, folic acid, beta-carotene and lutein."
Sounds impressive, but the bottom line to me is the taste. Summer dinners during my Pennsylvania childhood were almost palatable because of homegrown tomatoes served on the side.
Some of my favorite foods--Greek Salad, Pizza, Salsa, Spaghetti with Marinara Sauce, Caprese Salad, Gazpacho--require tomatoes. Now I can add Tomato Pie to the list. Even though Roma tomatoes aren't the most flavorful, they're perfect for this dish.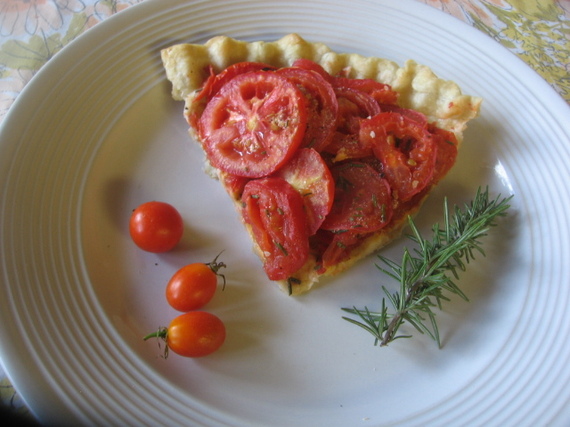 The key to success is slicing the tomatoes at least 1 hour beforehand, placing the slices on a clean towel and then covering them with another towel. This blots away the excess moisture and keeps the crust from becoming soggy.
1 pre-baked pie crust
8-10 Roma (aka plum) tomatoes
1 tablespoon spicy mustard
1/2 cup grated cheddar cheese
1 teaspoon garlic powder
1 teaspoon fresh or dried rosemary (cut into 1/8-inch pieces)
1/2 teaspoon salt
1/2 teaspoon black pepper
2 tablespoons olive oil
Cut the tomatoes into 1/4-slices and blot away the moisture, as described above.
When ready to make the pie, preheat the oven to 400 degrees (or 375 degrees if using a glass pie pan).
Spread the mustard onto the bottom of the pie crust and then cover with cheese. Lay half the tomato slices on top of the cheese, making sure the slices overlap. Sprinkle with half the garlic powder, rosemary, salt and black pepper. Repeat the process, using up the rest of the tomato slices, salt and spices. Drizzle the olive oil over the top and bake for about 20 minutes, or until the tomatoes begin to brown and start to shrink.
Serve immediately or let cool and serve at room temperature.