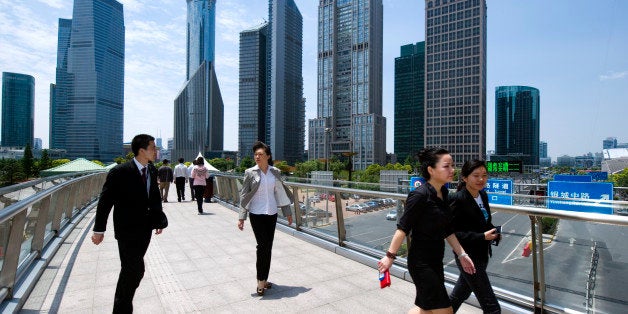 How do you get the 358 million young people around the world currently not in education, employment or training -- more than the population of the USA and Canada combined -- into employment? That is the scale of the challenge facing the global community as we grapple with solutions to this seemingly intractable problem.
Solving the problem will require action across the public and private sectors to do two key things: create more jobs and give young people the skills and confidence to fill them.
The good news is that the issue of youth unemployment is top of mind for global political leaders. The G20 in Turkey this year has at its heart the goal of increasing employment, seeking "inclusive and robust growth through collective action." And through our support for the G20 Youth Entrepreneurs Alliance (YEA), we'll be feeding into the G20 leaders' summit in November to ensure that encouraging entrepreneurship is core to these efforts.
Entrepreneurs play a vital role in job creation and providing opportunities to young people. Our annual Job Creation Survey consistently shows that entrepreneurs' hiring plans outpace the rest. In 2015, we found that 47 percent of entrepreneurs (and 77 percent of world-leading entrepreneurs) plan to increase the size of their workforce, compared to 29 percent of large corporations. As a result, supporting entrepreneurs to grow their businesses will have an impact on employment rates.
However, it's in allowing young people to follow their dreams and start their own businesses that we'll see a significant change in the youth employment statistics. We know the ambition is there. In an EY survey earlier this year, we found that 65 percent of the 2,800 young people surveyed around the world want to run their own business at some point in their careers -- 27 percent want to do so immediately and 38 percent after learning from someone else first. These ambitions are particularly strong in developing markets, with Mexico (91 percent) and China (89 percent) leading the way.
The challenge now is to provide young people with the support and the environment they need to turn their ambitions into reality.
What can be done? According to the survey, what young people most want is hands-on work experience and mentoring from entrepreneurs. As such, today's entrepreneurs and business leaders have a clear role to play in nurturing the next generation of wealth and job creators.
Governments play a role too -- they need to focus on providing the right environment to enable aspiring and early-stage entrepreneurs to succeed. This includes ensuring that the education system is fit for purpose. In a paper called Strong culture, strong impact, which will be released at the G20 YEA conference in September,we argue that governments must commit to, and enact, targeted education policies that support future generations of young entrepreneurs and help create a culture that is supportive of entrepreneurship.
Sadly, the youth unemployment problem won't be solved quickly, or easily, and it requires a range of responses. Along with shorter-term macroeconomic and fiscal policies to help drive job growth, embedding entrepreneurship at the heart of the education system is a key, long-term initiative that will help provide an environment where the dreams of millions of young people to make an impact and start their own enterprises can be realized.
Maria Pinelli is the EY Global Vice Chair for Strategic Growth Markets. She is a co-author of the Forum's Inclusive Growth and Development report and is participating in the World Economic Forum's Annual Meeting of the New Champions in Dalian, China.