As a professional advocate of the Good Food Movement, I expected to see a lot of things when a recent visit to the University of Michigan took me to Zingerman's Roadhouse, a well-known casual dining spot in Ann Arbor known for its farm-to-table fare.
I expected to see delicious sandwiches and spreads, home- baked breads, and other items that have made Zingerman's nationally known for its excellent food -- and its emphasis on using locally produced ingredients.
What I did not expect to see was Eric Cantor -- the U.S. House Majority Leader. But I did. My curiosity was piqued by the presence of a hefty security detail that included U.S. Secret Service agents plus a Michigan state trooper. Scanning the room, I realized that Cantor and his family were sitting at the table adjacent to ours.
In fact, as you can see here, the Virginia Republican kind of unintentionally photo-bombed a picture of a couple of the members of my party. He's the dark-haired man in the gray sweater at the far left of the photo... one of the few times you would ever say the outspoken conservative was on the far left of anything.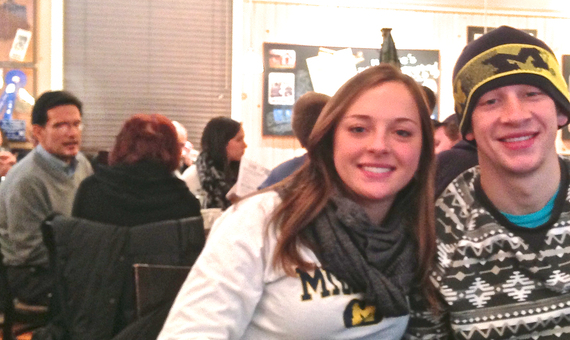 KC and Quentin at Zingerman's with Majority Leader Cantor at the far left.
One of Cantor's children is a student at University of Michigan. So like my group, he and his family probably were in town for Michigan's big football game against perennial archrival Ohio State (which happens to be my alma mater).
As someone who works daily to promote local and sustainable food, I was torn. I really wanted to go up to him, get his attention, and suggest that House Republicans pass a farm bill that advances the Good Food Movement. I wanted especially to personally lobby for all the programs that support family farmers, artisan food producers, and the infrastructure needed to get food from farm to market. In the past year, many of the best federal programs in this realm were slashed or completely eliminated because Congress -- including the republican-controlled House in which Cantor is the second-ranking official -- has not been able to muster the agreements to pass the overarching farm bill which governs most federal farm programs.
In the end, I decided not to be the goofball crashing his family outing. But as I left the restaurant, I had the nagging feeling that Cantor needs to hear from me about this issue.
The Majority Leader hardly had to travel all the way to Michigan to experience the importance of Good Food -- vital not only for health and environmental reasons, but because of its positive impact on economic development and job growth. Blue Ridge Produce, a pioneering "food hub" that aggregates locally grown products from local farmers and markets them to wholesale buyers, is located outside the city of Culpeper at the north end of Virginia's 7th District, which Cantor represents in the U.S. House. According to Blue Ridge Chairman, Jim Epstein, the company recently invited the Majority Leader to visit and hopes to explain to him how the food hub works with over 100 small farmers to aggregate and sell their product to large companies clamoring to buy it.
I think it's a fair suggestion that anyone who can appreciate the value of Zingerman's food as a customer, certainly should be able to understand the implications of strong federal support for farms and businesses that are meeting the burgeoning demand for sustainable and local food.
Zingerman's is a unique community of eight businesses in the Ann Arbor area that together employ more than 600 people. Founders Paul Saginaw and Ari Weinzweig in 1982 created one of the best Jewish delis in America. Over three decades since, they have evolved the company to include a major focus on using local and sustainable ingredients. In the process, they launched a bakehouse, creamery, coffee roaster, full-service restaurant, candy factory, and other businesses through a unique employee-driven process.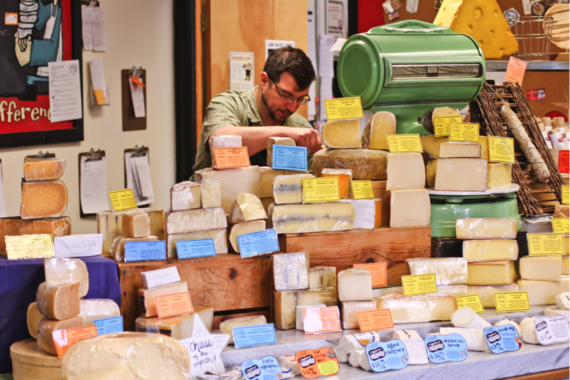 The cheese selection at Zingerman's Creamery features numerous cheeses made in house as well as from artisan cheesemakers.
The combined businesses generate tremendous local economic development through raw material sourcing. Their creamery buys its milk from local farms. Some of the grain used by the bakehouse is grown and milled 40 miles away. The Roadhouse purchases whole animals from local ranchers and butchers them in-house. Zingerman's even partnered with the farm incubator Tilian Farm Development Center to launch the first restaurant-scale community supported agriculture program to procure local produce.
Zingerman's is a great metaphor for the strengths of the Good Food Movement. The business creates many living-wage jobs and supports a diverse array of sustainable and local farms as well as other food providers. In doing so, it has inspired hundreds of thousands of customers over a period of 31 years to eat tasty, nutritious food that is produced as close to home as possible.
Aren't these the kinds of things the farm bill should be supporting?
Both the House and the Senate have passed versions of legislation that contains the ingredients for a farm bill that supports local food. This week, House and Senate leaders are scheduled to work on a compromise bill.
As Majority Leader, Cantor could use his powerful position to get a comprehensive, five-year farm bill done before Congress leaves town for the holidays. Here are five ways that the new farm bill can, and should support Good Food:
1. Support Farmers Markets: Over the past two decades, the number of farmers markets in America has quadrupled to 8,144. The federal Farmers Market Promotion Program has helped this expansion by providing competitive grants to markets, non-governmental organizations, and other stakeholders to strengthen local and regional economies through direct markets. Cantor should support the funding level of $30 million annually that the House has proposed for the program, as well as the program's expansion -- beyond farmers markets and other direct-marketing venues to serve local and regional food hubs.
2. Support Farm to School Programs: School districts across the country are purchasing increasing amounts of food from local farms. In addition to the nutrition benefits of increased access to fresh, healthy food, these programs educate children about local farmers and how food is produced. According to the U.S. Department of Agriculture's recently released Farm to School Census, there was a 91 percent increase in the school districts participating in farm to school between 2009 and 2013. Cantor should support the farm to school provisions in the House bill, including more flexibility for small school districts to buy their own food locally, and for all school districts to use geographic preferences in sourcing products. In doing so, the schools will enhance local economic development.
3. Support Beginning Farmers: The average age of farmers in the United States is 57 years old. Agricultural experts agree that we need an infusion of young farmers in America both to replace retiring farmers and to meet the increasing demand for sustainable and local food. The Beginning Farmer and Rancher Development Program is the only federal program dedicated to training the next generation of farmers and encouraging young people to grow food. Cantor should support the House's funding level of $30 million annually for the program.
4. Support Local and Organic Agriculture: Organic food is a $30 billion business in America, and local food is one of the hottest trends in the food industry. Millions of Americans are employed by businesses in the Good Food Movement, and smart government policy-makers will support its growth through strategic investment. Programs such as the Organic Agriculture Research and Extension Initiative, Outreach and Assistance to Socially Disadvantaged Farmers and Ranchers, and National Organic Certification Cost-Share all need to be renewed and funded in the farm bill.
5. Protect People From Going Hungry: The farm bill includes funding for food stamps through the Supplemental Nutrition Assistance Program (SNAP). Nearly 48 million Americans receive these benefits. According to the Christian Science Monitor, nearly "83 percent of food stamp benefits go to households that include a child, a senior, or a disabled person" and "each dollar in food stamp benefits generates about $1.70 in economic activity." The House bill makes severe cuts to SNAP, which is unconscionable. Congress must restore funding for the program so that Americans do not go hungry. The final bill should also include the Senate provision to encourage SNAP participants to buy fresh, healthy local food.
Zingerman's co-founder Paul Saginaw said that the Majority Leader might look to the founding fathers for inspiration. He said:
In a letter to James Madison, Thomas Jefferson states, 'The small landholders are the most precious part of a state.' I am stunned that this 1785 insight is truer today than ever. We need a farm bill that embodies Jefferson's wisdom to support any and all initiatives for small landholder farmers. It is an integral component of our democracy and provides so much hope for our future.
To learn more about these issues and opportunities to take action on the farm bill, sign up for action alerts from the National Sustainable Agriculture Coalition.
Jim Slama is the president of FamilyFarmed.org, which has developed a variety of programs help to grow the Good Food Movement. In the past few years, this non-profit organization has trained more than 6,000 farmers in food safety and post-harvest handling through its Wholesale Success program. Its Good Food Festival & Conference is celebrating its 10th Anniversary in Chicago March 13-15. Follow Jim on Twitter @familyfarmed and read his work at Good Food on Every Table.
Calling all HuffPost superfans!
Sign up for membership to become a founding member and help shape HuffPost's next chapter