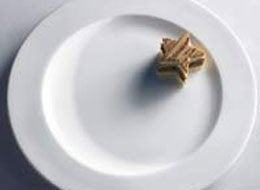 When Thomas Cravy, a 66-year-old ophthalmologist in Santa Maria, California, underwent chemotherapy for prostate cancer, he fasted for eight hours afterward. That seemed to reduce the side-effects of the chemotherapy -- the debilitating nausea and exhaustion. So for his next round of chemo, he fasted for 64 hours beforehand and 24 hours afterward.
That eliminated the side effects altogether, he says in an article in Science magazine. Five days after chemotherapy, he was playing golf -- and he walked the whole course.
The idea that fasting might ease chemo's side-effects comes from the people who have shown -- in animals -- that sharply cutting calories can extend lifespan.
Researchers theorize that when cells are starved they toughen up, becoming more resistant to stress -- including the stress of chemotherapy. An experiment in lab mice showed that fasting could be powerfully effective.
The danger now is that cancer patients might try the experiment on themselves, some doctors say.
But more answers could be coming soon, according to Science. David Quinn and Valter Longo of the University of Southern California are going to test fasting with a dozen or more cancer patients. If that works, they'll expand it to more patients.
Not only could fasting ease the side effects, it might enable patients to tolerate higher doses -- thus increasing their chances of beating cancer.