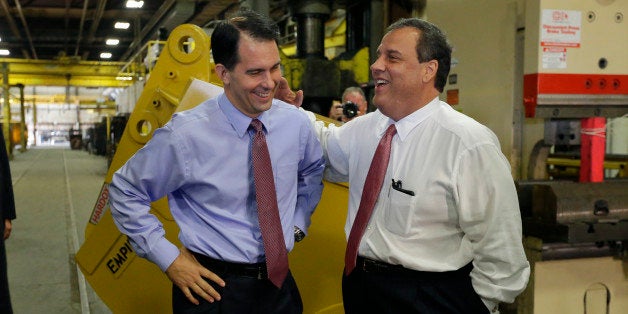 More than a dozen GOP governors wrote a letter to President Barack Obama, vowing to keep state-level sanctions on Iran despite the nuclear deal. But can a state really circumvent the U.S. President's policy on sanctions? A U.S. Supreme Court case from several years ago could block that plan.
As President Obama's nuclear deal looks more likely to survive a filibuster, and not just a veto, Republicans are looking for other ways to undermine the lifting of sanctions. According to Cynthia Roldan with South Carolina's Post and Courier, at least 15 governors told President Obama that they would keep sanctions on Iran. Roldan writes:
The governors added that they would ensure state-level sanctions remain in effect, which include divestment policies for state-run pensions and other investments, and restrictions against state contractors being invested in or doing business with the government of Iran.
According to John Hughes with Bloomberg, this list of Republican governors that want to maintain state-level sanctions on Iran in place include presidential candidates Scott Walker of Wisconsin, Chris Christie of New Jersey, John Kasich of Ohio, and Bobby Jindal of Louisiana.
Before seeking to flank President Obama's foreign policy on Iran, concerning sanctions, these governors may wish to familiarize themselves with the U.S. Supreme Court case Crosby v. National Foreign Trade Council, argued and decided upon in the year 2000.
Back in the mid-1990s, the state of Massachusetts thought the Clinton Administration was too slow in placing sanctions on the Southeast Asian country of Myanmar, formerly known as Burma. Angered over atrocities against students in the late 1980s, and the house arrest of Aung San Suu Kyi, the state passed a law in 1996, banning the state government from buying goods or purchasing services from companies still doing business with Myanmar. Crosby was the Secretary of Administration and Finance of Massachusetts.
The Supreme Court agreed with the National Foreign Trade Council. In a unanimous ruling, the justices found that the state law must in this case must give way to the Congressional Act. Moreover, the court pointed out that the Congressional Act called for a termination of the act if Myanmar's human rights record improves, something the state act did not provide for. They found the state act interfered with the role of the President and Congress in foreign policy, even if the goals of both acts were similar. The court didn't even buy the argument that the state policy should stay in place because the national government wasn't acting on the issue at the time.
Of course, the GOP governors could take comfort in the fact that there are a number of new justices on the Supreme Court. But Scalia and Thomas ruled against Massachusetts in this case back then, showing the limits of conservative acceptance of state action on foreign policy. The governors could claim that they aren't creating a new policy, but leaving an old one in place. That might help, but for a Supreme Court showing increasing deference to executive authority over state's rights in many cases, that may not help keep state-level sanctions in place.
John A. Tures is a professor of political science at LaGrange College in LaGrange, Ga. He can be reached at jtures@lagrange.edu.
Calling all HuffPost superfans!
Sign up for membership to become a founding member and help shape HuffPost's next chapter