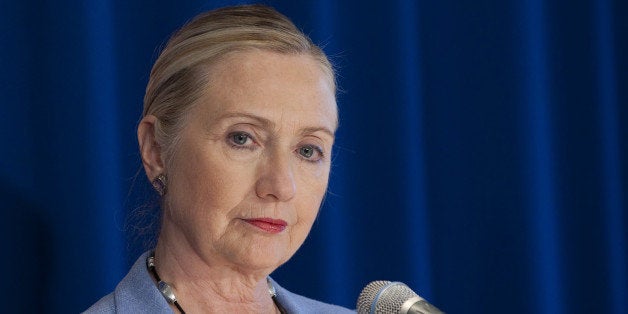 Almost immediately after Hillary Clinton left the Obama administration after four years as America's Secretary of State, Democratic donors, political veterans and political commentators have branded her the Democratic Party's best chance to keep the White House in 2016. The reporting on a potential Clinton candidacy has gotten so widespread and expectations of her candidacy have gotten so high that several Super PAC's and an impressive millions-strong grassroots network have sprouted up just in case the former First Lady and New York senator decides to run. And for Clinton supporters, it's only a matter of time before Hillary Clinton will put her hat in the ring and quickly becomes the Democratic nominee in 2016.
Officially, Clinton has not made up her mind one way or the other. There is speculation that she will decide what her plans are in the fall of 2014 -- two years before the next presidential election and a few months before the primary season kicks off with endless campaign speeches and debates. Yet just because Clinton has not made a decision does not mean she isn't preparing for the moment, or speaking to numerous audiences about her achievements during a 20-year plus career in public service.
Since 2008, when she failed to win the Democratic nomination over a charismatic junior senator from Illinois, Hillary Clinton has experienced a renaissance in her approval ratings and public image. The likability factor that proved to be an albatross around her neck six years ago is a thing of the past -- she is now, at least according to the multiple polls about her, one of America's most popular political figures. Hillary's career at the State Department, where she managed numerous crises from the eruption of the Arab Spring protest movements and the "reset" with Russia to the surge of troops in Afghanistan, has allowed her to broaden her label from a simple politician to a stateswoman.
If Hillary does in fact run for President a second time, she will no doubt push her tenure as Secretary of State to buttress her credentials as a strong leader who is both willing and able to make hard decisions. Although foreign policy is typically overshadowed by domestic concerns in the minds of voters, the surest way that Hillary could maintain her positive national profile is by talking about her record in that area.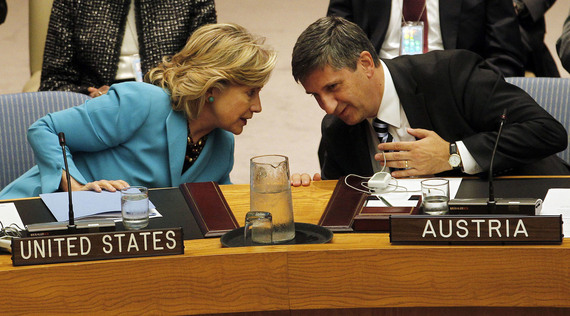 According to a Pew Research Center poll released on March 4, vast majorities of Americans clearly consider Hillary Clinton to be an effective leader. Sixty-seven percent of Americans surveyed approved of her tenure at the State Department; sixty-nine percent said she was a leader who could exhibit toughness; and 76 percent of Democrats desperately want her to run in 2016. In another poll issued by CNN/ORC the same month, Clinton even surpassed her former boss, President Obama, by 14 percentage points in the category of "strong and decisive" leader. While polls can often change on a moment's notice, one cannot ignore the fact that Hillary's foreign policy experience is a vital asset for her -- and one that she would be smart to take advantage of during another campaign.
It's not just polling and numbers, however, that paint her as an incredibly effective American diplomat -- it's also the kind words and outright admiration that colleagues exhibit towards her. Chronicled exceptionally well in Jonathan Allen and Amie Parnes' newly released book, HRC, Hillary Clinton made a lot of fans when she was directing and leading the State Department. Even those who were at first skeptical or downright hostile to her vision found it difficult not to like her after working with her on a certain issue. In one telling paragraph in HRC, a former member of Defense Secretary Robert Gates' circle of advisers describes the "stages of Hillary" that describe the evolution from Hillary-foe to Hillary-ally:
You know, you first dread the prospect of working with her, then you sort of begrudgingly begin to respect her, then you outright respect her and her incredible work ethic. You know, she's inexhaustible, she's tough-minded, and then you come to actually start to like her, and you just can't believe it but you actually like this person, and she's charming and she's funny and she's interesting and she's inquisitive, and she's engaging.
Perhaps sensing that Republicans are preparing for full-on attack on her record, Clinton has lately appeared in public, talking about the world's most important foreign policy issues and providing hints on what she would do if she were still in government. She controversially compared Vladimir Putin's actions in Crimea to Adolf Hitler's annexation of Czechoslovakia in the 1930s, and she has advised the Obama administration to do far more on the Russia-Ukraine crisis, including enhancing Washington's support for the new, interim Ukrainian Government.
"If he [Putin] is allowed to get away with that [the invasion and annexation of Crimea], I think you will see a lot of other countries either directly facing Russian aggression or suborned with their political system so that they are so intimidated that in effect they are transformed into vassals, not sovereign democracies," Clinton said. "There is a lot at stake here."
Clinton is not entirely immune on the foreign policy front. Republican candidates, for instance, will surely bring up the fact that she was a main architect, promoter and executor of the Obama administration's Russia "reset" policy. The infamous red reset button that she gave to Russian Foreign Minister Sergei Lavrov will be featured in campaign commercials, and her political opponents will try to connect the White House's current international headaches directly to her leadership. Republicans will have an opportunity to far more damage if the crisis in Ukraine deteriorates, or if talks over Iran's nuclear program -- a policy that Clinton was instrumental in crafting -- collapses.
At the current time, however, foreign policy is a valuable tool for Hillary Clinton to use if she enters into the race. If Republicans cannot put forth an alternative by 2016 that is acceptable to the American public, they will have a tough time trying to dilute her image as a potential Commander-in-Chief.
Related
Popular in the Community