Cut-up grocery store melons sold at popular stores like Whole Foods and Trader Joe's are at the center of a multi-state outbreak of salmonella.
The fruits — which include fresh-cut watermelon, honeydew, cantaloupe, and medleys that include these melons — were distributed by Caito Foods to stores in Georgia, Illinois, Indiana, Kentucky, Michigan, Missouri, North Carolina, and Ohio, the Centers for Disease Control and Prevention reports. The products were sold in clear plastic clamshell containers at Costco, JayC, Kroger, Payless, Owen's, Sprouts, Trader Joe's, Walgreens, Walmart, and Whole Foods/Amazon. The CDC also says there's a chance they may have been distributed to more states and stores.
As of now, 60 people have been infected with Salmonella Adelaide after eating the melons, and 31 of those people have been hospitalized. The CDC is urging people to avoid the recalled products and to throw them away or return them to the store where they bought them for a refund. If you have precut melon and are not sure where it came from, it's suggested that you throw that away too.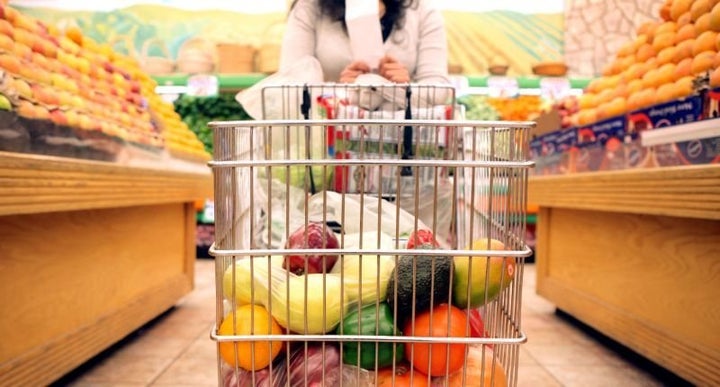 Salmonella causes about 1.2 million illnesses, 23,000 hospitalizations, and 450 deaths in the U.S. each year, and food is the source of about 1 million of those illnesses, the CDCsays. Most people who contract salmonella develop diarrhea, a fever, and stomach cramps about 12 to 72 hours after they've been infected. They're generally sick for between four and seven days, and most recover without any treatment, the CDC says. However, some people may have diarrhea that's so severe they require hospitalization.
Precut melons are generally risky to eat (as is other precut produce), food safety expert Darin Detwiler, director of the Regulatory Affairs of Food and Food Industries program at Northeastern University, tells Yahoo Lifestyle. He says he avoids precut melons unless he's the one who prepares them.
Salmonella can get into your melon a few ways, Detwiler explains. It can be on the rind, and if the melon isn't properly cleaned beforehand, salmonella can be transmitted to the cut fruit; cross-contamination is also possible during the washing process. There's also a chance that it could be internalized in the fruit, Benjamin Chapman, an associate professor and extension food safety specialist at North Carolina State University, tells Yahoo Lifestyle — and in that instance, there's really nothing you could have done in order to make it safer to eat. Storage matters too, Felicia Wu, a professor in the Department of Food Science and Human Nutrition at Michigan State University, tells Yahoo Lifestyle. If the fruit is stored in a way that condensation can happen on the surface, this can increase the odds that it will have bacterial contamination, she says. And if the precut melon isn't stored at a cool enough temperature, it could encourage bacterial growth.
"The problem with precut melons is that you don't know how long it's been since it was cut," Detwiler says. "The longer it's been, the more time the pathogens have been allowed to double and double again. It's like a ticking time bomb."
While this is a little scary, Chapman points out that it isn't new. "The risk is there, day in and day out, and it always has been," he says. "There are outbreaks all the time, but there are millions of servings that don't make us sick."
If you want to eat melon, the safest thing is to buy it whole and clean it at home before you prepare it. (You can dilute a capful of bleach in a bucket of water and clean it that way, Detwiler says). Then, cut it up and serve it when you know it will be eaten right away, or within a day or two. All that lowers the odds that any pathogens that might be on it won't get to proliferate before you eat it.
This doesn't mean you're guaranteed to get sick if you eat precut melon (outside of the recalled fruit). While Wu urges people with compromised immune systems to be particularly aware of the risk, she says everyone else should just be aware that it's there. "I do not think it should be a looming fear in anyone's minds," she says.
Read more from Yahoo Lifestyle:
Support HuffPost
A No-B.S. Guide To Life
Related
Popular in the Community