Two of the most common questions I get on my blog for the National Kidney Foundation are "Can I live with one kidney?" and "What should I do to protect my single kidney?"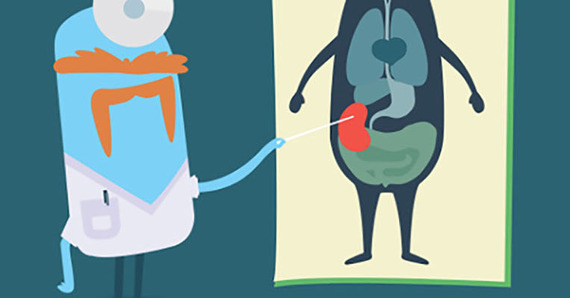 There are four reasons why someone might have only a solitary kidney. About one in every 450-1000 infants are born with a single kidney according to a report from the March of Dimes. Most people live a normal life with one kidney and don't know it until it is discovered later in life during non-related medical examinations.
A kidney can also be removed because of trauma, bleeding, cancer, tumor, stone disease or infection, occurring especially in the elderly population. In addition, individuals who have donated a kidney for transplantation are left with a single functioning kidney. Finally, individuals who receive a kidney transplant have only one functional kidney. These patients have underlying kidney disease that destroys their native kidneys.
Healthy kidneys have normal kidney function measured using glomerular filtration rate (GFR). When one kidney is removed, it is possible for the remaining kidney to slightly increase function. Similarly, when you are born with one kidney, the remaining kidney maybe be able to compensate and increase function to near normal range for two healthy kidneys. However, injury to a solitary kidney can cause kidney failure more quickly, and treatment should be started aggressively and monitored carefully.
If you have a single kidney, you should consider the potential of injury to the remaining kidney that can occur during contact sports such as football, martial arts, soccer and hockey. Discuss your concerns with your physician.
In order to keep your remaining kidney healthy, I recommend that you lead a healthy lifestyle. You should eat a healthy, low salt diet, such as a DASH diet. You should exercise regularly and maintain a healthy weight. You should not smoke or drink alcohol in excess. Bladder and kidney infections should be recognized quickly and treated effectively.
Individuals with one kidney may have a slightly increased risk of developing high blood pressure and chronic kidney disease. You should have your blood pressure monitored at least twice a year and if high blood pressure is present, your blood pressure should be controlled to less than 130/80. Your kidney function should be monitored with blood and urine testing at least every year. If you have diabetes, you should follow your physician's advice to keep it under control.