Why, oh, why did Oscar Experts (including me) recently underestimate Captain Phillips? And ... hmmm ... are we doing it again? Can it actually hijack the Best Picture gold?
Just prior to the unveiling of nominations for Golden Globes, SAG and Critics' Choice Awards, Captain Phillips ranked sixth in Gold Derby's rankings that combine the Best Picture predictions of all of our 26 Experts. It had started out in fourth place back in October when the movie opened to boffo b.o. ($104 million U.S., $209 million worldwide) and hosanna reviews (scoring 93 at RottenTomatoes). But then it slowly started to dip in our prediction charts once December came along and we got bored with it, getting bumped by Saving Mr. Banks and The Wolf of Wall Street. (See the changes for yourself by going to this Best Pic chart page. Scroll down and play with the calendar dates.)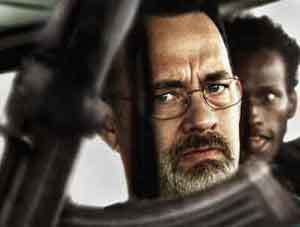 Now Captain Phillips is back up to number four thanks to its impressive showing at the precursor kudos, which woke up our Experts. It scored four key Golden Globe nominations: Best Drama Picture, Director (Paul Greengrass), Actor (Tom Hanks) and Supporting Actor (Barkhad Abdi). Hanks and Abdi also popped up among the SAG Award bids. If you believe -- as many pundits do -- that the Critics' Choice Awards are a sneaky hint of upcoming Oscars, then consider this. Captain Phillips scored all those key categories needed to win Best Picture, including Director, Screenplay and Editing plus nods for Hanks for Barkhad.
Captain Phillips also made the AFI list of Top 10 flicks of 2013 and it's nommed for Best Dramatic Picture at the People's Choice Awards.
Get the hint? Does all this make you want to rethink your predix? Right now the pundit consensus is that one of three films can bag the Oscar for Best Picture: American Hustle, 12 Years a Slave or Gravity. But again we may be underestimating the film in the fourth spot on our list.
Captain Phillips has many of the classic Best Pic touches. It feels important. It's based upon real events and, in this case, a topic -- piracy -- that continues to threaten America's stance on international waters.
Every serious Oscarologist knows that voters often choose their Best Pictures based upon who directs them. Paul Greengrass is an academy darling (nominated for United 93 in 2006) who, many believe, is due for Oscar glory.
Lastly, and most important, this film radiates the superstar aura of Tom Hanks, who is more than just a mere academy darling. He's an academy leader -- a past officer who continues to serve on the Board of Governors. He's won twice (Philadelphia, Forrest Gump) and was nominated three other times (Cast Away, Saving Private Ryan Big,).
Hmmm ... could Captain Phillips turn out to be an Oscar pirate who suddenly pounces?
Calling all HuffPost superfans!
Sign up for membership to become a founding member and help shape HuffPost's next chapter