Insuring crops against unforeseen weather events is a standard practice among farmers in rich countries.
Traditional insurance is either unavailable or is very expensive in many developing countries, leaving small farmers particularly vulnerable.
A severe drought, a devastating earthquake or another weather disaster can wipe out small farmers. Such uncertainties also make them more risk averse and less likely to invest in their farms.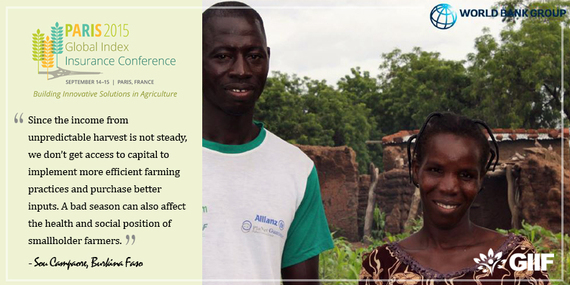 Since the traditional individual and group-based underwriting and indemnity-based products aren't serving developing countries, index insurance is an alternative approach more suitable to insuring poor farmers in hard to reach areas.
Index insurance pays out benefits based on a predetermined index for loss of assets and investments resulting from catastrophic events, unlike traditional insurance which depends on insurance claims assessors to evaluate the damage. A statistical index is developed before the start of the insurance period to measure deviations from normal for such parameters as rainfall, temperature, seismic activity, wind speed, crop yield or livestock mortality rates.
This approach can help stabilize poor farmers' income, allowing them to continue farming regardless of disaster and weather uncertainties.
A global conference on index insurance is underway in Paris this week, bringing together development partners and the private sector to discuss how to expand index insurance to address the growing risks and impacts of climate change and natural disasters.
Rising climate change risks and weather-related losses could have a devastating impact on the world's most vulnerable populations over the next generation.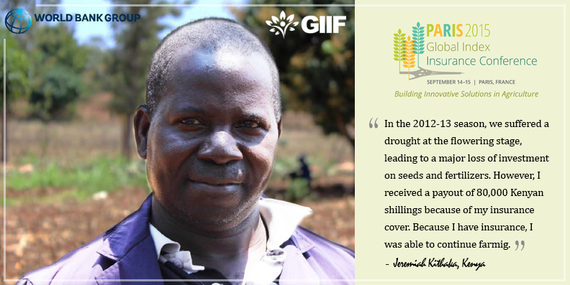 While index insurance can't shield agriculture from climate change, it can help mitigate its effects.
Insurance can also help to decrease the financial vulnerability of billions of people, providing them with a means to access finance and credit.
We need to dramatically scale up work in this area and find innovative approaches to increase insurance coverage to the most under-served and vulnerable populations.
On average globally, approximately one-third of the claims from total man-made and natural disasters are covered by insurance, according to Swiss Re estimates.
However, the coverage varies greatly from developed to developing countries. For example, for the 1999 floods in Austria, Germany and Switzerland, 43% of damages were covered by insurance while only 4% of damages from floods in Venezuela were covered in the same year. Only 10-15% of the losses after Typhoon Yolanda in the Philippines were insured, compared to 50% for the losses from Hurricane Sandy in the United States.
The World Bank Group has been pioneering different types of index insurance products. With donors support, our work has led to more than 35 million farmers benefiting from new or improved index insurance products over the last 10 years.
While new insurance products in emerging markets offer growth opportunities for the insurance industry, commercial success won't happen overnight. It can take between 10 to 15 years to make these markets commercially viable.
This is why governments and foundations should also champion and promote risk-management solutions, and contribute capital during the incubation period.
This week's index insurance conference is a call for dialogue and ideas, and for building stronger partnerships with the private sector to promote innovations, especially in agriculture insurance.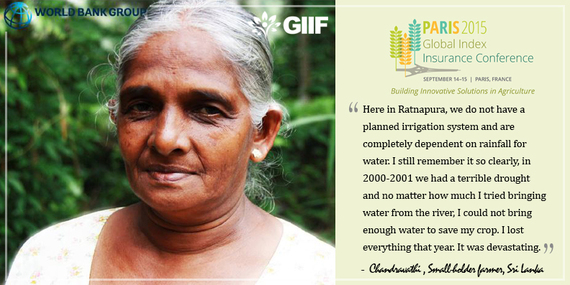 There are challenges associated with building sustainable and scalable insurance markets in developing countries, including uneven population distribution, poor infrastructure, and a lack of reliable data. But these challenges shouldn't hold us back from finding new approaches to extending insurance to the most vulnerable.
Ensuring the sustainability of food production, especially in the poorest countries, is critical to fighting hunger, tackling malnutrition and boosting food security for the world's population that is expected to reach 9 billion by 2050.
Without bold action now, the warming planet threatens to put prosperity out of reach of millions of people and roll back decades of development progress.
Related
Popular in the Community