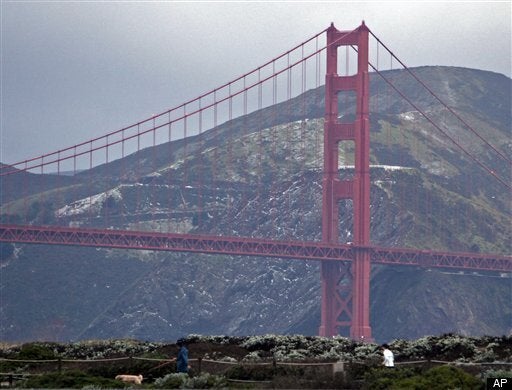 You expect restaurants at the India-based Taj Hotels to serve great Indian food, right?
Not necessarily, it turns out. Or, to be more precise, not only. To be quite clear, eateries at the majority of the Taj hotels (even those increasingly found beyond the Indian subcontinent) serve biryani, tandoori, curried everything and other specialties of India that are as good as they get.
However, though it may seem counter-intuitive speaking from a cultural/culinary perspective, a number of the Taj's hotels also showcase other countries' styles with equal aplomb. As I travel this summer predominantly in India, I'll blog from time to time about many of them in my search for the roots of one of civilization's oldest hospitality traditions -- namely India's. Naturally, food plays a pivotal role in how Indians demonstrate their welcoming spirit -- even when it's not their own cooking tradition. I'll have terrific Vietnamese food in Bangalore, fabulous Thai dishes in Mumbai, the freshest Japanese sushi in New Delhi, as well as Chinese, Middle Eastern, Italian, classic Continental, among others -- all at select hotels of the Taj. I'll also hopefully savor sumptuous non-Indian cuisine at Taj Hotels in the Maldives, Sri Lanka, London, Boston, New York ... and San Francisco, where this blog series officially begins:
You assume a guy named Srijith Gopinathan makes a mean murg (chicken in its many culinary incarnations). You don't assume his menu will include Artisanal foie gras, with slow-cooked quail breast, date black raisin compote and pickled ramps. And you may assume even less that it will taste so smooth and succulent as to rival many Michelin-starred restaurant.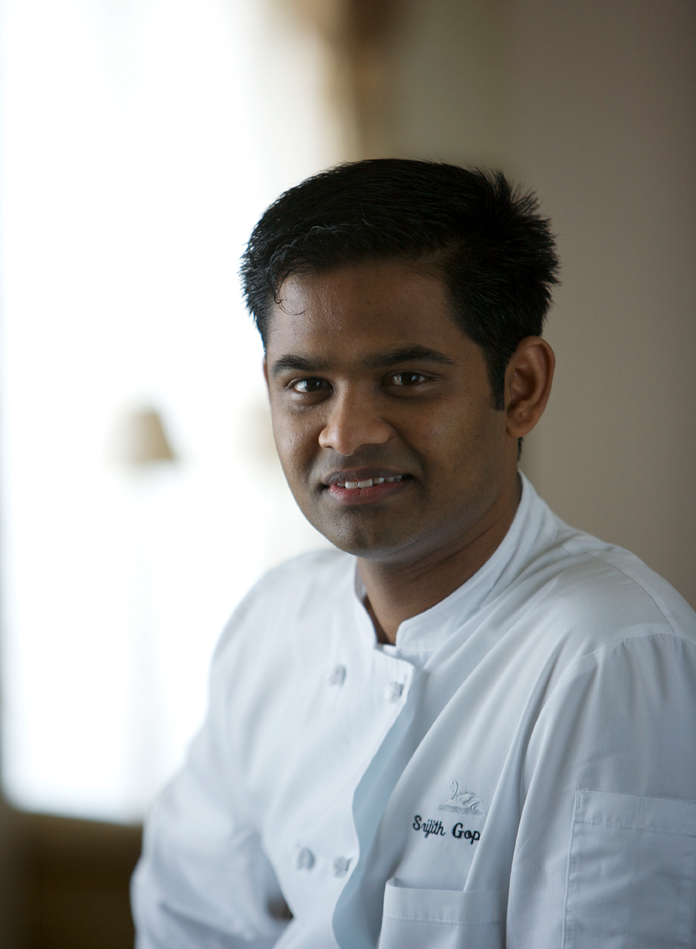 Srijith Gopinathan, executive chef, the Taj Campton Place in San Francisco.
"Whatever everyone else was doing, I wanted to do something else," says the boyish-looking native of Trivandrum, capital of Kerala, South India's lush west coast state that has been dubbed "God's own country." While others of his generation wanted to grow up to become "technocrats," young Srijith was inspired in a different direction, watching his grandmother work her alchemy, plucking ripe coconuts from the family's backyard tree and simmering local fresh shrimp in steaming coconut juice. "It was magic the way she transformed these living things into delicious dishes, and I wanted to master the magic too," he nearly gushes.
At the University of Bangalore's hotel and catering management department, while his classmates were mastering how to mix up to 150 spices into masalas that are the staple of any self-respecting Indian kitchen, he became fascinated with how the French could do so much with so little, and with such precision.
"I suffer naturally from the disease of quality obsession," he confesses. The disease spread working under the tutelage of Chefs Raymond Blanc and Gary Jones at the two-Michelin starred Le Manoir Aux Quat' Saison in Oxfordshire, England.
Indian and French cuisine could not be further apart. The French are minimalists with regard to herbs and spices, allowing ingredients' natural flavors to come through. They decorate a plate as though it were a palette, designed to titillate your palate. Indian food is usually thick and rich in ghee (clarified butter), and it's usually heaped onto your plate by a waiter in portions, family-style. To my eye, the predominant color of most Indian food is brown. In India, more is more -- with regard to almost everything, from gods to spices. I did a blind tasting once of three versions of the same dish, each using lamb, chicken or fish. I could not distinguish one from the other, such was the overwhelming effect of the curries.
For an Indian to learn French cooking, therefore, requires a complete shift in paradigm. On top of that, for Chef Gopinathan to accomplish this successfully at the Campton Place dining room would require following some fairly large footsteps. For those who don't follow "The Lives of Great American Chefs" as closely as they follow American Idol, the Campton Place has been the launch pad for nationally acclaimed chefs Bradley Ogden, Laurent Manrique, and Todd Humphries.
I could tell from the first bite of a 10-course sampling menu Chef Gopinathan put together for me (excellently matched with wines selected by master sommelier Richard Dean) that this was no imitation of "fine French food," as the cliché goes. Turns out the French and the Indians (or this Indian anyway) have one thing in common: the disease of perfectionism.
His fish dishes are especially noteworthy -- not surprising since he grew up in a coastal region and probably watched his grandmother use it more than meat or chicken. This was especially heartening since, to my mind, Indians generally do fish a disservice by annihilating the scaly guys' delicate taste with too much spice.
The Dungeness crab with cucumbers, citrus, lentil crumbs and mint balanced sweet and sour to perfection without overpowering the crab. Tasmanian trout, poached in olive oil, with little neck clams, fava beans, and trompette noire and clam vinaigrette was reminiscent of a dish I'd once had in Provence. I worried when the menu said the Maine lobster would be served in a coconut curry, with hearts of palm and cilantro, thinking the curry would bury the lobster flavor. It turned out to be the pièce de résistance; to resist a second serving would have been very difficult had it been served Indian-style with multiple helpings.
A roast rib-eye with Masami wagyu beef -- that rarefied cattle from Japan said to never eat, touch, or even look at added hormones in their lifetimes -- with cipollini, Yukon mousse, black truffles and hazelnut was butter-soft and marinated in juices that would make even the holy cows of India salivate.
My one criticism: one hopes Chef transcends his enamor with the new trend of foam, which he used in a few too many dishes. It's cute at first but grows old on the palate very quickly.
It stands to reason that Chef Gopinathan's idol is Thomas Keller, the legendary chef at the French Laundry in Napa Valley's Yountville, an hour drive north of San Francisco, to which the Indian chef has made several pilgrimages. Keller, along with Chefs Ogden, Manrique and Humphries, should drop by the Campton Place and pay obeisance to their next incarnation.
The Taj Campton Place San Francisco, is at 340 Stockton St.,
San Francisco; 415.781.5555. For more about the restaurant, go here. For hotel reservations, go here.
Perry Garfinkel began contributing to the New York Times in 1986, first writing for the then Living Section, now called Dining & Wining.

Related