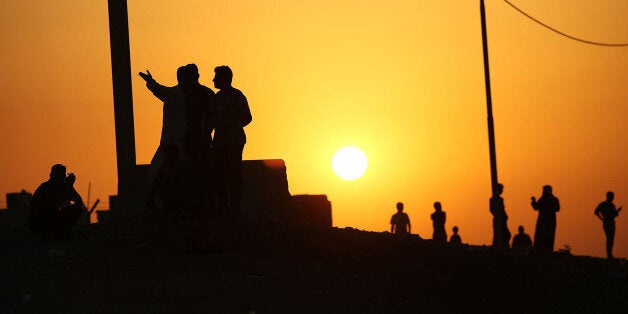 In recent weeks, the Islamic State in Iraq and the Levant (formerly known as ISIS, and now referred to as the "Islamic State") has captured large swaths of territory in Mesopotamia and proclaimed a Caliphate that aspires to consolidate political and religious control over the entire region. Some analysts have argued that the Hashemite Kingdom of Jordan may be the next target of this radical Sunni militant group. This may be the case, but it will likely have limited impact and could even present Jordan with an opportunity to strengthen its strategic position, according to Wikistrat's latest crowdsourced analysis.
Wikistrat evaluated four possible scenarios to reveal how the Islamic State might attempt to infiltrate Jordan in the coming months. None of these seem especially threatening for Jordan, though the country remains under significant burden due to the hundreds of thousands of Syrian, Iraqi and Palestinian refugees (some affiliated with the Islamic State, Al-Qaeda and other Salafist groups), a diverse citizenry that is vulnerable to radical influences, chaotic civil wars on two borders, turbulent politics and a weak economy. A major misstep by Jordan could provide the Islamic State with an opening to a successful attack and might also drag Jordan's allies Israel, the United States and the Gulf States into the conflict.
• Rush to Amman: Just as the Islamic State rolled through central Iraq, it could attempt to seize border crossings, mass troops near Jordan and move quickly on to Amman. In fact, last month the Islamic State attempted to occupy Tarbil (Iraq's only border crossing with Jordan) but Jordan was able to beat off the attack on the Iraqi side of the border with about a hundred Special Forces and Air Force personnel. Jordan has also been able to successfully defend its Iraqi and Syrian border crossings, keeping the fight outside its own territory.
• Brush Fires: The Islamic State could set brush fires in sensitive areas of Jordan, allowing for instability to escalate. A likely starting point would be the southern Jordanian city of Ma'an, which has long been a hotbed of discontent and instability due to unemployment, poor infrastructure and few socioeconomic opportunities. Alternatively, it could leverage a disgruntled Palestinian population by championing itself as the liberator of Jerusalem. However, Jordan has a long history of being able to quell discontent among aggrieved populations - it could likely defend this vulnerability more easily than the Islamic State could exploit it.
• Draft Waiver: If the Islamic State is unable to penetrate Jordan quickly, its options will be limited to building support slowly by picking up adherents from vulnerable groups. Likely recruitment candidates include Salafist elements in the Islamic Action Front, hardline members of the Muslim Brotherhood, and disaffected youth in the Syrian and Palestinian refugee camps. The Islamic State, though, would find itself competing with better-entrenched Salafist groups for recruits. More importantly, Jordan's political factions have long accepted Jordan's rules for expressing political discontent. They would cross that line only under risk of harsh reprisal - making this Islamic State strategy a difficult one.
• Slow Drip: As a last resort, the Islamic State could try to infiltrate radicalized agents into the less well-defended Jordanian Desert -- including returning Jordanians who have been fighting in Iraq and Syria. A soft destabilization of the Jordanian Desert would constitute a very long-term strategy for conquering Jordan, as operatives would suffer from weak supply, command and control lines. Local communities, especially cross-border tribes in northern Jordan and southern Syria like al-Zou'bi, would also assist in any Jordanian defense against ISIS. King Abdullah has long sought to rally his citizenry around a common enemy, and the Islamic State could be that enemy if it doesn't play its cards right in Jordan.
The chaos in Mesopotamia and the Islamic State's limited impact may then present Jordan with opportunities to expand its influence and improve its security. It is not Iraq or Syria -- it clearly has the means to manage the current threat posed by the Islamic State, backed by strong allies. Even Salafist figures like Sheikh al-Maqdisi would fight the ideological war against the Islamic State within Jordanian communities. Jordan's major risk comes if it over-responds to threats and unintentionally radicalizes its population.
From a broader perspective, the establishment of a Sunni Caliphate could offer opportunities for Jordan. The Islamic State's hold on Mesopotamia is hardly assured, as various Sunni groups vie for leadership among the unstable factions. Who better to claim legitimacy to lead than King Abdullah, a direct descendant from the Prophet Mohammed? Of course, this is unlikely in the short term since U.S. policy in Iraq still seeks to maintain the territorial integrity in both Iraq and Syria.
There does seem to be a "sorting out" of the population in Mesopotamia -- similar in scope and violence to Europe in the first half of the 20th century. That significant sorting led to many new nation-states and new territorial boundaries. Similar dynamics in Mesopotamia seem to be leading to a major sorting of Sunni, Shi'a, Kurds and others. In that case, one could expect the Hashemite Kingdom, backed by its Saudi cousins, to assert hegemony over the Mesopotamian heartland. Thus, the rise of the Islamic State in this area poses a limited threat to Jordan and even offers the country a strategic opportunity.
Popular in the Community