On a March day in the town of Hopedale, Massachusetts, Rob Russell went for a walk with his boys, 5-year-old Jacob and 3-year-old twins Christopher and Joseph.
A few blocks from home, Joseph stepped off the sidewalk and fell to the ground, as kids are apt to do. Rob picked up the youngster and checked him out. Everything seemed OK, so he put Joseph back down... only to see the boy crumple to the ground.
At this point in his life, Joseph already was quite the survivor. While still in the womb, he was diagnosed with a condition called Hypoplastic Left Heart Syndrome. This basically meant he would be born with a heart that wouldn't work properly on the left side, the side that pumps oxygen-rich blood to the body.
Fewer than 1,000 babies are born with this condition each year in the United States. However, there are enough cases that researchers have found a solution: a series of three operations, all within the child's first three years, to essentially redesign the plumbing of their heart.
Joseph was about three months removed from his third and final surgery. Any hope that the worst days were behind him vanished for Rob and his wife Gina when Joseph crumpled during that walk.
Everything that happened next went so fast.
Neighbors taking the other two boys. Rob rushing home to Gina. The right side of Joseph's mouth drooping. Gina picking up the boy's right arm, watching it flop to his body. Joseph silent through it all -- no words, no tears.
"Call 9-1-1," Gina said. "He's having a stroke."
An ambulance ride to their local hospital was followed by a medical helicopter flight to Boston Children's Hospital, where Joseph received the majority of his care. Gina took the chopper; Rob made the longest one-hour drive of his life.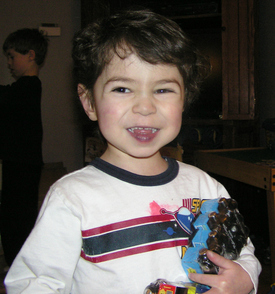 Joseph soon began slurring a few words. Then he slurred only some of his words. By the time Rob arrived at Children's, Joseph could clearly sing most of the alphabet song.
Doctors believe it stemmed from a stent placed about six weeks after his third heart operation. Something likely formed on that stent and worked its way to Joseph's brain, creating the clot that caused his TIA.
Days later, 3-year-old Joseph underwent his fourth open-heart surgery.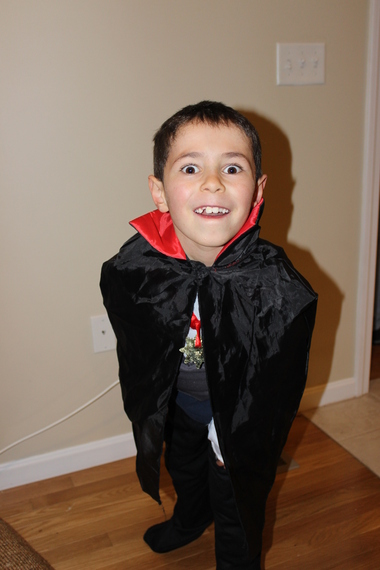 Last Halloween, on the same Hopedale streets where he once collapsed, Joseph was decked out like a vampire, collecting candy and trying to scare his neighbors.
Most days, he can be found doing things typical of kids his age; Joseph is now 7 and in second grade. He reads "Diary of a Wimpy Kid" books, draws pictures of his family or Teenage Mutant Ninja Turtles, loves video games and playing Minecraft, Pokemon and Legos.
"Especially Legos," Gina said, laughing.
Aside from having only half a heart, Joseph really is a typical kid his age.
He took karate classes for several years, and is now learning to ride a bike. His major limitation is avoiding contact sports; he takes blood thinners, so any cut or bruise could become a major problem.
Joseph is smaller than his twin brother Christopher, enough that kids ask whether he's a grade younger. He also gets tired easier than Christopher or his classmates.
Joseph recently made a presentation at school to explain it all.
"He decided to educate his classmates to answer all their questions about why he's different," Gina said. "He knows only half of his heart works and that he's had four surgeries. We've explained the whole stroke event to him, but I don't know how much he comprehends what happened or what it means. But there's definitely an awareness."
Awareness. That's an important word for Gina and Rob Russell.
Until they were thrust into the world of congenital heart defects (a formal way of saying someone is born with a heart problem), they had no idea it was so prevalent. Nor did they have any idea about the work being done to detect and prevent, treat and beat illnesses such as Hypoplastic Left Heart Syndrome and other, more common issues.
February is American Heart Month, and Feb. 7-14 is Congenital Heart Defect Awareness Week. This is a great time to spread the word that CHD is the No. 1 birth defect, affecting roughly 40,000 babies in the U.S. each year and more than 1 million worldwide.
"I don't think our story is that different from others that have gone through this," Gina said. "We attribute a big part of our success to amazing care by the doctors who researched the best steps and handled the bumps along the road."
The Russells are especially thankful for the efforts of Joseph's cardiologist, Dr. Gerald Marx, the American Heart Association's 2013 Physician of the Year (and in the photograph on the left with Joseph), and Joseph's surgeon, Dr. Pedro del Nido.
"With more time, money and research put toward fighting congenital heart disease, so many great things can happen," Gina continued. "My husband and I feel like the number can go from about 1 in every 100 kids born with CHD to 1 in 1,000, or 1 in 1,000,000 -- or 1 in never."
Overly optimistic? Not when you've been through what the Russells have.
"Look at the road Joseph has come down," Gina said. "To look at him now, you wouldn't even know it."
There's one last layer to this story and to all CHD stories.
As children benefitting from recent advancements become adults, what will happen? For instance, the three-operation process that Joseph underwent became standard about 30 years ago. We'll have to wait and see what happens as those patients hit middle age.
Gina and Rob know the uncertainty exists, but they refuse to dwell on it.
"Sometimes we think, `He could need a transplant, further surgeries ... may not have the best quality of life,'" she said. "But we try not to make that the point of his life. We try to give him, and his brothers, the best of everything. If he wants to do something and it's safe -- absolutely. We want him to go for it."
The Russells will continue urging awareness and research, just like they'll keep an eye on Joseph and his brothers. There's no telling what hurdles each may overcome.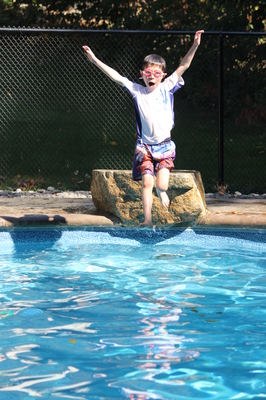 "We moved to a new house last March and it has an in-ground pool with a diving rock," Gina said. "Joseph was not real comfortable swimming in the deep end at first. But last summer, he finally did."
She laughs, and continues the story.
"We had to bribe him with a Lego set to get him to do it," Gina said. "I thought we'd get him a $5 set. He wanted one that costs $30. Are you kidding me?"
You can probably guess which one Joseph got.