For Long Island to be saved, we need to save its drinking water. If our water becomes undrinkable -- and its heading that way in a hurry -- what then?
Here's a slide showing just how rapidly nitrogen from septic tanks is leaching into our drinking water far below our feet: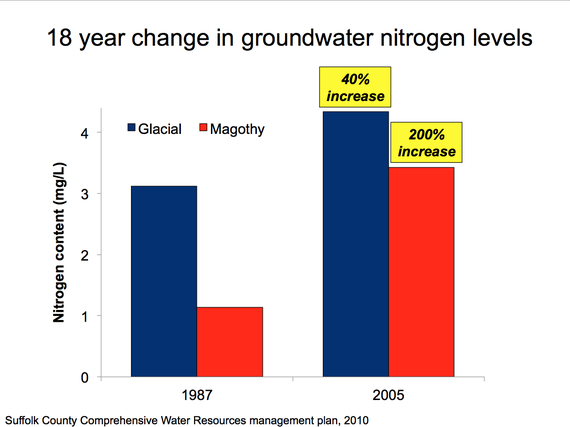 More recent data indicates that the rate of nitrogen infiltration into our drinking water has accelerated since 2005. At the same time, algal blooms have been increasing in intensity and variety and geographic distribution over the same period. The nitrogen seeping into our groundwater from septic tanks and fertilizers -- 500,000 septic tanks and from perhaps as many lawns, as well as farms has been driving these highly destructive blooms.
Beyond that, our waters show increased amounts of pesticides (117 have been detected in our ground water), pharmaceuticals (because we have a bad habit of flushing them down the toilet instead of properly disposing them) and volatile chemicals, both via industrial pollution and the improper disposal of household paints, solvents, glues and other hazardous waste.
What do we do then? How do we begin to address our water quality issues before its too late, our waters are lifeless, and our drinking water no longer potable?
By way of attempting to address our water quality issues, the state legislature has before it a bill called The Long Island Water Quality Control Act. This bill, sponsored by State Assemblyman Robert Sweeney (D - Lindenhurst) and State Senator Kenneth Lavalle (R - Port Jefferson) attempts to address the problem by establishing watershed-specific standards for the discharge of pollutants into groundwater, by assigning management and enforcement responsibilities to the New York State Department of Environmental Conservation with technical and public policy advice from The Long Island Commission for Aquifer Protection and a Citizens Advisory Committee. The bill, as per a June 12th editorial in Newsday
bans major repairs to existing cesspools, requiring instead new systems be installed that meet sanitary codes, and mandates nitrogen-removing systems for all new construction and major reconstruction and in priority nitrogen-reduction areas.

As Long Islanders, we cannot condone having a 19th Century technology, the cesspool, being prolonged into the 21st Century. We should not have new homes, apartment complexes, and businesses built with septic systems that date technologically from when TV was in black and white and we only had three channels to watch. For Long Island to have a future, we need to find and develop the best waste water treatment technology available.
We could, one supposes, build facilities that would filter out at great expense enough of the pharmaceuticals, pesticides, volatile organic chemicals to make the water potable and adequate for cooking and showering. We could buy a lot more bottled water of course.
How much water would be need to filter each day then, absent any attempt to stop our polluting that water? The Bay Park Sewage Treatment Plant serves 550,000 people in Nassau County and processes 58,000,000 gallons per day, or about 100 gallons a person. Long Island's population is about 2.8 million. Are we ready to process 280,000,000 gallons of water a day?
Chicago's Jardine Water Purification Plant, the world's largest, processes almost a billion gallons a day for 5 million people. But that plant is in a 1.5 miles off shore in Lake Michigan. No shortage of water there. Long Island, by contrast, must pump its water out of the ground. There are no other options unless desalination really takes a major leap forward. Not only do we pump our water out of the ground, but in many many locations. The infrastructure we'd have to build would be far more expensive because it would not be a centralized infrastructure, but scattered across Long Island.
And none of this addresses the fact that even if we managed to process enough potable water to sustain Long Islanders in their daily use, the witches brew of nitrogen, pesticides, pharmaceuticals, and volatile organic chemicals in our groundwater would nonetheless finish off all our waters. The New York State Department of Environmental Conservation lists all of Long Island's waters as impaired. We are indeed in an endgame here, and we must play to win.
That is why getting The Long Island Water Quality Control Act passed is so crucial. Six months ago, the bill almost felt like a symbolic gesture. But then on January 24th of this year, Suffolk County released its Comprehensive Water Resources Management Plan, the first update since 1987, and the conclusions were grim. The scientific facts of the matter galvanized people on the local, state, and federal level, and from both sides of the aisle. With that, the bill found new life.
The Long Island delegation will make its case to the rest of the legislature and the Governor. In light of the findings, we need a strict new set of guidelines. Long Islanders -- future Long Islanders -- deserve the freedom to fish, swim, clam, and sail as those before them had. They are entitled to clean water. No one has the right to poison the well. No one.

The Long Island Clean Water Partnership, a group of over 100 local organizations, it taking the fight for this bill to Albany this Monday. Here's a letter from Jennifer Skilbred of Group for The East End on how you can travel to Albany this Monday to make the case:

Hi All,

I am reaching out to let you know that there is now a clean water bill in both the Senate (S7804) and Assembly (A-9788) which would establish the Long Island Water Quality Control Act and the Long Island Commission on Aquifer Protection. Group for the East End, Pine Barrens Society, and others are bringing a bus of citizen advocates to Albany this Monday June 16th to lobby for the bill, since there are only six days left to get it passed this session. We believe the bill will make a huge difference in the fight for clean water on Long Island. If you or others you know are interested in joining us please let us know, we would love to have your support on Monday!

Best, Jen

Agenda:
6:30 - Depart from Riverhead Train Station
6:45 - Depart from Park and Ride at Exit 63
7:15 - Depart from Park and Ride at Exit 49
10:30 - Arrive in Albany
11:00 - Press Event and Demonstration
12:00 - Tour of Capital Building from Bill Cook
12:30 - Lunch (will be provided)
1:00 - Groups will be assigned to pull Senators off the floor
3:00 - Departure from Albany
6:30 - Estimated Arrival on Long Island
____________________
Jennifer Skilbred
Communications Specialist | Group for the East End
Office: 631-899-3651
Email: jskilbred@eastendenvironment.org | Web: www.GroupfortheEastEnd.org
There is in addition a social media campaign that you can engage in to let the state legislature know how important this piece of legislation is for water quality on Long Island and for New York State. This is from The Pine Barrens Society:
Good Morning Everyone,

We will be starting a social media "Hashtag Campaign" to both urge Senator Lavalle to drop the bill and to show the Legislature that Long Islanders support the bill.

If you're not sure what a "Hashtag Campaign" is, a great example that was in the news recently is the #BringBackOurGirls campaign.

What this campaign requires is that all of our groups (and individual staff members) encourage people to post pictures of themselves with a sign that says our hashtag #CleanUpLongIslandWater. They would then be required to post the picture to any social media site, Twitter, Instagram or Facebook, using that hashtag. If someone is not familiar with how that works or doesn't have a social media website, they could even send us the picture and we could post it for them.

I have also attached a document of suggested social media posts that would go along with this campaign, to encourage people to post their pictures.

In order for this to work we really need each of the groups to get involved. It would be an even bigger success if each of us individually approached our friends and families and asked them to show their support.

If we got enough momentum I think this would be a great way for people to physically show their support for the bill without having to leave their living room.

Call/Email me with any questions!

Let's get this thing started + let's get our bill passed! J


Katie Muether
Program Coordinator
Long Island Pine Barrens Society
547 E. Main St.
Riverhead, NY 11901
Phone: (631) 369-3300
Fax: (631) 369-3389
http://www.pinebarrens.org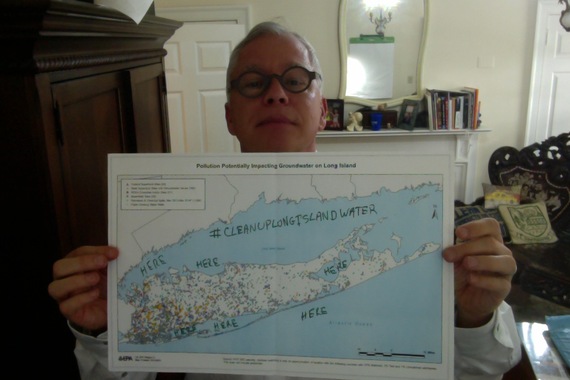 For reference, I am holding a map created by the EPA showing the 26 Federal Superfund sites, the 182 State Superfund sites with groundwater issues, the 21 RCRA Corrective Action sites (hazardous waste), the 29 Brownfield sites (former industrial or commercial sites where there's contamination), the 1,906 Petroleum and Chemical Spills sites logged between March 2013 and March 2014, and the location of our many public wells.
Use the hashtag #Cleanuplongislandwater to spread the word. Our future on Long Island depends on our getting the State Legislature to take action, and they will only if they hear our voices above the very loud voices that want nothing changed.
Calling all HuffPost superfans!
Sign up for membership to become a founding member and help shape HuffPost's next chapter