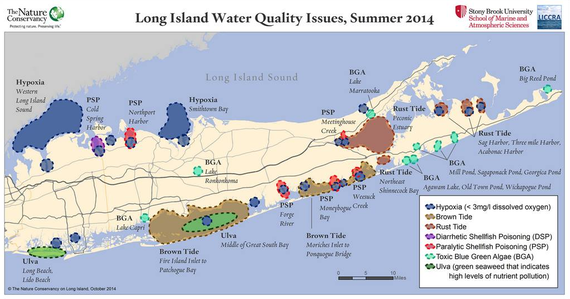 Graphic courtesy The Nature Conservancy, Stony Brook University's School of Marine and Atmospheric Sciences and LICCRA
Readers of this series 'Can Long Island Be Saved?' will recall the flurry of public meetings and forums from this May. Here's a great link to all the key materials from the three meetings called for by the Governor. Local, state, and federal officials and policy makers and various environmental groups studying Long Island's groundwater pollution crisis convened for a series of discussions about the collapse of our marine and coastal environments and what could still be done to stem the tide. What is Long Island without fishing, shell fishing, beach going, boating, and swimming? What happens to our coasts when the marshes and sea grass are gone, how much more vulnerable will we be? How do we stem the tide, reverse the precipitous decline, and build a Long Island we would pass on to future generations?
IBM Smarter Cities awarded a $500,000 grant in the form of consulting services to Suffolk County to help in the planning of a major upgrade in waste water treatment and management. How could the various agencies and levels of government all work in coordination? When the main problem we face is 500,000 septic tanks leeching nitrogen into our groundwater, how do we come up with an actionable plan to replace them with sewers and with state of the art on site denitrification systems? How would all that be funded? What can we possibly do to stop the nitrogen fueled algal blooms that have destroyed so much habitat in our bays and ponds? How can we protect our drinking water below us from improperly disposed pharmaceuticals and poisonous household waste, pesticides, toxic plumes, fertilizers and that nitrogen?
To the vast credit of our elected officials, they have together grasped the urgency of the matter -- we need to act now and to act boldly and with concerted effort. We have no choice. The New York State Department of Environmental Conservation lists all our waters as impaired. Marine and aquatic species are rapidly disappearing, habitats mostly already vanished. In the face of all this, we know what needs to be done, but do we have the political will and the public support to do what needs to be done?
The public release of the collected findings of Governor Cuomo's task force was released yesterday, and should be required reading for all citizens of Long Island, for the very success of our efforts will depend mightily on how much the public is aware of the problems we face. We need to together make an investment in our collective future, and for that we all need to know what's at stake, and what our investment will buy -- a sustainable Long Island.
Here then is a link to the press release announcing the actions that are to be taken to improve water quality and coastal resiliency on Long Island.
As Founder and Executive Director of Save The Great South Bay a 501(c)3 Non Profit (Find us on Facebook!), I was delighted to see that $383 million will be allotted by New York State to address four major water problems affecting the bay:
1. Forge River Watershed centered around Mastic: An estimated $196 million project would address storm impacts and reduce extensive nitrogen pollution to the Forge River and Great South Bay. The proposed project would connect parcels in the area to a new sewer collection system that will flow to a new wastewater treatment plant (that would include nitrogen treatment) located on municipal property near the Brookhaven Town Airport.

2. Carlls River Watershed centered around North Babylon and West Babylon: An estimated $136 million project would address storm impacts and reduce nitrogen and pathogen pollution in the Carlls River and Great South Bay. The proposed project would connect parcels to the Bergen Point sewer system within the Southwest Sewer District.

3. Connetquot River Watershed centered around Great River: An estimated $33 million would be used to address nitrogen pollution and pathogens in Connetquot River, Nicoll Bay and Great South Bay. The proposed project would connect parcels to the Bergen Point sewer system.

4. Patchogue River Watershed centered around Patchogue: An estimated $18 million would be used to address nitrogen and pathogen pollution in Patchogue River and Great South Bay. The proposed project would connect parcels to the Patchogue sewer system within the Patchogue Sewer District.
These efforts will make a palpable difference in the bay's health. We still have to contend with the septic tank issue, but champions of The Great South Bay have to feel encouraged by these actions.
The governor is also continuing to look for funding for an ocean outfall pipe to go with a new Bay Park Sewage Treatment Plant to replace the antiquated one damaged by Sandy. As the governor put it,
"We are not going to stop until we get the outflow pipe for Bay Park because it is ludicrous to be dumping the treated sewage right there on the coast."
The science agrees with him. Even highly treated effluent has a nitrogen load that in the confined waters of The Western Bays is toxic to fish, shellfish, and marshes. A pipe run three miles out into the open ocean will transport the water that will be treated at the new $800 mil plant so that it can dissipate in the ocean at a safe level of dilution.
Many will readily attribute yesterday's announcement to election year grand standing, but the fact remains that we are engaged in a fight for Long Island's future. Without clean water, without our bays, what is Long Island? People across the political spectrum, all those who live here and who know the bay and its problems, the 1800+ members of Save The Great South Bay are in agreement: Something large scale and comprehensive needs to be done and quickly for the sake of all our waters. Yesterday was a great day for The Great South Bay. In the weeks months and years ahead we will need much more to happen, but these funds and these actions have pointed the whole effort in the right direction.
Even if you are not prepared to vote for them next Tuesday, you should take time out to thank our political leadership for getting this one right, and learn what needs to be done in your community and how you can help. Long Island -- for future generations.
The next installment of Can Long Island Be Saved? will focus on various 21st Century strategies to restore marine and estuarine habitats as a means of increasing coastal resiliency. The question will be 'if we had, say, $100 million, what could be done for The Great South Bay given current science.'
Calling all HuffPost superfans!
Sign up for membership to become a founding member and help shape HuffPost's next chapter