With the Republican and Democratic conventions now behind us, political spending is about to go into overdrive. In the last presidential election cycle, candidates for office spent a total of $5.2 billion on political ads. However, much has been made recently about the considerable gap between the Trump campaign's spending on political ads compared to spending by the Clinton campaign. While the Trump campaign managed to make progress towards closing the fundraising gap in July, a recent report from NBC News and SMG Delta found that the Clinton campaign and its associated PACs are outspending the Trump campaign by a 15-1 margin. The Clinton campaign has already spent $25 million on ads, with $32 million being spent by pro-Clinton Super PACs, for a total of $57 million. Only $3.6 million has been spent in support of Trump, with none of it coming from the campaign itself.
Even looking forward, there is a considerable gap between airtime the Trump campaign has reserved compared to the Clinton campaign. The Clinton campaign and Priorities USA have reserved a total of $98 million in air time; however, as of August 3rd, the Trump campaign had no time reserved -- although two pro-Trump PACs have reserved around $800,000 in air time in Florida, Ohio and Pennsylvania. Recently, there has been an uptick in Trump-supporting PAC spending on advertising, with USA Business Freedom PAC launching a $1 million radio buy.
Despite Trump's lackluster spending so far, political spending this cycle is forecasted to exceed the $6 billion mark, with the Clinton campaign expected to raise and spend more than $1 billion dollars all by itself. Does this then mean that Clinton is already a shoo-in for the election because of her spending? Or does it mean that in order for Trump to increase his chance of winning, he must increase his spending?
After the 2012 elections, we conducted an analysis of the relationship between campaign spending and movement in the polls for President Obama and Mitt Romney. Leading up to the conventions, we found that as more and more advertising money was poured into the race, movement in the polls remained scattered. Looking at the post-convention period, Romney outspent Obama in almost every battleground state, and did succeed in increasing the vote share he ultimately received. However, Romney only won North Carolina out of the eight states included in our analysis, showing that while the race tightened, spending did not translate into fulfilling the ultimate goal of the campaign -- winning the election. Said more succinctly, outspending your opponent on the airwaves had no positive correlation to winning a majority of voters in nearly all of the battleground states we examined.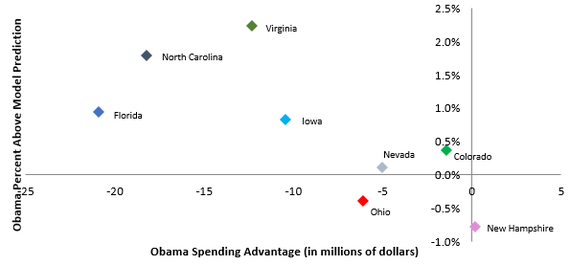 On a national level, at the beginning of our study polling averages showed President Obama with a 47.7 to 43 lead over Mr. Romney. After all the votes were tallied, President Obama won reelection by 51 to 47.3. Thus, over the seven-month period we examined, the aggregate change in the margin between the two candidates was merely 1 percentage point. In the states examined during this time frame, over $760 million was spent on advertising for the two candidates. That's an astonishing $76 million for every tenth of a percentage point movement in the polls.
Breaking out the two camps, Mr. Romney and supporting outside groups spent $419,876,530 on advertising, nearly $80 million more than President Obama's mark of $342,087,171. If an extra $20 million of campaign ads over your opponents in a state like Florida were capable of moving voters into your corner, then we'd likely be discussing President Romney's reelection campaign instead of a Clinton versus Trump showdown.
In 2016, are two already well-defined candidates going to be able to put the election away by saturating the airwaves with more and more ads? We don't think that is likely. What this also means is that Clinton does not have it in the bag leading up to Election Day just because she has such a huge advantage in advertising spending (as we have discussed there are many other reasons for her electoral advantage). Her campaign should follow the lessons of the two winning campaigns of Barack Obama and invest a higher percentage of resources in the ground game, including GOTV efforts which will actually matter on Election Day.
It will be interesting to see how this plays out as we get closer to the election. If Trump continues his decline in the polls, the campaign may decide to invest in more TV ads. The Trump campaign hasn't had much of a ground game either, but recently has been investing more in staff. Still, in a bizarre election cycle like this one that has two very different candidates, it will be hard to imagine that the lack of connection to media spending and results won't continue.
If the dynamics of the race do not change and the spending patterns continue, Democrats are about to overspend on a race that is almost a given at this point, and waste an opportunity to make meaningful gains at every other level of government. Every election there are huge spending disparities between presidential, gubernatorial, and congressional races and especially when spending in these races is compared to races at the state legislature level. Even in 2014, without a presidential race on the ballot, it was estimated that $234.5M was spent on ads for US House races, $423M for US Senate races, with only $42.7M being spent on State Senate races and $16.4M on State House races. Said in another way, just 8 percent of all spending went to the state legislative level.
Sadly donors and outside groups tend to focus on the higher profile races, and it is often forgotten how important state legislature races are. More and more policy is being completed at the state level, given the inability for Congress to pass much these days. Even more importantly, since state legislatures are responsible for redistricting, winning majorities can lead to more favorable congressional districts after the 2020 redistricting and is an important step in the Democrats' ability to retake the majority in the House.
The challenge is that each wing of the party is responsible for their own lane, and no one is technically in charge of the big picture. The Clinton campaign's job is to win the White House, the DSCC is trying to win back the Senate, and the DCCC is trying to win back House seats. The DLCC, while in charge of helping the state parties, clearly is not given the funds needed to make a dent. This year it will come down to the outside organizations and Democratic donors themselves. If people want to make a difference they will hopefully consider where will their money make the most difference, and the answer is not putting it into more television ads supporting Clinton.
Calling all HuffPost superfans!
Sign up for membership to become a founding member and help shape HuffPost's next chapter