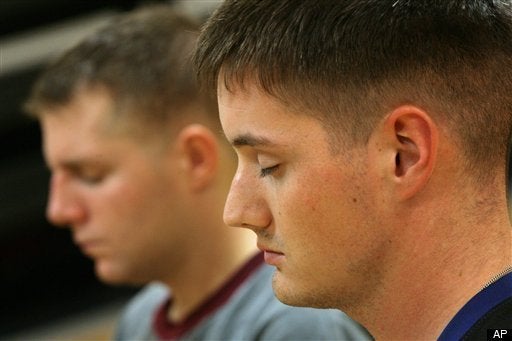 A couple of weeks ago, I was in San Antonio to do resilience training with Army hospital professionals. My job was to demonstrate why guided imagery audios were an effective, portable, user-friendly, idiot-proof tool for managing stress and preventing burnout for health providers, wounded warriors and veterans alike.
It was an impressive group of health care professionals we were training. Some had backgrounds straight out of health and mental health, while others came from the combat side -- former special ops, rangers, snipers, bomb dismantlers and so on. Some straddled both worlds. They came from as far away as Korea and Germany, and as close by as Fort Sam Houston, and every place in between. They'd seen a lot of seriously nasty stuff.
I picked their excellent brains during breaks. I wanted to know what they thought about helping active troops learn self-calming and relaxation skills.
Months ago we'd begun sending thousands of guided imagery audios for stress and insomnia to our service people in Iraq and Afghanistan, pre-loaded onto these durable, portable little MP3 players called Playaways that the soldiers really like. The hope was that by teaching them to self-regulate their mood and biochemistry, they'd be less prone to acquiring posttraumatic stress; as well as gain new skills for dealing with depression, grief, guilt, self-doubt, irritation, boredom, loneliness and all the rest.
But over the years, we'd heard objections - that soldiers couldn't afford to relax; that calming them could endanger them and make them more vulnerable to attack. I wanted to know if these experienced professionals thought this was true.
What they told me was, Hell, No.
One man told me it was a myth that soldiers had to stay all worked up and furious at the enemy in order to fight well. He'd been, among other things, a sniper in Iraq, and what he'd needed most was a kind of calm, detached focus -- similar to an athlete's state of flow -- where he was very present and alert, but also very quiet inside, so he could spot any movement that might mean danger to his cohort, and be so calm and detached, that his hands were steady as a rock.
I heard something similar from a former bomb de-fuser -- the critical importance of putting himself in an emotionally detached, calm but hyper-alert and focused state of mind. I'd never thought of dismantling a bomb as being the ultimate kind of meditation, but, of course it is. It sends every other thought clean out of your head, and your attention is focused on a very narrow band of things, excluding all else. That's the definition of meditation.
Come to think of it, my Transcend Vietnam vet pals at the Louis B. Stokes Cleveland V.A. , who helped me make our current imagery for PTSD, used to say the same thing about reconnaissance and walking point -- crisp, clear, calm focus was the best way to keep yourself and your men intact.
Another reminded me that the great Chinese, Japanese, Indian and Greek martial arts began with training in meditative stillness. He'd studied as many ancient traditions as he could find, because he felt they had much to teach him downrange. I was glad to be reminded that the idea of warriors cultivating a calm, detached, single-pointed focus was old as dirt.

A former medic talked about the importance of troops being able to control and regulate their feelings -- not just so they didn't make mistakes in combat or with civilians, but also with each other. They get into some pretty dumb ruckuses with each other, just out of sheer boredom and irritation. (Sebastian Junger has some great descriptions of this in his new book, War .
We're also becoming increasingly aware that our service people are being over-medicated downrange, mostly with legal drugs. This creates new problems - everything from slower reaction times to possibly an increased vulnerability to suicide later on. It's probably a better idea to teach our troops to adjust their moods or get some sleep by sticking an audio in their ear if it can substitute for a pill in their mouth.
So, all told, I was strongly encouraged to keep getting meditative tools to our troops. I'll keep asking and brain-picking, but this is good for starters. My interest has always been the long-term mental health and emotional resilience of our service people. But if these tools don't endanger them, and instead can make them sharper war fighters, I'm okay with that. If they've got to be in harm's way, let them be as strong and as safe as possible.
Related