Last year at a conference on national service, I heard a young man named Johann Shockency speak. Johann said that as a child, he had one goal: to serve his country through the armed forces. But as a high school freshman, Johann was diagnosed with a degenerative eye disease that made him both ineligible for the military and legally blind.
Then, Johann realized he could still serve his country. After hearing a news report that 25 percent of third graders are not reading at their grade level and likely would not graduate from high school, he enlisted with the Minnesota Reading Corps -- a program that provides daily literacy tutoring for children. Corps members like Johann commit one year of service and in exchange receive a small stipend and an educational award.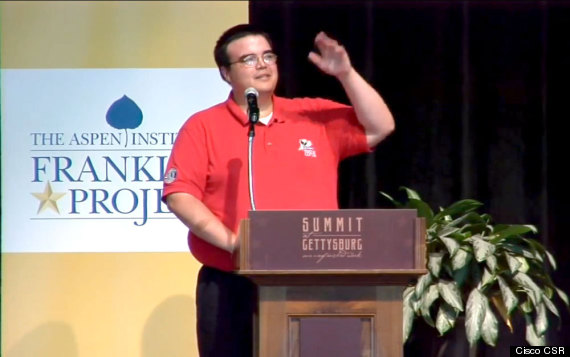 In his speech, Johann told of other rewards -- like helping one third-grader go from reading 19 words per minute to 70. "I am now so proud of my students and so happy with the great impact that I have had on my community," Johann said. "Feeling this much pride and happiness is something that no paycheck can replace."
According to a study conducted by the Center for Benefit-Cost Studies in Education at Columbia University, every dollar spent on youth national service yields over two dollars in savings. The report, The Economic Value of National Service, values the current total social benefit of youth national service at $6.5 billion.
These numbers are powerful, but they could be even better. There are nearly 31 million Americans between ages of 18 and 24. Yet if only 80,450 youth are participating in national service, we are missing a big opportunity. The demand is there; many more young people want to serve. But right now there aren't enough positions available. For example, in 2011, AmeriCorps received 7 applications for every 1 available position.
A movement is underway right now to change this imbalance. At this year's Clinton Global Initiative (CGI) Annual Meeting in September, a number of companies and organizations announced Service Year -- a commitment to create 1 million national service positions in America by 2023. Service Year is designed to make conducting a year of service a common expectation and opportunity for all 18 to 28 year olds. It will be powered by the Service Year Exchange -- an online platform that will connect people who want to serve with organizations that need their help and donors who want to support both.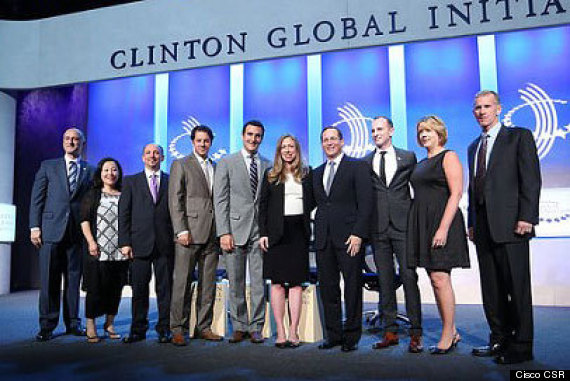 In announcing the commitment, Clinton Foundation Vice Chair Chelsea Clinton said, "If more young people participated in full-time service programs like AmeriCorps, it would have a transformative impact on our country."
Research supports this. According to The Economic Value of National Service, greater investment in national service will increase the social impact. Currently, total social expenditure on national service for 80,450 full-time youth members is $1.65 billion. With social benefits of $6.52 billion, the net benefits are 3.95 times greater than the costs. Supporting 1 million service positions would involve a $20.7 billion investment, but would yield $92.6 billion in social benefits -- a net benefit 4.65 greater than the cost.
Research by the National Conference on Citizenship has shown a strong correlation between civic engagement and economic resiliency. According to their report, states and localities with more civic engagement in 2006 saw less growth in unemployment between 2006 and 2010. This was true even after adjusting for economic factors that others have found to predict unemployment rates over this period.
This research defined civic engagement as volunteering, attending public meetings, helping neighbors, voting, and registering to vote - all important activities, but much less intense than committing a full year of service to a specific cause. So, you can only imagine how big an impact 1 million people engaged in a service year would have on our communities.
Then, of course, are the economic benefits to individuals who engage in national service, and which reverberate throughout the economy. National service coupled with education awards, such as AmeriCorps programs or Teach For America, can help young people gain skills and contribute to society without accumulating excessive debt. It gives them a means to develop job skills and discover career paths. Often, once they experience the rewards of serving their communities, young people are inspired to continue working in a field that benefits society. For example, according to a Voices for National Service report, two-thirds of Community HealthCorps alumni, many of whom had no prior experience in health care, went on to pursue careers as doctors, health educators, social workers, medical assistants and registered nurses after spending a year promoting health care in underserved communities.
The time has never been better to throw our collective energy behind national service. One million students drop out of school each year, and 17 percent of Americans aged 16 to 24 are neither in school nor employed. Nearly 20 percent of our children are living in poverty. Government support for social programs continues to fall while nonprofits struggle to fill in the gaps. Yet thousands of youth stand ready, willing, and able to commit a year of their lives to making their communities stronger. National service can bridge the gap between the social challenges we face and the resources needed to overcome them.
Wondering how you can you support national service? Here are two things you can do right now:
• Visit youserve.org to find out how you can support, host, or serve
REAL LIFE. REAL NEWS. REAL VOICES.
Help us tell more of the stories that matter from voices that too often remain unheard.