The workplace is evolving at an alarming rate. Gone are the days of marching into the office and being isolated in your cubicle for eight hours with nothing but a plant and a photograph to remind you of the world outside.
People relish the freedom of working from home, their car, the coffee shop, or the communal dining room at their office. The workplace trends for this year focus heavily on how the environment impacts productivity and creativity.
Trivago employees keep their heads in the game surrounded by eclectic themed decor. Jeremy Crider, Trivago's US Communications Director, told me, "Our conference rooms, "think tanks" and common areas have varied themes. Some pay homage to a specific destination, others a certain topic (science, math, arts, even sewing, etc.), and each was designed to facilitate creativity and productivity."
Have you ever fantasized about your dream home? Looking at your Pinterest boards thinking to yourself, "Gee, what I really want are walls in a brilliant shade of white with some huge fluorescent lights buzzing all around me. That would make me so happy!" Probably not, and most people don't feel inspired when they walk into offices decorated in a similar fashion. But color can be tricky.
The thing is, what does it for you won't necessarily do it for everyone else. It's kind of like your favorite Starbucks order in that way. What you can do, is take a general consensus on what moods individual colors promote to help build the perfect color palette for your office. Consider the color choice the literal backdrop for your environment. The color you choose will set the creative tone for your work day.
If your goal is to create a space that brings ideas for new spa treatments, or mindfulness products, you are probably not going to chose a vibrant red and orange. On the other hand, if you are in the gaming industry and trying to come up with ideas for the next big FPS, an aggressive red mixed with some darker colors might be exactly what fires up the imagination.
Comfort, Closeness and Creativity
Office seating has traditionally been regulated to the efficiently ergonomic chair behind the desk, to the much less comfortable chairs around meeting tables and in front of the desk. This type of seating was never intended to be particularly comfortable.
The idea behind minimizing discomfort was to facilitate greater time with the good little cog's rear end in the gears of the productivity behemoth. The problem with this that not being miserable doesn't boost creativity in the same way that actually being comfortable can.
While the comfort of the chair is obviously important, closeness to others is also important. Huge companies like Apple and Etsy have made a conscious effort to promoted both in their work spaces. Etsy offices have comfy couches for coworkers to sit with each other and work on their laptops. Comfy bean bag chairs< are a popular, playful seating choice that can be tossed into communal spaces where coworkers can lounge and brainstorm together. Think about how people tend to work at home and build on it. Hammocks for brainstorming, picnic tables in the afternoon, and any other cozy space employees are drawn to.
Collaboration and Creativity
Do you have to be a social wizard to be creative? Of course not. Many authors sit isolated in order to better hear the dialogue raging within their own minds. But if you are working in a field that requires your ideas be implemented and expanded by others, you are probably going to need to be social even if it's not your thing.
There are numerous ways you can ease social interaction and help improve creativity. The designers for Evernote headquarters did an amazing job of incorporating several collaboration spaces. White board walls are possibly the coolest thing ever for getting people to think and share with the group.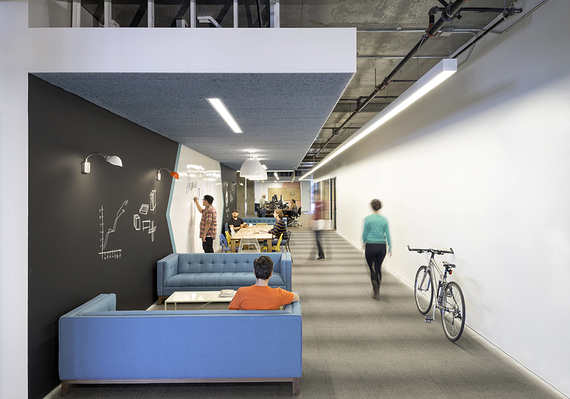 Evernote offices designed by Studio O+A and photographed by Jasper Sanidad. Used with permission.
Even businesses that prefer a traditionally themed office environment can boost collaboration and creativity simply by pulling employees out of their cubicles and placing them together at bench workstations.
The need to facilitate an environment of collaboration has never been more evident. As people become more connected to the wealth of knowledge available online, they have begun to realize how very important it is to feed their creativity and their joy. By taking the time to intentionally organizes spaces that promote this, individual employees will become more creative and the workplace will benefit. This is true for companies of thousands and for individual freelancers. Put the time, effort, and resources into making your work space a place you enjoy being, your creativity will thank you.