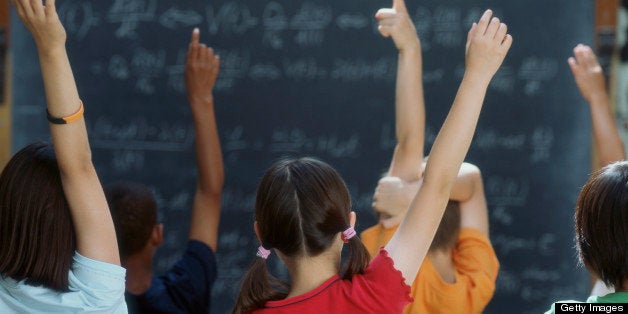 Research suggests that students whose parents are involved in their schooling make better grades and are more likely to go to college, and some states -- with California leading the way of course -- are passing parent trigger laws that give parents much more power to intervene when local schools are failing. President Obama has weighed in as well. He is one of many leaders calling on parents to step up to the plate when it comes to education. "We all know that we can have the best schools and the most dedicated teachers in the world," Obama said in a public service announcement taped in 2010. "But it won't be enough unless we fill our responsibilities as parents. "
Most American parents readily agree with the premise that parents are a crucial ingredient in a child's educational success. A few years ago, when the Gallup/Phi Delta Kappa survey asked parents which is more important in helping a child learn -- parents or the school -- the results weren't even close: 78 percent of parents said "the student's parents" and only 21 percent said "the school." And an analysis of opinion research conducted by my organization, Public Agenda, and the Kettering Foundation shows that most parents view participating in their child's education as a fundamental responsibility and see stronger parent and community involvement as a critical factor in improving neighborhood schools. As a DC dad in one of our focus groups put it: " I think [good schools] depend on the parent participation... Some schools have a lot of parents... in the PTA. They come to the school. They advocate for the school regularly."
But what exactly do we mean by "parental involvement"? Are we talking about traditional parental roles -- the moms and dads who check on homework and report cards and support the schools from time to time by helping out with clubs, sports, and bake sales? Or are we talking about parents as change agents -- citizens who push school reform forward by voting for candidates who share their views on education and challenging local officials to make sure their schools have world-class standards, top-notch principals and teachers, and sufficient funding to do the job?
It's rapidly becoming clear that "parental involvement" actually means very different things to different people. Based on a recent Public Agenda study for the Kauffman Foundation, parents themselves seem to differ in their view of what kind of parent involvement is most effective and in their comfort levels in taking on various roles. Although the study focused on parents in the Kansas City area, it may well have implications for parental involvement initiatives around the country. It identified three distinctive groups of parents:
• Nearly a third of the parents surveyed could be considered "potential transformers." Parents in this group say they would be very comfortable playing a more significant role in deciding how schools operate. Meeting with district administrators, sitting on committees to decide school policies, and talking to the media about their education concerns and priorities are some of the areas where these parents seem ready to act.
• "School helpers" made up about a quarter of the sample. These are parents who say they could do more to help out at the schools their children attend, but they strongly prefer traditional involvement activities -- volunteering and coaching, for example -- to advocacy roles. Only about 1 in 3 of these parents say they would feel comfortable meeting with district administrators to push for improvements in local schools.
• About 1 in 5 of the parents were in a third group we called the "help seekers," and this is the group that may prove to be public education's biggest challenge. These parents are concerned about their own children's learning, yet admit that they either aren't very comfortable or don't have time to become more involved at their children's schools or as education advocates. These parents are often more critical of their schools, even as they seem to be looking for more guidance from those schools on how to work with their children at home to help them succeed.
Some parents didn't fall neatly into any one of the specific groups, and overall, the Kansas City area parents were divided on what form of involvement is most important for improving education. About half (52 percent say) said it was improving the quality of parental involvement at home, versus 42 percent who said it is getting parents more directly involved in running schools. The main take-away from the Kansas City work is that increasing parental involvement isn't really a "one size fits all" endeavor. Parents and families come to the schools with different priorities and different entry points.
Parent surveys also raise questions about the degree to which more parental activism will unleash broad school improvement.Nationwide, only 28 percent of parents say they know a lot about the qualifications of their child's school principal, and only half know a lot about how their child's school ranks academically compared to others in the area.
Do we want parents and communities significantly more involved in local schools? It almost goes without saying. Do we need more explicit, well-thought-out plans to bring parents and other citizens into the schools to bolster education and insure that all children have the opportunity to learn and flourish? You bet we do.