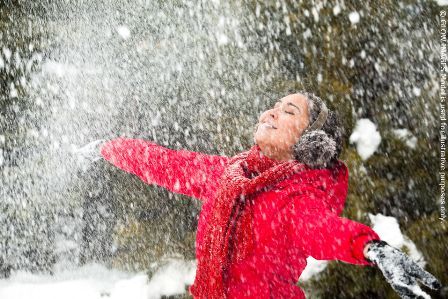 Nearly three feet of snow fell in the suburbs of Boston where we live during the epic Blizzard of 2015. It's on record here as the biggest storm in a century. Despite early predictions, there were not widespread power outages and the snow remained light and fluffy for easier removal.
Whether it's a personal, health, financial problem, or an actual storm, we all face times when we can feel so buried by our circumstances that solutions seem illusive.
That was the case for me two years ago after back to back Nor'easters left our home buried in snow. My husband was traveling for business in sunny Las Vegas and his flight home was cancelled. When our snow plower finally arrived he got stuck at the end of our driveway and had to be pulled out. I watched for him all day, but he never returned.
Later that evening, when the snow began to crust over with hard-packed layers, I was concerned we might be housebound for some time. I needed to be somewhere important the next day and it looked like there was no way my three kids and I would get out any time soon. I knew we would be OK. We had food in the house and our electricity was on, but it was the first time I'd ever felt truly trapped.
Our home is situated off of a country road on a long driveway. That night when I looked out the window at the mounds of snow I thought, This would be like shoveling the beach. Impossible.
So I did what I always do when life has me feeling cornered. I prayed.
I've found this quiet communion opens my thought up to solutions and ideas I may not have considered before. It also replaces stress and worry (one of the leading causes of health problems) with calm and confidence. As I reached out to God, I thought of one of my favorite Psalms:
I realized that the ideas God was providing in that moment were even more numerous than the deep layers of snow covering my driveway and that gave me comfort.
I stopped wishing my husband was home or the snow plowers would come again. This time my answer came in the form of four shovels and three willing helpers. My kids had already suited up for the adventure. "We are going to dig out!" they announced. Suddenly this task didn't seem quite as daunting to me, despite the below freezing temperatures.
Five hours, one broken shovel and several layers of shed winter clothing later, we'd completely cleared the driveway and a path for my car. In the morning as we drove off to our destination we all cheered. My husband returned the following day after a rerouted flight into NYC and a rented car that got him home to Boston where his car was waiting at the airport. Even he was incredulous as he pulled into the small parking area we'd carved out for him.
Our snow plowers arrived a few days later, too--this time with a bobcat to remove the piles of snow we'd shoveled onto my husband's side of the garage!
In my work as a Christian Science practitioner, I've seen over and over again how God provides a way out of impossible situations through relying on divine laws that supply our every need. Right where human answers fail or fall short, spiritual inspiration is present to bless. Mary Baker Eddy, who founded Christian Science, described it this way, "Divine Love always has met, and always will meet, every human need."
If I could have turned a massive heater on that mountain of snow, believe me I would have. But in a way, you could say I did. A friend recently compared God's love for us as the "divine melter." Its warmth melts impasses and worries and replaces them with harmony and peace. And, yes, this love is equal to every situation, even a blizzard.
REAL LIFE. REAL NEWS. REAL VOICES.
Help us tell more of the stories that matter from voices that too often remain unheard.