For the world's 1,810 billionaires, founding a private museum is the new ne plus ultra (ultimate demonstration of beauty that only the wealthiest can afford), according to Town and Country. As the art market grows, private museums are popping up more frequently. Of the 236 private contemporary art museums assembled in the BMW Art Guide by Independent Collectors, more than 80% sprouted up after 2000. Collectors reap tremendous benefits from opening their own museums, including added tax breaks, complete control over their collection and direct interactions with the public.
Marta Gnyp, an art adviser and author of The Shift: Art and the Rise to Power of Contemporary Collectors, explains the rise of private museums to T&C, "Collectors certainly like to share their passion, show what they have, bring other people into contact with art, or even create their own artistic canon. There is also a market element in this passion." Gnyp goes on to comment, "in today's art world there are so many new collectors. How do you get access to the hottest artists' work? Having a private museum helps. It gives you prestige and visibility; the galleries treat you differently. It may even get you the art at lower prices."
This new generation of museum founders recall the art culture in America during industrialization. Jeffrey Deitch, former Director of L.A.'s Museum of Contemporary Art, draws the comparison to wealthy patrons like Henry Drick, J.P. Morgan, Duncan Phillips, and Albert Barnes. These titans of American industry all built museums to share their private collections with the public and their institutions live to this day. Perhaps unknowingly, these legendary entrepreneurs supported far more than their own collections by founding private museums.
Early 20th century patrons established a precedent for private patronage to the arts that has since evolved into a pivotal economic sector in the United States. According to the latest data published in collaboration with the NEA, the arts and culture sector contributed $729.6 billion to the U.S. economy in 2014, 4.2% of the GDP that year.
Recent studies are putting art and culture institutions at the center of economic growth and innovation. In an interview with Artsyabout his latest book, The New Urban Crisis, Richard Florida explained, "my research shows empirically that artistic and cultural creativity acts alongside the high-tech industry and business and finance to power economic growth." In major cities with financial hubs and booming economies, the arts grow with no limit.
Richard Florida fears a worsening cultural divide amongst urbanites in major art capitals like Miami, Los Angeles or New York City and rural suburbanites in cultural desserts. The Rubell Family Collection, The Broad, and The Frick Collection are just a few of the private museums in major metropolitan cities, where urbanites can engage with incredible contemporary art collections. For the rest of the country, the closest contemporary art museum is often more than a plane ride way.
Florida fears this divide, but one collector created a solution at the intersection of art and tech. Filipino art collector and successful real estate developer, Robbie Antonio, has developed an ambitious plan that brings prefabricated museums to the masses. Working with Pritzker Prize-winning french architects, Jean Nouveland and Christian de Portzamparc, Antonio created a series of prefabricated and reproducible museums that could fill the void in cities that lack art institutions. Artnet reported that for less than $1 million, an aspiring Eli Broad can build their own institution in as little as six months with a prefab museum. Compared to the 5 years and $140 million it took to build The Broad, the prefab model makes founding a museum comparable to buying a second home for many collectors.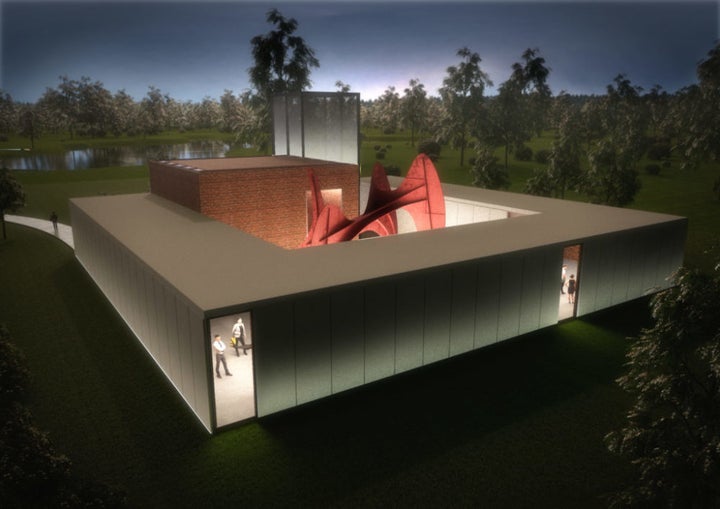 Rendering of Prefabricated Museum Courtesy of Revolution Precrafted Properties
"The entire concept of modularity, flexibility, and transportability moved me and created an impetus for really challenging the norm," Antonio told artnet News. The structure can be used as "a formal museum space, or, for instance, a space for performance art, depending on the individual." Antonio founded Revolution Precrafted in 2015 and has designed prefab structures with revolutionaries, including Zaha Hadid, David Salle, Ron Arad and Studio Libeskind.
Portable and prefabricated museum structures could bring cultural significance anywhere in the world, but most importantly to areas that lack art institutions altogether. "I hope it becomes the start of a cultural dialogue. I'd love to bring Western art to the far East," Antonio told artnet. His hopes are modest for a project that uses technology to turn a trend amongst the wealthy into an ultimate solution for cultural inequality.
Related
Popular in the Community