Earlier this week, Congressman Walter Jones Jr slipped away from the consumption of the Washington budget drama for his "friendship" calls. Jones always tries to save a piece of each week to take a pulse of the mood of his district in Eastern North Carolina.
These "friends" are citizens from all walks of life in the Third Congressional District. Those calls are a small gesture that helps explain the big wins Jones enjoys every two years. He has won reelection eight times with 61 percent of the vote. A former Democrat in the state house, Jones switched parties in the early '90s and won his first congressional race as a Republican with the Newt Gingrich wave of 1994.
On his first call to the owner of a car dealership, Jones could not escape talking about the shutdown. The owner was away but the office manager was not at all too busy to take the call. "The dealership had not had a customer in four days," says Jones. "The office manager said that's very unusual and what's beginning to happen is the people reading the newspapers and watching the talk shows believe that their government's not functioning. So then they start tightening their money belt."
Even during the recession, belt-tightening is not exactly what comes to mind when considering Pitt County, which is part of his district. The seat of this Bush-Obama county is Greenville, one of the fastest-growing areas of the state. It is the kind of town likely to sit on one of those lists of good places to live. For example, America's Promise Alliance called it one of the 100 best places for young people. Jones himself grew up in Farmville, a rural part of the county.
Jones says his conversations with citizens all over his district, when coupled with the polls showing that Americans blame Republicans in congress for the shutdown, produce concerns about his party's ability to hold onto the house and take the senate in 2014. "Whether it would damage the party to the point that we would lose the majority in the house, that I could not say... I think that the next two or three months are going to be an indication of whether the party lands on its feet or its rear end."
In simple terms, Jones wonders if Republicans overplayed their hand throughout the budget crisis. "I spoke Saturday night down in Pamlico County to 100 Republicans... And I told them that what we're doing is not going to change one thing because the president is a Democrat, the senate is Democratic, and we have one House. So that's two to one. Very seldom can one defeat two. Anybody that understands politics or policy has got to understand that it's impossible to change Obamacare with that kind of formula and it is the president's signature issue. And what we needed to do was return the Senate to the Republicans and the House to stay Republican in Mr. Obama's last two years of office. Then you can force some things to happen that maybe could make some changes in Obamacare that maybe the president would even agree to."
His allies and even some critics do not think Jones is vulnerable to any electoral challenges from the Tea Party, even though his rankings by the American Conservative Union have dipped dramatically from his first days in office. In 1996, he was a star pupil of Newt's class, receiving an ACU ranking of 100. By 2008, he had dropped to 58. In 2012, he rose upward, receiving a 67. In Jones' view, the lasting impact of the budget crisis could actually cripple the extreme wings of his party. Yet he says there is still room for any Republican "that takes the position that America needs to get fixed. America needs to stop fixing everybody else's problems and fix its own problems with jobs, innovation, with tax credits for businesses. I just think America is looking for someone that understands that we have our own problems and we have to start fixing our own problems before we start worrying about the rest of the world. I just think that America is hurting because the leadership--and this goes back to George Bush as well as President Obama--has not been the kind of leadership to instill excitement and hope within the American people."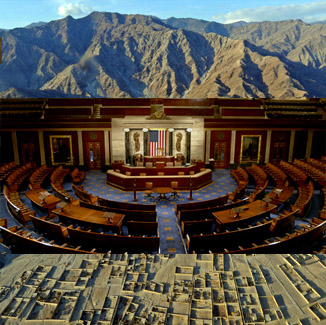 Jones has long been a leading Republican voice against any American involvement in Afghanistan and his approach to the budget starts with his frustrations with both parties on that issue. "When we finish our interview, I'm going to go and bitch about Afghanistan. I don't understand why we continue to borrow money from overseas to send to a crook in Afghanistan named Karzai. Five Americans were killed this weekend but there's no outrage. So I'm going back to your question, I can't figure out truthfully, where we're going. I go home and I bitch about Afghanistan on a regular basis. I go on the floor today, I have a poster, a blow-up of a flag-draped coffin being carried off the back of a plane by soldiers. I mean, I do that simply because when I'm talking people can look at the poster and not me and be reminded that five Americans were killed this weekend... It's almost like in the eyes of many congress -- and I'm not condemning anyone -- it's almost like there's no war. I guarantee you this week, if I get to the floor at 10, I guarantee you that I'll be the only one to talk about the Afghan War.
"And I told them back home, 'Why am I going to spend their money and borrow money from foreign countries to prop up a corrupt regime? Karzai is a crook. He's putting half the money in Swiss banks. Nobody -- and I'll say this in my little floor speech today -- nobody in his administration's being furloughed. He's gonna get his money. But we're gonna furlough American citizens because we don't have any money. Excuse my English, the way I say this, but how in the hell does he get his money? What does that make any sense? And it doesn't make any sense to the average citizen in Eastern North Carolina. Because they know that we are not in good financial standing as a country. So we borrow money to pay his bills. And he will not survive for more than two years anyway. The Taliban, who we're fighting, will take over Afghanistan. That's based on history."