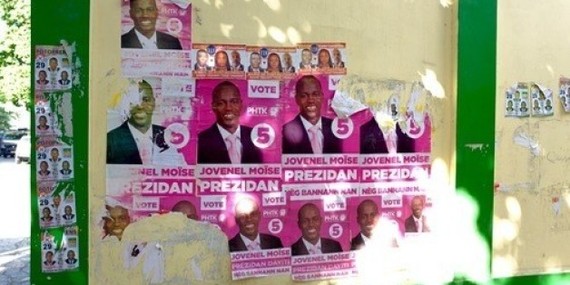 GEORGIANNE NIENABER (2015)
On November 20, 2016 representatives from the National Lawyers Guild-International Association of Democratic Lawyers, (NLG-IADL) sent a delegation to Haiti to observe the vote. I have had the unformatted report in my hands for a few days, but it has been embargoed until today. I wish I could have written about this on Friday. Here is the complete report.
The report shows Haiti's President-elect Jovenel Moise (who is under investigation for money laundering and drug smuggling-my emphasis) received votes from only 9.6% of registered voters and that there is a completely messed up civil registry (ONI). In addition, according to the report, Haitians stayed away from the polls. "Official voter turnout was 21percent (and as low as 17 percent according to some calculations), a disturbingly low figure that indicates the poor health of Haiti's democracy today."
Were voters unable, unwilling or afraid to participate?
The fear factor is seldom mentioned, but an analysis of the 2015 election by NLG-IADL revealed "Incidents of violence, fraud and voter intimidation at 40 to 67.8 percent of voting centers, with 196 of 1508 centers (13 percent) forced to suspend voting due to such incidents."
This was the election that in a 'normal" cycle was scheduled to replace puppet Michel Martelly, who had refused throughout his term to seat a legitimate Parliament and basically ruled by fiat. Supported by the Clinton Foundation and taking office through vote-switching engineered by then Secretary of State Hillary Clinton, Martelly's regime was one marked by fraud and association with the notorious thug and drug smuggler Guy Philippe, who is now being held in Miami on a drug warrant that is over ten years old.
An interim government annulled the 2015 election.
Although Jovenel Moïse increased his votes from 2015, "the main reason why he was able to win in the first round was that all three other candidates lost significant numbers of votes." Jude Celestin received 185,000 fewer votes, and Moise Jean-Charles 104,000. "If these candidates had simply received the same number of votes as last year, Jovenel Moïse would not have been able to win in the first round."
Moise is on very shaky ground with the courts, the electorate, and the Haiti Diaspora. Haiti's Central Unit of Financial Intelligence (UCREF) concluded in a report there were indications Moise had laundered money through a personal account.
Moise denies the allegations.
It takes a lot of money to run a long campaign and Martelly's PHTK (Bald-Headed) Party had plenty of it. Where they got it is anyone's guess, but fingers point at "private sector donations." Drug money? Funding sent for Hurricane Matthew that never reached the ground? U.S. interests?
In Haiti the swamp is teeming with possibilities.
Moise Jean Charles and Jude Celestin (candidates in the run-off) issued a joint press release rejecting the Jovenel Moise installation, which they term an "Electoral Coup."
As I mentioned earlier the report also cites disarray in the ONI.
Haiti's civil registry is maintained by the Office National de l'Identification (ONI). ONI's records are essential to identify eligible voters and to assign them to a voting center. "Since its creation in 2005, the ONI has struggled to produce accurate, up-to-date lists of eligible voters, despite significant technical support from the OAS and financial backing from the major donor nations," says the new NLG-IADL report. Inaccurate and incomplete electoral lists were noted as far back as 2006.
Fast-forward to the 2010 earthquake when over 300,000 (the report says 220,000) died and over a million lost their homes. Hundreds of thousands are still living in makeshift camps, some still in plastic tents, shockingly seven years post earthquake. Then Hurricane Matthew hit, displacing more and destroying more records.
The dead have never been taken off the rolls and the living have no records.
"ONI director Wilson Fièvre admitted that his institution's records were unreliable. 'Our civil registry system is defective,' Fièvre told journalists. The ONI database had not been updated to de-activate the National Identification Cards (CINs) of deceased individuals or those with criminal convictions since 2005, Fièvre said, recognizing the risk of CIN fraud that this situation presented. The Independent Commission for Electoral Evaluation and Verification (CIEVE) revealed that during the 2015 elections deceased people's CINs had been used to cast fraudulent votes, hence the term "zombie votes" coined by CIEVE president Francois Benoit."
(I do not like the term "zombie votes," since it shows disrespect for Vodun, but that is what Benoit said)
See this for more background.
The NLG-IADL offers many solid recommendations to fix these problems, but it is too late for the Haitian people. A new President is scheduled to be sworn in tomorrow, February 7. Haiti faces another cycle of narco-state domination and those drugs will continue to flow into another swamp--the swamp of southern Florida.
Divine intervention is the only hope, unless President Trump and Secretary of State Rex Tillerson can pull a rabbit out of the hat of Haiti's misery in the next 24 hours.
UPDATE: Voice of America posted a piece indicating that Trump is sending a delegation to Haiti that includes members of the old electoral swamp.
President Trump is sending a U.S. delegation to Haiti to attend the inauguration of President-elect Jovenel Moïse tomorow.
"A White House statement says Under Secretary for Political Affairs Thomas Shannon will lead the Presidential delegation that also incudes the U.S. Ambassador to Haiti, Peter Mulrean, Acting Principal Deputy Assistant Secretary of State for Western Hemisphere Affairs Kenneth Merten and Omarosa Manigault, the Assistant to the President and Director of Communications for the Office of Public Liaison."
Unfortunately, this group includes members of the old vote-fixing swamp that many Haitians were hoping President Trump would help them drain after the promises he made to the diaspora in Little Haiti in November.
Manigault was a contestant on the reality television show "The Celebrity Apprentice" when it was hosted by Trump.
This is not good. Not good at all. Someone should fire Manigault if Trump is listening to her.
Calling all HuffPost superfans!
Sign up for membership to become a founding member and help shape HuffPost's next chapter