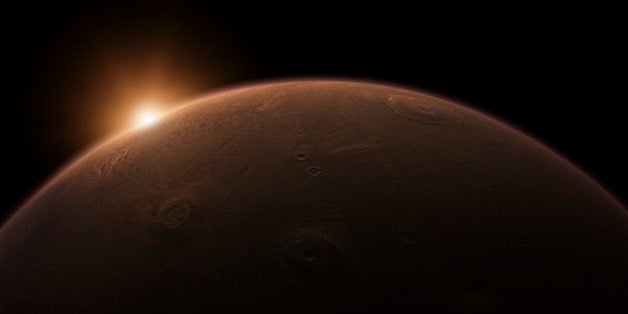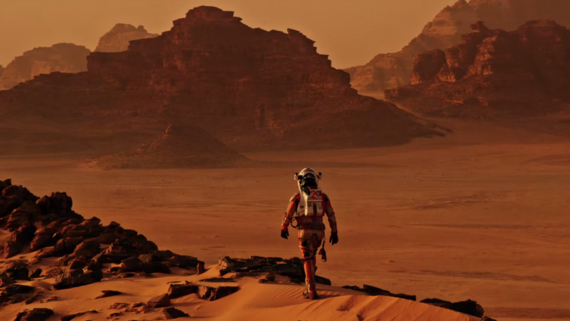 Ridley Scott's The Martian has generated a lot of buzz since the release of its first trailer, but is that buzz enough to convince Congress to send humans to Mars?
When the first trailer for Ridley Scott's big screen adaptation of Andy Weir's Sci-Fi novel The Martian was released, the response was so overwhelmingly positive that 20th Century Fox opted to move its release date forward in order to avoid big screen rivals such as James Bond, The Hunger Games, and Star Wars. Released on October 2nd, The Martian stars Matt Damon as astronaut Mark Watney who finds himself stranded on Mars when a violent forces his crewmates to abort their mission. If Weir's book brought the notion of future Mars missions to readers, Scott's movie will likely re-introduce a huge audience to the thrills and excitement of space travel, just like Gravity did back in 2013.
The potential for Scott's movie to capture the imaginations of the masses is so huge, a group of space advocates are hoping they can capitalize on The Martian's buzz and convince politicians to fund a real-life manned mission to Mars. Chris Carberry and Rick Zucker are key figures in the Explore Mars movement, an organization dedicated to the advocacy of the manned exploration of Mars. Yesterday Carberry and Zucker wrote an impassioned plea on The Space Review, calling for their fellow space advocates to use The Martian as impetus for a resurgence in the movement to get humans to Mars.
If space advocates are successful in harnessing the excitement surrounding The Martian-showing that this type of mission is an achievable goal in the next two decades-it can have a real impact on advancing this goal.
Carberry and Zucker continue by stating that the timing of the movie's release is perfect for putting the issue of manned spaceflight to key political influencers.
Indeed, the movie will be released at a very fortuitous time, because it will be when Presidential candidates are developing their policy stances. We shouldn't expect a new "Kennedy moment" from the next President, but we do need a supportive President who is willing and able to put her/his mark on this future.
That mark should not be by hitting a "reset button" on the direction of the space program, but rather by taking the investment and advances we have already made and challenging NASA, industry, and commercial players, and our international partners, to provide a clear plan to land humans on Mars.
But could a movie really enact the kind of change people like Carberry and Zucker are hoping for? The Martian may succeed in creating a new generation of budding astronauts (or not, given its harrowing storyline), but achieving a shift in thinking among America's political elite is quite another thing.
Movements like Mars One, which hopes to turn their plan for a colony on Mars into a reality TV show certainly didn't struggle to capture the imagination of the public, but among the scientific community it received widespread condemnation and was even criticized by its own participants.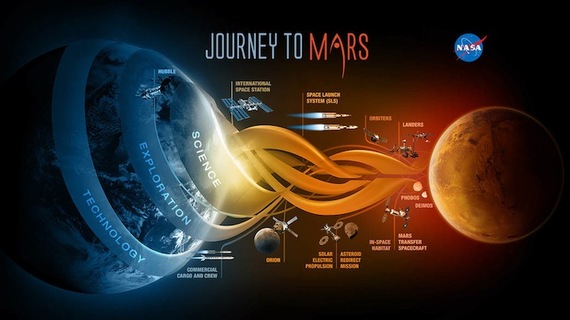 NASA itself has already outlined its plan to get humans to Mars by the year 2030, while Elon Musk believes his SpaceX organization could get it done even earlier, suggesting humans will be on Mars by 2026 with permanent colonies soon after that.
But for all the confidence the scientific community has, the prospect of a manned mission to Mars is being hurt by a lack of funding. The situation has become so dire that in recent months, NASA administrator Charles Bolden has embarked in a war of words with Congress over consistent budget cuts. In May, Bolden warned that NASA's Journey to Mars and other key initiatives could be scuppered by a reluctance to spend.
The President's priorities for NASA -- including our goal and timeline for sending American astronauts to Mars in the 2030s -- traditionally have enjoyed strong bipartisan support, which is a testament to the hard work and progress of NASA's dedicated employees and contractors.

Unfortunately, this work is in jeopardy of being halted, delayed or possibly undone by the Budget Bill as currently written. This could cost our country jobs and opportunity as well as progress on some of the defining issues of our time, including returning human spaceflight launches to America, our Journey to Mars, and our ability to understand and respond to things like earthquakes, storm events, and climate change.
But if Bolden is unable to rally the troops enough to enact change, can advocates like Zucker and Carberry expect to succeed, even with the help of Matt Damon and Ridley Scott? Well, if you ask Keith Cowing of NASA Watch, the answer you would get is a resounding no. The always-sardonic Cowing released a rebuttal to the Explore Mars statement, suggesting that the space advocacy movement is something of a shambles.
Given the chronic inability for the space advocacy community to gain any real traction for their 'space exploration aspirations' it is quite clear that whatever they have been doing for decades is really not working. Nor is it going to start working any time soon. If all anyone in the space advocacy community can think of doing involves adoring lame PR Mars mission stunts and grabbing the coat tails of sci fi flicks in hope of sniffing the fumes of the film's success, then I fear there is very little of true substance for space advocates to actually be advocating.

The idea of a mission to Mars has never needed a blockbuster movie to capture public and political imaginations, although it certainly doesn't hurt. Even Charles Bolden himself has acknowledged that many of NASA's showpiece plans, such as Journey to Mars, have received a great deal of support from Congress. The issue, as always, comes with funding. The Explore Mars push for advocacy around The Martian may be well meaning, but it is unfortunately unlikely to open the government coffers. But before you despair, we'll leave you with Bill Nye's famous, passionate open letter to President Obama, in which he urges the President to encourage spending on planetary sciences.
REAL LIFE. REAL NEWS. REAL VOICES.
Help us tell more of the stories that matter from voices that too often remain unheard.