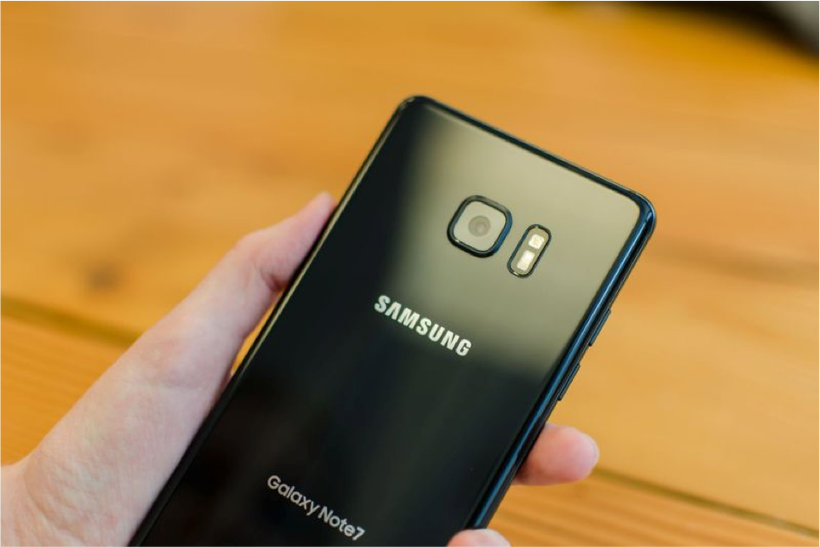 Samsung Galaxy Note 7 was considered the best smartphone Samsung has ever made. Note 7 was launched with a 5.7-inch Quad HD Super AMOLED Display, 4GB RAM, 64GB ROM (expandable with MicroSD), Exynos 8890 CPU, 12-megapixel rear camera, 5-megapixel front shooter, Gorilla Glass 5 Protection, Finger Print Scanner, S Pen stylus etc.. It was one of the best Camera Phone along with dominant performance. The device was also dust proof and water resistant. Who won't love to buy such smartphone? The public demand for the Galaxy Note 7 was phenomenal, but ever since alarming reports emerged in early September that several of the devices had combusted, Samsung has been caught in a product recall nightmare that looks like it could shatter the firm's dominance of smartphones.
It is a surprise that a renowned brand like Samsung failed to manage heat issue with its high-end smartphone. Samsung has not told any particular reason why Note 7 battery explodes, but there could be various reasons behind this. According to Forbes, either the system or chip is faulty that doesn't stop the charging even the battery is fully charged, and it causes battery explosion.
Samsung did acknowledge the issue and replaced many devices, but when reports started surfacing this month that even Samsung's replacement phones had caught fire, it quickly sent shockwaves through the tech world that resulted in the brand suspending sales on 10 October and recalling all the devices. The wise thing was to take some time to investigate the issue and find the cause of the heat source, and then react. Samsung rushed to replace devices and Killed its Note 7 Flagship eventually.
Already there are lawsuits piling up from consumers who were charged monthly fees whilst being warned against using the combustible devices. Samsung is now trying to save its reputation by offering $25 credit when users exchange their Note 7 for a branded smartphone or refund. However, if a user exchange Note 7 for a Samsung smartphone, he/she will get $100 bill credit to stick with the company and be a trusted customer.
Apple has traditionally been viewed as Samsung's most fierce rival, and now iPhone 7 and 7 Plus got the advantage of Samsung's disastrous year. According to a Survey conducted on 1020 US-based Samsung consumers, 40% consumers said that they will never buy a Samsung phone in future. Along with Apple, Google will also get the benefit from Note 7 recall, because they have just launched 2 smartphones; Google Pixel and Pixel XL.
This is not the first time a Product has been recalled. There are many examples of worst product launches, and how they got in trouble and ended up with a huge loss in profit and company's reputation. However, many of then gained consumers' trust gradually by taking care of all future products launches. Samsung also needs to learn how to handle such situation and not repeat it in future. It's always safe to launch a product in one region, get some feedback, and then head to global launch.
After Galaxy Note 7 recall, the demand for Galaxy S7 and S7 Edge has increased. Those who doesn't want to ditch Samsung for one mistake, they are exchanging Note 7 for Galaxy S7 or S7 Edge model, and those who were planning to buy Note 7 are now buying S7 series device. According to a report, Galaxy S7 is the best selling smartphone in South Korea. Its sale rose from 10,000 units per day to 15,000 units per day. However, this could not last longer, because Apple is set to release iPhone 7 in South Korea on October 21, and the sale of Galaxy S7 is expected to go down.
Samsung Galaxy Note 7 would cause the company around $9.5-billion loss in sales and $5.1 billion loss in profit by the end of 2017. So 2016 has already become the worst year for Samsung, and 2017 would be the year of struggle. Along with all the monetary losses, loosing consumers' trust and company's reputation is even the worst part that Samsung has to deal with.
Calling all HuffPost superfans!
Sign up for membership to become a founding member and help shape HuffPost's next chapter
This post was published on the now-closed HuffPost Contributor platform. Contributors control their own work and posted freely to our site. If you need to flag this entry as abusive,
send us an email
.