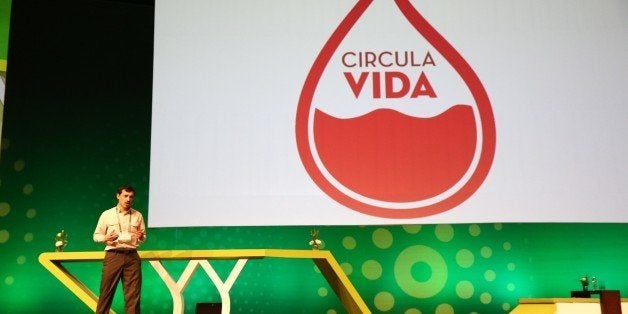 FEMSA has made some major early moves in sustainability: their retail chain, Oxxo is working with local suppliers to provide regional products to benefit local communities, they've invested in water funds to restore watersheds they rely on for producing Coca-Cola, and they provided a long-term PPA to develop a 396MW wind farm for their manufacturing power needs in Mexico. Recently FEMSA turned to social entrepreneurs as key partners to take their impact to the next level.
As a sustainability advisor, this approach has been surprising to me. Why would a $19 billion company need social entrepreneurs? Can't they work on their own toward their goals of water neutrality, increasing renewable energy generation and energy efficiency, scaling recycling and recycled product markets?
Mexico is facing incredible challenges -- there is a lack of confidence in government that drives insecurity and therefore undermines the economy. To strengthen their nation, companies and NGOs are working aggressively to address the needs of communities and cities.
FEMSA is turning to social entrepreneurship, to social businesses, because they understand that they will reach their sustainability goals and build stable, healthy communities much faster if they do so. How does a social business do this? According to Nobel Prize winner Muhammad Yunus' Grameen Creative Lab, a social business is:
· A non-dividend company created to solve a social problem;
· Like an NGO, it has a social mission, and like a firm it generates its own revenues to cover costs; and
· All profits are reinvested for growth and innovation or to seed new social business ventures.
So why is FEMSA turning to social entrepreneurship? First, SME's are the fastest job creators and best sources of innovation. FEMSA itself creates 15,000 new jobs each year, and it also supports internal innovation including by becoming a market for internally developed products and services that meet their needs. Yet FEMSA realizes their need effective partners to create more jobs, more prosperity and wellbeing. They also leverage "outsourced R&D." This is not the first time companies have turned to outside sources for new ideas and solutions to problems (see Innocentive).
Yet what is different is that FEMSA is not turning to innovators and experts on the inside or outside for answers to specific needs. What they are doing is betting that by building a supportive ecosystem for social entrepreneurs, these entrepreneurs will develop products and services that meet FEMSA's and community needs now - and needs they can't yet predict. They also understand that Mexico's current challenges, which can undermine FEMSA's business, need social entrepreneurs.
In Mexico nearly 5% of the economically active population is unemployed -- 2.5 million people. According to the National Confederation of Industrial Chambers (CONCAMIN), approximately 350,000 and 400,000 SMEs are created each year, but half of them will be gone by the end of the first year and only 10% will survive after 5 years. And Mexico's young people are facing particular difficulty: in addition to entering a weak economic market, they are also seeking a better country and community, calling for and working toward better conditions for all.
Social entrepreneurship will help in several ways:
1. It creates jobs -- SME's create 70% of jobs in Mexico;
2. It is a path for Mexico's young people in need of hope and economic opportunity;
3. It creates companies that impact society more broadly by focusing on a societal problem as their purpose, whether environmental, social services or health related. These companies fill gaps where governments, non-profits, and business have been unable to (or uninterested in); and
4. It improves the environment in which FEMSA does business.
How is FEMSA supporting social entrepreneurs?
FEMSA is operating in a collaborative ecosystem with their efforts complemented by those of the government (in this case in Mexico, the National Institute of the Entrepreneur), universities like the Tecnologico de Monterrey's HUB and NGOs (like Ashoka and the Yunus Centre), co-working spaces like The Hub, as well as the entrepreneurs themselves. They started by analyzing the ecosystem, identifying gaps, and are now helping to fill them. To optimize their impact, FEMSA wanted to ensure their investments of time and people were not wasted where others were already acting.
· Since 2011, FEMSA has been making contributions on several fronts in the area of entrepreneurship through the program "Youth with Value." FEMSA and Ashoka have partnered as the main allies in this initiative to help young people between 14 and 24 years of age to create, develop, and lead social entrepreneurship projects, becoming agents of change in their communities. The program has supported 340 projects to date and 130 projects are in progress this year already.
· During 2014, FEMSA launched an entrepreneurship acceleration program in Mexico City and Monterrey in collaboration with "The Pool" and "Impact HUB Monterrey," through which 20 new projects will gain a better business model, focus on innovation, social impact and job creation, and generate benefits for future generations. The 20 new projects are aligned to the focus areas of our sustainability strategy in topics such as energy, water, waste management, community development, and healthy lifestyles.
· And finally, to increase the number of entrepreneurs and entrepreneurial projects, alliances with experts in the field are needed. There are international institutions and specialists who offer their help as strategic allies, joining forces, aligning interests, having an impact in accordance with their areas of expertise, supporting, creating and making projects scalable.
At the opening plenary of last week's Global Social Business Summit (GSBS), FEMSA's CEO, Carlos Salazar said, "FEMSA is 125 years old. We believe that a company must always take decisions for the long-term and the goal of a company is social impact. We reinvest more than 80% of our profits each year and for that reason we create more than 15,000 new jobs. But what we are doing is not enough. We need to create companies that solve our social, economic, and environmental problems; we want to help social businesses to serve our communities."
During the GSBS I have been struck by the incredible quality of the social entrepreneurs and the potential of their businesses -- from solutions to the lack of blood donations (check out Circula Vida), to energy poverty in Africa (check out B Energy), to platforms to scale social solutions (check out Make Sense), yet we need to enable their success. It is through multi-sectorial collaborations with major corporations, government and non-profits that we can do so. With the social unrest occurring in Mexico, it is especially critical that new strategies are pursued in urgency, and social business is one key tool that is clear can be leveraged for real benefit to society. After the GSBS, I am hopeful for this country and beyond.
Related
Popular in the Community